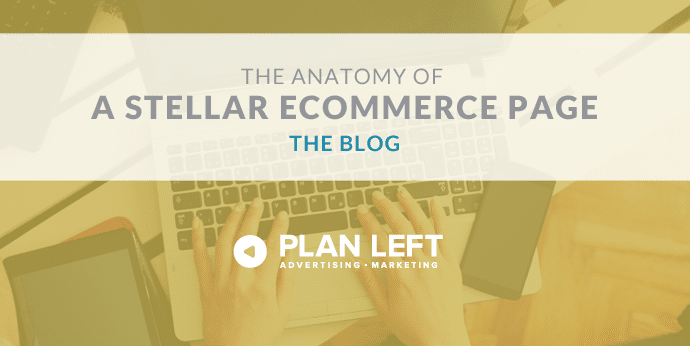 Creating and maintaining an ecommerce website isn't easy. You have a lot of content to create, from product descriptions to category introductions. Adding a weekly, or even daily, blog to that pile of projects is not an inviting prospect. Before you rejected the idea of a blog, remember this: a regularly updated blog can dramatically increase website traffic. The more you update, the more traffic you can expect.
Now that you're convinced, what should your ecommerce blog look like?
Connect to Domain
This might possibly be the single most important aspect of your ecommerce business blog. You simply cannot create a WordPress or Blogger blog separate from your ecommerce site and expect to achieve much traction. The blog for your business must be attached to your business site if you want to experience any of the SEO benefits and increased traffic that a blog can bring you.
Whether you connect a third-party blog through mapping or create a blogging portal on your current business page, the result is the same. The address, or URL, will include the ecommerce site address, and the site will benefit from all searches.
Menu/Navigation
You'll use your blog to help tell your brand story, share info about how you're involved in your community, and maybe even get followers on board with your favorite charities. Just don't forget the real reason you created a blog: The point of your blog is to sell, no matter what kind of pretty bow you put on it.
Give readers and potential buyers a way to find the content that will most interest them through an easy-to-use menu and navigation system. If you can figure out how to tie the navigation to categories within your ecommerce store, then you'll be one step closer to converting visitors to customers.
Social Sharing Buttons
Social proof is the most powerful proof out there. You can encourage those shares and follows by adding buttons to all of your social media sites somewhere on your blog. To step things up a notch, include sharing buttons throughout posts or at the bottom of each blog. Tweetable stats or sentences could include a "tweet this" button for a quick share. Images might include the ability to pin to a Pinterest board. The easier you make sharing from your blog, the more your customers will do it.
Shop Button
Again, your blog exists to drive traffic to your ecommerce site, right? Why make it hard for customers to find what they're really looking for? On the main page of the blog, there should always be a button that returns the buyer to the shopping section of the page.
To step things up a notch, consider adding a buy button within blog posts any time one of your products is mentioned. The buy button should lead to the product page within your ecommerce site, making a purchase easy for anyone who clicks through. If the blog focuses on a whole category, such as "skirts for summer" or "tools for building a treehouse," then you can also include a button that whisks buyers over to the full category that you mentioned.
It's simply not enough to post words every other day and call them your ecommerce blog. You have to work with purpose so that your blog works for you. These components will—absolutely will—make your ecommerce blog one of your most powerful marketing and selling tools. If you need help getting it designed, off the ground, and running smoothly, we're here to help.
Explore Latest Posts
Hate. It's a strong word. People use it to describe bad customer service experiences or traffic jams or overcooked meat. They ... read more

With cameras on laptops, phones, watches, glasses, belt buckles, and everywhere in between, who even needs to hire a professional ... read more

Media presentations serve many purposes, not the least of which is marketing your products or services. Before releasing marketing materials ... read more