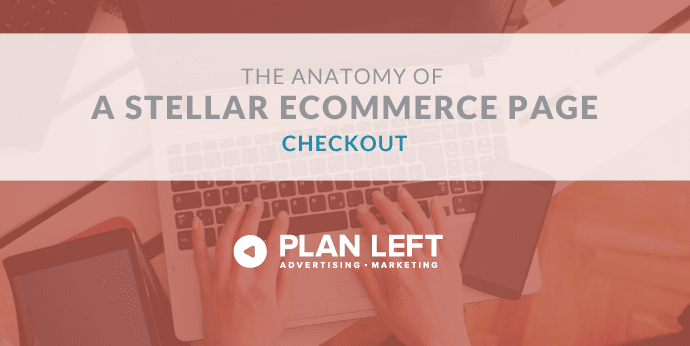 The shopping cart and checkout pages may seem pretty straightforward on your ecommerce website, but the truth is this is where you'll lose a majority of your customers. While some will abandon their shopping carts no matter what, others might just stick around if you meet all their needs. What are those needs? Let's take a look.
Logo
We're always pushing that logo, aren't we? You'd be surprised how many ecommerce companies out there use a third-party shopping cart and checkout company—and then forget to add their own branding to the process. Whether you use a proprietary system or rely on someone else, you must make sure that logo is included. Without it, your buyers might become spooked and flee.

Ability to Edit
Sometimes a customer will mess up and accidentally order 100 items instead of 10. If that happens, you'll receive 90 back. Or, you could give the ability to edit the items and the quantity so that the problem never gets that far.
The ability should be offered in the shopping cart and on the checkout page. If your software doesn't allow edits during the checkout process, then make sure there's a link that directs right back to the shopping cart.
Shipping Information
The number-one reason for cart abandonment is shipping cost surprise. Take a page from ModCloth's book and give some information about the shipping options you offer. You can even provide a shipping calculator that takes into account the weight of the items and the distance they'll travel. That way, no one will get an ugly surprise later.

Sign Up or Sign In Portal
In order to build relationships with customers, you need a little more information. Requiring sign-in might scare off a few potential buyers, but those who do complete the process will eventually be much happier. You can offer a few different options, such as signing up through the site or through social networks. Once you have them in your system, you can provide top-notch customer service because you'll know all about their movement on your site.

Security Information
The second-most-common reason shoppers abandon carts is that they don't feel safe sharing their financial information. Be sure to display your security seals and link to your security information so your customers can shop with peace of mind.

Payment Options
Not everyone feels comfy sharing credit card and debit card information over the internet. Does that mean they shouldn't be able to shop online? Of course not. That's why we have Apple Pay, PayPal, and Google Wallet now. If you offer any of those options or some of the many others that are available, be sure to let your customers know. They'll be more likely to finish the transaction if they're sure from the beginning that their information is secure.
Shopping Cart Summary
As a last-minute show of good faith, you should include a summary of the shopping cart on the checkout page. This gives buyers the chance to look one last time to make sure their order is correct. Again, this helps eliminate costly returns when buyers realize they bought the wrong size or ordered the wrong quantity.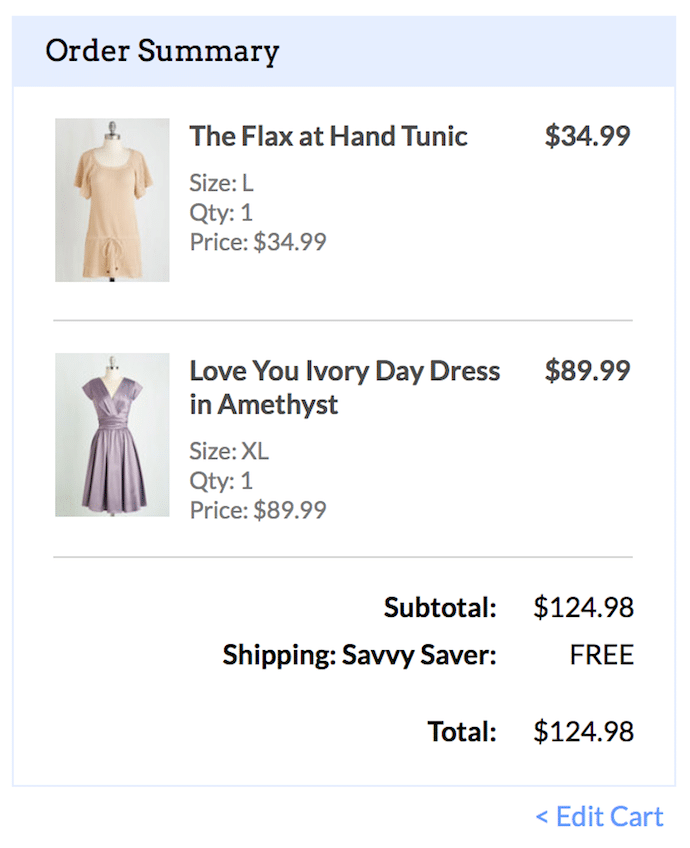 Continue Shopping Button
As exciting as a completed order is, you don't really want buyers to stop shopping, right? Giving them the opportunity to return to your shopping pages helps boost the number of sales you make. Without that opportunity, buyers may complete their purchase and never return again.
Progress Bar
Yet another reason potential buyers abandon a cart is that they get frustrated with the process. It's true that there are a lot of steps that go into making a purchase online. If your customers aren't sure how much longer their purchase will take, they may just abandon. With a progress bar, you can keep them in the know. They can see how many more steps they need to take and what to expect next. Is it necessary? Probably not. It's just another way you can go out of your way to make your buyers happy.

Customer Service Information
With buyers this close to making a purchase, do you really want to distract them with customer service? Yes, absolutely. The only thing more disheartening than an abandoned shopping cart is a returned item. By giving customers the chance to ask last-minute questions, you can avoid both of these possibilities.
Thank You Message
Once that purchase has been made, you could do a little dance and count your money. Or you could sincerely thank the customer and make sure they got everything they wanted and needed out of the experience. Whether that thank you appears on the screen after the purchase is confirmed or you send the thank you message within a confirmation email, the most important thing is simply that you express your gratitude.
Did you have any idea this many items were needed on the shopping cart and checkout pages of your ecommerce site? If not, have no fear. We're here to help you get that website up to snuff. Reach out at any time and we'll walk you through the anatomy of each and every page on your ecommerce site.
Explore Latest Posts
So, this is the story all about how...the band Jefferson Starship, credited with 70s and 80s hits "Sarah" and "Miracles," ... read more

Voice search is quickly becoming a critical aspect of search engine optimization (SEO) as the use of voice assistants like ... read more

Advanced SEO techniques are an essential aspect of search engine optimization in today's digital landscape. They go beyond the basic ... read more