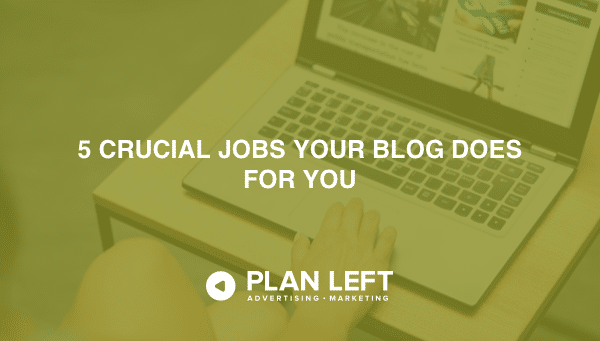 Updated Content on 7/04/2023
You work hard to keep your business running. Isn't it time something worked that hard for you? If you put the proper time and effort into your company blog, it will work hard for you in ways you never thought possible. If you're unsure what your blog should be doing for you, here's a comprehensive list.
Strengthen Brand Voice
As you know, your brand is not just your logo or website. It's not just your commercials or your print ads. Your brand includes what your customers think and say about you, and developing a good impression takes time.
Stick to a consistent writing style and schedule to build your brand voice. Think about the kind of voice your customers would want to interact with. If you sell extra strong coffee and your target audience consists of busy millennial moms, go for a casual, witty approach. If you're selling your services as an IT company, maybe try a more cut-and-dry technical writing style.
As long as you consider your buyer personas when creating your articles, your blog is the easiest and most effective way to support your brand vision and mission while maintaining your brand's voice.
Answer Consumer Questions
You could wait for customers to email you or reach out through social media with their questions, or you could be proactive. Your blog is the perfect place to answer all the questions your customers don't even realize they have. Discover those pain points, then create content that soothes every last one. Point out product features, explain your services, provide tutorials, break down pricing, give comparisons to competitors, and explain your customer service process. Go ahead and answer anything a customer may ask you someday in your blog.
About 77% of internet users read blogs. We know that users turn to blogs for answers, so ensure your business answers those questions in their preferred format.
Establish Yourself as an Expert
Establishing yourself as an expert in your field is almost as important as giving your brand a voice. Consumers don't want to buy products and services from someone out to make a quick buck. Instead, they'll seek out a company that really understands their needs. They need to know your experience with and passion for the work you're doing. Your blog is a great way to show all your followers how knowledgeable you are.
Plus, blogs allow you to share company news. Consumers like to see what you're up to and what you're involved in. Share information about new employees, recent awards, and community outreach. Consumers love to see that companies are human, too.
Driving Traffic
If your site stays the same, why would buyers visit you more than once? Contributing to a blog gives your customers a reason to always stop by. You have more to share on your social networks and more for users to share with others. Blogs are a great way to recycle content for Twitter, LinkedIn, and Facebook.
Chances are, consumers aren't typing your website into the search bar very often. They're probably only revisiting your website when they open an email or see a post on social media. But what about drawing new visitors to your website? Social media helps, but organic search is another big player in driving website traffic. Organic search is one of your safest bets to bring in new visitors. Paid search works, but it's expensive. That's where blogs come in. When you design your blogs to answer common questions, they will appear in consumers' search results when searching for answers. After all, over 71% of bloggers say that SEO is the most significant source of traffic.
The more people visit your site, the more relevant you appear to Google. And when it comes to Google, you want to seem as relevant as possible.
Pleasing Google
While Google isn't the only search engine out there, it's by far the most popular. To appear in searches, you have to follow Google's rules. And Google loves fresh content. When you update your website regularly, Google rewards you. Google will reward you even more when that content is helpful, relevant, and of excellent quality. Your website will appear in searches above companies that don't have a blog simply because you provide fresh content regularly.
Google constantly changes its organic search algorithms, but you can count on keyword relevance, blog length, and quality content to always factor into the equation. As long as you keep Google's suggestions in mind, you will benefit from blogging.
Creating and maintaining a blog can be challenging. Not every company can afford to hire a full-time writer for their content marketing strategy. That's exactly what we're here for. If you want to experience the benefits of a blog without giving away all your time and energy, give us a call. We know how to give your brand a voice, answer your customers' questions, drive traffic to your site, and please Google, all while making you look like the most competent person in your field. Ready to get started?
Explore Latest Posts
So, this is the story all about how...the band Jefferson Starship, credited with 70s and 80s hits "Sarah" and "Miracles," ... read more

Voice search is quickly becoming a critical aspect of search engine optimization (SEO) as the use of voice assistants like ... read more

Advanced SEO techniques are an essential aspect of search engine optimization in today's digital landscape. They go beyond the basic ... read more