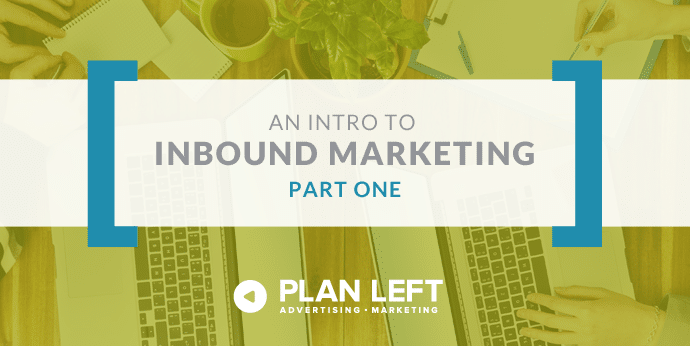 If you've followed our blog for a while or have given us the great honor of being one of our clients, then you've heard the term "inbound marketing."  While the phrase itself was likely coined by the executives of HubSpot, the practice itself is accessible to anyone. And the process really does work. That's why we offer it here at Plan Left.
Even after hearing how we plan to use inbound marketing to get results for your company, you may be confused. The requests we make in order to get the job done might leave you confused. That's okay. We want you to know what we know so you don't have to wonder what's going on in the background. This introduction to inbound marketing is for you.
The Components of Inbound Marketing
The very idea behind inbound marketing is that customers find you exactly when they need you. In the past, marketing departments put all the information out there through disruptive channels like the newspaper, radio, and television. Then sales teams followed up with any and all people who may benefit from the products or services your company offers.
Now, these channels are still valuable for first-touch marketing—getting the word out that your company exists and that the products or services you offer are available. What these outlets don't offer is the chance to nurture a relationship with potential customers and clients. When they want to know more about your company, where can they get the information?
The biggest components of inbound marketing serve to get that information into the hands of prospects to help them make their decision. Content, promotion, personalization, social media, and full integration of these components all lead to a powerful marketing machine. How does it work?
The Big Steps of Inbound Marketing
There are four main steps to inbound marketing, starting with attraction. You want to bring the right people to your website to read your content, though. A hundred of the wrong type is less valuable than one of the right type.
The next step is conversion. When the right type comes along, appreciates the content he or she finds, and wants to consider making a purchase, they move from the "visitor" column to the "lead" designation.
After becoming a lead, the next step a prospect can take is to close, meaning they make a purchase. From here they move from lead to customer. And your work is not done at this point, especially if you want that customer to come back and make more purchases in the future.
The last step is customer delight. Too many companies skate by on doing the bare minimum, and too many customers have become so accustomed to the bare minimum that they think a whole lot of "nothing special" is something to cheer about. You're not going to be like that, are you?
Now you know what makes up inbound marketing. Next, we'll talk about how these components come together to work for you. If you're already hooked and can't wait until next week, give us a call right now!
Explore Latest Posts
Hate. It's a strong word. People use it to describe bad customer service experiences or traffic jams or overcooked meat. ... read more

With cameras on laptops, phones, watches, glasses, belt buckles, and everywhere in between, who even needs to hire a professional ... read more

Media presentations serve many purposes, not the least of which is marketing your products or services. Before releasing marketing materials ... read more