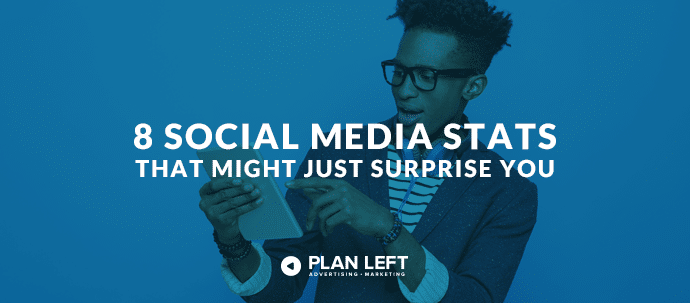 Social media has become a marketing must for brands everywhere.
You want to connect with you audience? Promote an offer? Develop a brand presence and attract ambassadors?
You have to master social media.
Social media can help you build a personal connection with the people who want your products and services.
And it's hard to do that if you don't understand how it works, who is using it, and how they're using it.
Looking at the cold hard statistics can help you understand just how far social media has come, especially as a tool for connection.
Check out these surprising stats about social media in 2016.
1. In July of 2016, Facebook Had 1.71 Billion Monthly Active Users
Despite recently reaching its 12th birthday, Facebook is still growing.
It reached 1 billion active users in 2012, and has nearly doubled that feat in just 4 years.
What's driving Facebook's growth?
Expansion into untapped markets, for the most part.
The Asian market has especially grown in recent years, with over 75 million new users added just in the past 12 months.
It remains the most popular social network in the world by a wide margin.
Source: Pew Research Center
Facebook continues to infiltrate untapped markets around the globe, with plans to "connect the whole world."
2. Democratic Topics Are Favored on Twitter, Republican Topics Are Favored on Facebook
ShareThis, a company that develops social media sharing tools, gathered sharing data on 210 million individuals between July and October of 2014.
Within that data, they found that social sharing overall skewed more Democratic—with topics like climate change and income inequality being shared more heavily on Twitter.
Republican-favored topics, like immigration and foreign affairs, were shared more heavily on Facebook.
3. Pinterest's Number of Male Signups Has Increased By 70 Percent 
Pinterest recently announced that its user base had expanded to 150 million monthly users–with 70 million of those users in the United States.
Perhaps even more surprising was CEO Ben Silbermann's report that the platform's number of male signups had increased by 70 percent since last year. 
Pinterest has always been stamped a "woman's platform," with recipes and decor ideas dominating its visually-centered universe.
But consider this: in late 2014, 71 percent of Pinterest's user base was female. 
In October of 2016, that number had fallen to 60 percent. 
It appears that the times, they are a-changin'.
4. People Are Now Spending 50 Minutes a Day on Facebook
The average amount of time Facebook users spend on the site has increased: to nearly 1 hour a day.
According to the New York Times, Facebook users are spending more time on the site than ever before.
People spend more time browsing Facebook than they spend on any other leisure activity except watching television, as tracked by the Bureau of Labor Statistics.
It's almost as much time as people spend eating—and it's more time than they spend on actual social events.
5. 26% of Ads on Instagram Are Video Ads
Think your video ads have no place on Instagram?
Think again.
Over a quarter of ad revenue generated by Instagram came from video ads in Q2 of 2016. 
And with the platform's recent expansion to 60 second video, advertisers have more opportunities to make a lasting impression.
In the first 6 months of 2016, average video lengths on the platform grew from 15 seconds to 25 seconds.
Something even more fascinating about ads on Instagram? They had nearly 3X the ad recall as other online ads.
6. Most Twitter Users Are Outside the U.S.
Twitter's audience is predominantly non-U.S. citizens, according to a recent study from the Pew Research Group.
254 million of Twitter's users were outside of the United States, compared to 65 million users that lived inside U.S. territories.
7. 62% of U.S. Adults Get Their News on Social Media
In another study from the Pew Research Center, 62% of respondents reported getting at least some of their news from various social media platforms.
Source: Pew Research Center
66% of respondents reported receiving news from their Facebook pages. 59% of respondents reported getting news from their Twitter accounts, while a full 70% of respondents reported receiving their news on Reddit.
8. Snapchat Has More Active Daily Users Than Twitter
This powerhouse 4-year-old app and social platform recently surpassed Twitter for daily active users, with over 150 million people using the Snapchat platform every day.
Twitter, by comparison, has about 140 million daily active users–though it celebrated its 10th birthday not long ago.
So there you have it. Just a few fascinating stats about the social platforms we (and our brands) utilize every day.
If you aren't on social media, 2017 might be the time to invest in a plan for making it happen.
Plan Left can help. 
Call us today at (615) 649-0690 or contact us here.
Explore Latest Posts
So, this is the story all about how...the band Jefferson Starship, credited with 70s and 80s hits "Sarah" and "Miracles," ... read more

Voice search is quickly becoming a critical aspect of search engine optimization (SEO) as the use of voice assistants like ... read more

Advanced SEO techniques are an essential aspect of search engine optimization in today's digital landscape. They go beyond the basic ... read more