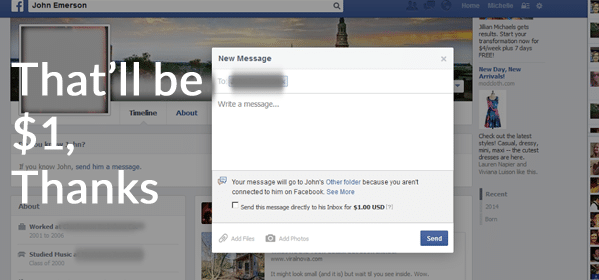 It's plastered all over the homepage of Facebook that it's "Free", and will always be "Free"..  But is this entirely true?
Recently a friend pointed out to me that to send a message to someone she'd not yet connected to as a "Facebook Friend", she was being asked to spend a dollar or risk having the message go to the person's "Other" Inbox.  RIght now you're asking yourself, "Where exactly is the 'Other Inbox'?"
So you know, you do have one.  It will not prompt you with a new message if there's one there, but you can access it.  It's located in grey next to the "Inbox" link if you click the messages icon in the upper right of your Facebook (while logged in).
So what does it mean for you?
Unless you have come across this directly, it may not seem relevant to you.  But there are many of us who aren't even aware that our account might be set up to react in this way to people we don't know.  I check my Facebook settings every time there's a Facebook update.  "Background color is grey now?  Better check my settings and make sure it's all the same…"  There are so many security, and setting updates that occur with every Facebook facelift, that this needs to be a common practice of any regular (and especially irregular) Facebook users.
All settings are subject to change when Facebook makes an update.  Make sure you check them all. 
 Sometimes Facebook will be helpful and show you some hints about managing settings.
Whether asking you to pay "
Promote a post
", or to pay to "Send this message directly to [his/her] inbox", Facebook is definitely becoming a less than "Free".  In fact, there isn't much on the internet anymore that one can find to be 100% free these days, whether it says so or not.
We speculate that Facebook will always free for it's profile accounts.  Pages for business?  Maybe not so free.  They may charge a fee for them in the future.  They already ask for payment to Boost and Promote posts, or to target them to specific geo locations.  But hey, it's Facebook after all.  We'll all probably still be on it until the www is no more.
Explore Latest Posts
So, this is the story all about how...the band Jefferson Starship, credited with 70s and 80s hits "Sarah" and "Miracles," ... read more

Voice search is quickly becoming a critical aspect of search engine optimization (SEO) as the use of voice assistants like ... read more

Advanced SEO techniques are an essential aspect of search engine optimization in today's digital landscape. They go beyond the basic ... read more