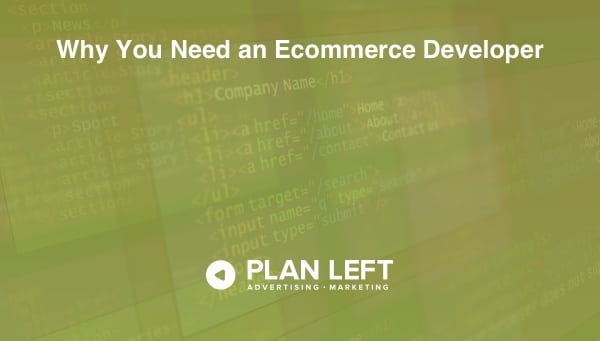 The major ecommerce platforms available all offer "plug-and-play" options that make setting up an online store about as easy as it could possibly be. The question then is why anyone would consider hiring an ecommerce developer when WooCommerce, BigCommerce, Magento, and Shopify have taken most of the technical work out of the equation.
It's absolutely true that the themes and templates available through the biggest ecommerce platforms are ready to go right out of the box. Where the problem lies is that everyone who uses them will have a similar website and ecommerce functionality. Your biggest competitor could have an identical setup save for colors and logos. That doesn't sound very much like standing out from the crowd, now, does it?
In addition to a lack of control over the appearance of your website, you'll also have to deal with slower response times, particularly on mobile devices. With more than half of all internet users shopping on mobile devices, it's bad business to have a bad mobile ecommerce site. However, that's simply what you get when you use the ready-made options. It's better than nothing, sure, but you'll still lose potential buyers.
All of that might sound like reason enough to seek out an ecommerce developer, but we know of several more benefits you'll receive when you work with an experienced pro.
Custom Experiences
Let's focus first on the potential for customization. All of the major players offer template and theme options, sure, but they're also customizable when you know how to program them. Even with a full-stack development option, which is likely to be cheaper than some of the other options we'll mention later, you can get an attractive, easy-to-use website that looks nothing like your competition.
There will be a few limitations, and you'll still need to worry about slow loading speeds, especially as users navigate from page to page, but this particular investment is one you'll want to strongly consider.
Headless Options
For true customization, you'll want to work with a developer to decouple the front end and back end of your ecommerce platform. This will allow endless customization options on the front end, the part your customers see, as none of them will rely on the information in the back end to load properly.
What this means is that, essentially, the two can be developed separately, with an API requesting the information between the two. Everything is faster, cleaner, and possibly very different from every competitor's ecommerce options. This also means you can scale your business without the need to redevelop your website every time you outgrow your current setup.
Headless ecommerce also gives you the ability to create multiple touchpoints, both online and offline. Store fronts, kiosks, vending machines, smart TVs, smart mirrors, apps, social media posts… The options are endless. But you probably won't have the time to learn all this on your own while also running a business, so that's where a developer really comes in handy.
Integrations and Features
Regardless of the current business processes you use, you're likely able to integrate them with any of the ecommerce platforms available. Some do have limitations that could hinder your productivity, while others may provide alternative options that could work better for your specific needs.
That sounds great, but do you have the time to research all the possibilities—both the platforms and the plugins and integrations—before building everything yourself? When you work with a developer, you have their entire knowledge base at your disposal. Your ecommerce developer can discover your needs and current solutions before making suggestions that could make your life easier and your ecommerce business immensely more profitable.
Not only will the suggestions they make work best for your specific needs, but they will also be more likely to work as intended the first time they're installed. If you've ever attempted a plugin installation on your own and ended up taking down your entire website, then you're aware of the absolute anguish a developer can help you avoid.
Quality Assurance and Maintenance
Look, you get what you pay for, right? If you attempt to build your ecommerce website on your own, then you're pretty much stuck with the final product. Who's testing the features to make sure they work? Who's examining your images to make sure they're mobile responsive? Who's there to help you regain your data when a faulty plugin takes your whole website down?
With a developer on board, you can always be sure that everything is tested, and then tested again, before deployment. Any maintenance necessary to keep your ecommerce process running smoothly will be scheduled and performed without a hiccup. Best of all, you can be certain that your ecommerce touchpoints are smooth, professional, and unique—something all your competitors may not be able to claim.
If you're convinced, reach out and start a conversation. We'll make sure we understand exactly what you need and tell you honestly if we can help.
Explore Latest Posts
So, this is the story all about how...the band Jefferson Starship, credited with 70s and 80s hits "Sarah" and "Miracles," ... read more

Voice search is quickly becoming a critical aspect of search engine optimization (SEO) as the use of voice assistants like ... read more

Advanced SEO techniques are an essential aspect of search engine optimization in today's digital landscape. They go beyond the basic ... read more