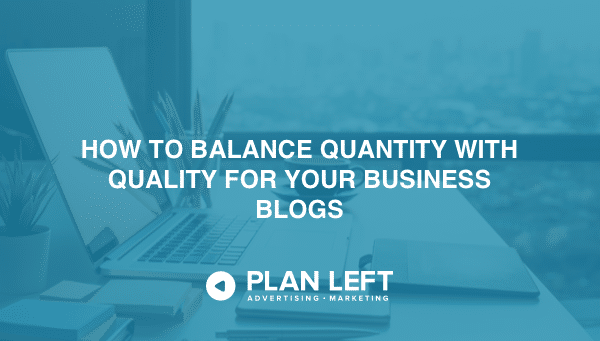 Updated Content on 7/04/2023
Creating and maintaining a business blog involves so many different working parts, doesn't it? On one side of the argument, you hear that Google wants fresh, quality content on a regular basis. On the other, you know that more content equals greater chances for indexed pages within search engines. How can you possibly balance high volume with high quality, especially if you're busy trying to run the rest of your company?
Your goal when writing a blog for your business should not only be to get Google's attention. That's definitely a helpful byproduct, but your main focus should always be your customers.
All About Your Customers
To solve your customers' pain points, you must know what they need. That involves a deep understanding of your target audience. Why do they need your products or services? Who makes the final decisions? Beyond that, what specific questions will they have about your company, services, products, and procedures? If you want to create blogs your visitors will read, you must know these things.
Content that answers your customers' questions before they even ask—that's quality content. You'll need plenty of time for research, strategy, writing, and editing. You'll also want time to track your results so that you can be sure what's hitting the target and what misses every time.
Quality content can play a huge foundational role in your brand. It will boost your reputation and build a group of loyal followers that look forward to your content. Consistently putting out bad content will turn potential customers away and bring zero credibility to your brand.
How SEO Fits In
Although the main focus of your blog should be quality content for customers, you can still consider how SEO will get your content in front of some of those customers.
Quality posts will rank higher in search engines. The top articles in every search are the ones that Google has determined are the most helpful to readers. Ranking at the top of a search also offers the benefit of long-term traffic. If your post stays at the top for a long time, it will receive new views every day and increase brand visibility.
Focus on quality content and customer satisfaction, and high SEO will follow. Of course, it's a pretty involved process, which brings us to quantity.
Does Quantity Matter?
Every brand's blog is unique and has different needs. That's where the balancing act of quality and quantity comes into play. While you shouldn't just be blogging with the intention of pleasing search engines, the fact remains that you need good SEO for organic search results. In order to benefit from Google's search algorithms, you need to provide that fresh, quality content on a regular basis. The more pages you have indexed, the more likely your site will show up in search results.
Now, you have a conundrum. If you're working hard to provide quality information to your customers, then you know producing several of these blogs takes time you don't have. Forcing a rapid posting schedule is a guaranteed road to burnout. You can allow the quality to slip to boost your posting schedule, or you can cut down your content calendar so you can focus on a small number of stellar blogs.
Benefits of Quantity
You will want to maintain a certain level of quality. But experimenting with quantity can actually be very beneficial. Putting out a variety of blogs is a great way to figure out what works for your target audience and what doesn't. What kind of post gets the most views, read time, or comments? On the flip side of this, even if not all of your posts perform equally, a wide range of content will attract a wide range of customers. Plus, you'll have a backlog of content for readers eager to know more.
More writing means better writing. The more practice you have blogging for your brand, the better your writing skills and the stronger your brand voice. Practice makes perfect.
It's very easy to see the benefit of an increased blogging schedule. We bumped our content calendar from one blog to twelve blogs per month and saw a 93% increase in traffic to our website. While we wouldn't promise such enormous results to anyone, we would promise increased traffic with a more aggressive content schedule.
Finding the Balance
Now, the question that remains is how to balance the two. Before you panic, step back and take a deep breath. Let's first consider how many blogs you already write for your company. If you haven't started a blog at all, then it's time to plan to do so. If you're sporadically uploading news and content, try to organize those random posts into a schedule.
Whatever you're already doing, make a pledge to yourself that you'll increase your efforts. If you're blogging once every other month, then schedule one per month. If you're managing one per month, then attempt two. Only increase the momentum as your time allows. When you notice the quality slipping, then scale back your quantity.
Also, don't be afraid to reuse formulas that work best for your business. If list-style posts get great traction, why change the format? If people love to read your feature-style blogs, an image-heavy blog might turn them off. By working with the same formulas, you may increase your blogging speed without sacrificing quality. Again, practice makes perfect.
Of course, we're also here at any time to help you develop and launch a content calendar for a truly beneficial content strategy. If you need help planning your blogs or even writing them, feel free to reach out.
Explore Latest Posts
So, this is the story all about how...the band Jefferson Starship, credited with 70s and 80s hits "Sarah" and "Miracles," ... read more

Voice search is quickly becoming a critical aspect of search engine optimization (SEO) as the use of voice assistants like ... read more

Advanced SEO techniques are an essential aspect of search engine optimization in today's digital landscape. They go beyond the basic ... read more