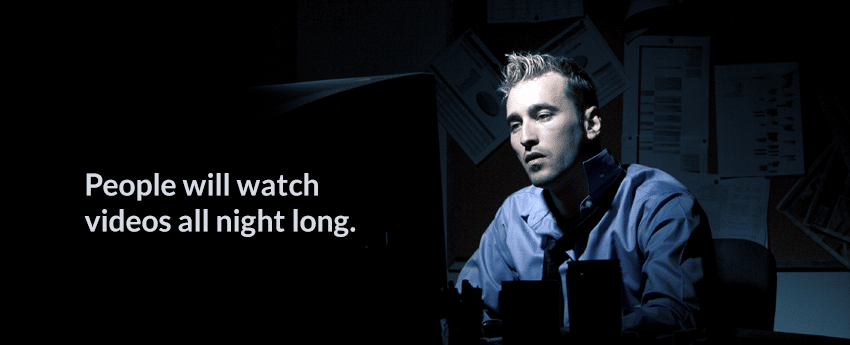 With the latest changes to Google's algorithm, content is becoming more and more important. And not just content—good, quality, informative content. If you really want to drive traffic to your company through social media, email, and SEO, you simply can't without content.
What happens if you just aren't a great writer? Is it possible to feature excellent content if you're not capable of writing 600-word, spell-checked, fact-checked blogs? Of course! Content isn't just words. In fact, one of the most popular and effective ways to provide quality content is through video.
Just how effective? Scarily so. Take a look at some of this year's most compelling statistics.
80% will watch a video while only 20% will read the content
Not sure if we're being honest about this whole "don't need to write to have good content" thing? This statistic alone proves it. Why spend hours slaving over a blog if only 20% of your audience will read it anyway? You can get some great results with video, but you do have to put a lot of care and skill into it for best results.
Keep in mind that, while 80% may watch your video, another 20% say they won't. How can you reach everyone? Consider summarizing the video or even posting a transcript. The point is to reach as many people as possible with the message—whatever that message may be.
YouTube is the number 2 search engine in the world
Right. YouTube is definitely the second most popular search engine in the world. What that statistic doesn't tell you is that YouTube is also owned by the largest search engine in the world. What you don't find in a search within YouTube itself, you'll definitely find during a Google search. In fact, those videos often rank higher in results than written content.
22% will visit the website named in a video they watch
One of your goals when creating and sharing your video content is to get those users to your website. Believe it or not, 22% who watch will do exactly that—but not if you don't include your website address. Don't make it harder than necessary for your buyers.
26% of users look up more information after viewing a video
Not only will potential buyers visit your website, but they'll also look in other places for more information. That means you can't rely on video alone, but you already knew that. You can use this information to make sure you're as visible as possible. Social media accounts, review sites, and local directories are great places to start. If you're not visible in other places, that great video that caught the attention of potential buyers will lead absolutely nowhere.
12% will purchase the product featured in a video ad
Now, it's important to note that 12% will buy something if you make purchasing easy. We've already talked about making sure the web address is featured and that you have a presence on the internet outside of your website. Now you need to make sure the path is clear from the video to the landing page.
Sharing the link to the landing page for the particular product or service your video is about is probably the wisest course of action, but sometimes that's not possible. If you can't lead directly to a landing page from YouTube, consider featuring the video on the front page of your site with a link there. Again, the harder you make people work, the less likely they'll be to stick around.
CTR increases 2-3 times when video is included in an email
Video isn't just for YouTube or your website. If you're looking for ways to improve your click-through-rate on your marketing emails, consider including a video. Statistics really do show that the CTR could improve by two the three times.
Your video could be anything from an introduction to your company and team to tutorials for using your products or services. In fact, the more helpful the videos are, the more likely recipients will be to click on them.
45% will stop watching after 1 minute; 60% stop by 2 minutes
This could be the actual scary statistic here. We're a culture of instant gratification, so you should create your videos with this in mind. Keeping videos under one minute ensures a larger percentage of your audience will hang in there until the end.
Just in case they don't hang in there, consider passing along the truly important information—like website addresses or social media networks—early into the video. That way those who don't want to hang around until the end can still find your company later.
Your productions don't have to be slick and professional to get results, but they should be easy to watch. If you have trouble with your video marketing efforts, we're always here to help. Just give us a call when you're ready to launch (or improve) your video marketing efforts.
Explore Latest Posts
So, this is the story all about how...the band Jefferson Starship, credited with 70s and 80s hits "Sarah" and "Miracles," ... read more

Voice search is quickly becoming a critical aspect of search engine optimization (SEO) as the use of voice assistants like ... read more

Advanced SEO techniques are an essential aspect of search engine optimization in today's digital landscape. They go beyond the basic ... read more