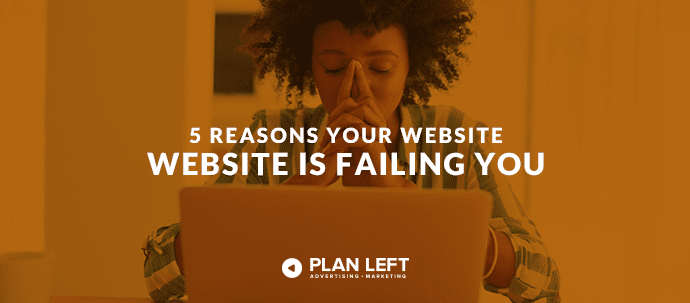 Your website is one of the most important tenets of your business.
You've spent thousands on the best design, IT personnel and coders to get it up and running. You're paying for hosting, support, eCommerce capabilities and subscriptions.
And your numbers look worse every month.
Why is your website failing, you wonder?
Your SEO Strategy Isn't Sound
There are many reasons for a failing SEO strategy.
But they all have one thing in common: they hurt your website's performance.
There are a few tenets of a bad SEO strategy that might be unknowingly affecting your website's performance:
Duplicate content
404 pages
Too few content marketing outlets
Keyword stuffing
Bad keyword strategy
Unrelated ads on your site
Bad badlinks
Many brands are vulnerable to taking on a bad keyword strategy, either through bad advice or a lack of insight.
Not utilizing enough long-tail keywords, clinging to head keywords, and not monitoring which keywords perform are just a few ways you can fall behind in your SEO plan.
If you're investing in Google AdWords, you have to monitor, iterate and adjust your campaigns and spend, based on the results of your previous effort.
Your Site Has Bad Design
Bad design has always negatively impacted sites, but in 2016, it's basically a death knell.
What constitutes bad design?
Clutter. Too many images, too much text, too many graphics…white space is your friend. Embrace it.
No defined purpose. Your website should have a streamlined purpose that is immediately discernible to your audience. A scattered, unfocused design sends people away.
Incoherence. Incoherent design is another way to send your website's visitors away. A website that looks like it was designed by 10 different people at different points in time won't communicate your brand voice or what your company offers.
Aggressive Colors.  Loud, aggressive colors can be used smartly in a well-designed website. But if they aren't, they can overwhelm and annoy your website's visitors.
Low-Quality Graphics and Design Techniques. Don't think you can get away with pixelated graphics or out-of-date design. Think bevel and emboss, cheesy fonts and neon colors–and then forget them, forever. No one will be impressed, and you'll look totally out of touch.
Flash Intros. Obstructive flash pop-ups or autoplay videos are annoying and will send your website's visitors straight for the "back" button.
Taking a good hard look at your website's design and layout is a worthy endeavor. Design flaws might be costing you valuable traffic and engagement.
Your Site Has Bad Functionality and User Experience
User experience is more important than ever before.
So important, in fact, that in a recent report from the Society of Digital Agencies, 77% of responding agencies listed poor UX as a main issue for their clients.
So what are some hallmarks of great UX for your website's visitors (and do you meet them)?
Short load times on images and features
Thorough contact information (make it easy for visitors to find your phone number, address, important emails, etc)
Easy navigation. Know which pages your user is most likely to be looking for. A lot of times, it's the products/service page or Contact Us. Choose design capabilities that make it easy for your audience to move from introduction to finding the page they want.
When it comes to really figuring out the time of functionality your site should have, you need to gather research and data on your target customer.
What are your most popular products? How are those products used? What's the average age of your target customer?
User experience is highly individual—it varies by industry, demographic, and place. You have to figure out what your audience wants and then give it to them.
Your Site Isn't Mobile-Friendly
Google began cracking down on non-mobile-friendly sites a couple of years ago, lowering the rankings of websites who hadn't sorted out their mobile presence.
Now, Google is taking it a step further.
The company announced in August that it would begin cracking the whip on websites that use "intrusive interstitials," (i.e. overwhelming mobile pop-ups).
Google defined "intrusive interstitial" as a pop-up that covers up the main content on a mobile page.
This definition also included pop-ups that had to be manually dismissed before a user could access the main content, and pop-ups that sat above the fold on the main page, moving the prime content below.
If the mobile version of your site deploys what Google defines as "intrusive interstitials," you could be in for a steep dip in your rankings, maybe your website investment far less valuable.
Make sure your display advertising is in line with Google's standards—and offers your mobile visitors the best, most intuitive experience on your site.
Your Site Has Long Load Speeds
No one wants to wait for a website to load.
A full 47% of consumers expect a web page to load in 2 seconds or less.
A full 40% abandon a web page that takes 3 seconds or longer to load.
This goes back to user experience, but also exists as a standalone problem that you have to address.
If your website load speeds are unimpressive (4 seconds or more), your website is doing very little for you. People are leaving before your homepage even loads. They aren't seeing your amazing design or perusing your products or services pages.
Check your site's load speed with this handy tool.
Still have questions about your website? Plan Left can help.
Explore Latest Posts
So, this is the story all about how...the band Jefferson Starship, credited with 70s and 80s hits "Sarah" and "Miracles," ... read more

Voice search is quickly becoming a critical aspect of search engine optimization (SEO) as the use of voice assistants like ... read more

Advanced SEO techniques are an essential aspect of search engine optimization in today's digital landscape. They go beyond the basic ... read more