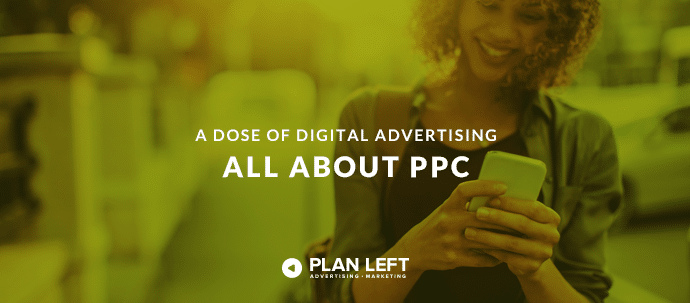 Digital advertising has nearly doubled its revenues in the past five years.
There's been a meteoric rise in digital ads and evidence of their success in helping brands spot and appeal to their customers. 
Non-digital forms of advertising, on the other hand, have seen revenues drop steadily over the past few years.
For most industries, digital spaces are where potential customers are.
Social media, search engines, YouTube, and websites dominate many consumers' time, shopping habits and entertainment, both at work and at home.
With the advent of smartphones, digital spaces are taking up consumers' time when they're out in the world, too.
It's no big wonder that digital advertising is such a force.
This week we'll be looking at one of the most popular forms of digital advertising: pay-per-click (PPC).
Pay-Per-Click
What is it?
Pay-per-click is basically a way of purchasing visits to your site, by bidding for keyword phrases that are relevant to your industry, market, or particular campaign.
The most common avenue for bidding on PPC space is the search engine. Google, Bing, and Yahoo are the big players. Facebook is also taking part in the PPC culture.
In the pay-per-click model, the purchasing company bids on the keyword phrases they want, and then pays an online publisher (typically a search engine) each time their ad is found and clicked on.
Bidding is shaped by a few things.
First, you have to determine which keyword phrases you'd like to compete for.
This requires some research, and some SEO savvy. After all, you don't want to throw your PPC budget at highly-competitive "head" keywords which will cost you a ton of money and yield unimpressive ROI.
There are several rules of thumb to consider when choosing keywords for your PPC push:
Trademarks and brand-related terms. If you have trademarked phrases or words or a few unique branded terms, bid on them with a portion of your PPC budget. Competition will likely be low, and if people are searching your brand name, they're likely already looking for you, anyway.
Company or industry-related terms. Are you in the women's apparel business? Think outside the box with your keywords. Sure, "women's blouses" might be relevant, but it's important to expand outside of the obvious—"women's woven tops," "white chiffon tops," "white business casual tops women"…you get the picture. Widen your umbrella.
Competitor Terms. Bidding for your competitor's keywords and branded terms can be a boon, if you do it right. If you sell a similar array of products or services, people who search for your competitors' goods can find ads for yours, putting you in front of qualified potential customers. Other the other hand, bidding for competitors' branded terms can have some downfalls, which you need to be prepared for.
You can also include common misspellings of industry-related terms, or use an online tool to concatenate your desired keywords into longtail keyword phrases for you.
Remember: specificity is a big part of success in PPC marketing.
You're not looking for empty, unqualified clicks.
Because you're paying for every single one, it's imperative that your clicks have real potential to generate sales. Otherwise, you'll have a very low click-through-rate and an even lower ROI.
Negative Keywords
One thing many business owners overlook when they're starting out with PPC: not only can you bid on keywords related to your brand and industry, but you can also eliminate your ads from search queries that aren't.
Let's hypothesize for a moment:
Imagine you're a specialty, handmade furniture store establishing the specifics of an AdWord campaign. Your products are expensive, handcrafted, and artisan—they're luxury centerpieces for formal dining rooms and living areas and require a decent amount of care.
You still want to bid for head keywords like "chairs," "tables," or "furniture" so you throw your PPC money down on those terms.
And then you get thousands of clicks from people looking for low-key furniture on the cheap, or banquet halls on the hunt for plastic folding chairs for an upcoming event.
This drives up the price of your PPC campaign and yields you very few qualified clicks.
Negative keywords can help you avoid this.
Sprucing up your AdWords campaign with negative keywords will help you choose which terms you do not want your ad to be generated by.
For the scenario we outlined above, you might tell AdWords to eliminate your ad from queries which include the words "cheap," "affordable," "event," or "wedding."
The college student looking for a cheap dining room table will not be served your ad. The bride on the hunt for two-dozen white folding chairs for an intimate reception will also not be shown your ad.
You can chose two different criteria for your negative keywords: Ad group level and campaign level.
One will let you eliminate your ad from certain search queries for all time, and the other lets your specify elimination for a single campaign.
The science behind choosing which terms should be on your "negative" list is pretty deep. Some trial and error and investment of time is required to really get to know Google, searchers and how your ads stack up. After all, you don't want to limit your pool too much.
But once you get the hang of it, the Negative Keywords tool can help you target your ads and make a better go of your PPC investment.
Sitelinks for the Win
Another way to improve your PPC performance? Sitelinks, which allows you to beef up your standard text ad with links to some of your highest-performing or most relevant landing pages.
Consider this result from a search query for "Women's Leather Boots":
You see that Zappos appears at the top of the results, linking to the site page titled "Women's Leather Shoes."
Immediately beneath the description, you can spot 4 distinct links, highlighted in blue text.
This is Sitelinks at work.
"Women's Leather Shoes," while close to the searcher's intent is not specifically what they were looking for. So Zappos, utilizing Sitelinks, smartly includes links to boots, athletic shoes, flats and wedges, betting that the searcher is looking for leather footwear in one of those styles, or at least will be inspired enough by the page titles to click on them anyway.
These links are short, to-the-point, and attractive. And they build on what the searcher is already looking for.
There's a reason that Sitelinks has been called the "King of all Adwords ad extensions." It's a great tool that offers a huge boost to PPC campaigns across industries.
Add Sitelinks to your company's AdWords campaign here.
It's clear that PPC offers easy, cost-efficient ways to get your brand and your products in front of the right eyes.
It's time to take the leap!
Still have questions about PPC or your brand's campaigns? Plan Left is here to help.
Explore Latest Posts
So, this is the story all about how...the band Jefferson Starship, credited with 70s and 80s hits "Sarah" and "Miracles," ... read more

Voice search is quickly becoming a critical aspect of search engine optimization (SEO) as the use of voice assistants like ... read more

Advanced SEO techniques are an essential aspect of search engine optimization in today's digital landscape. They go beyond the basic ... read more