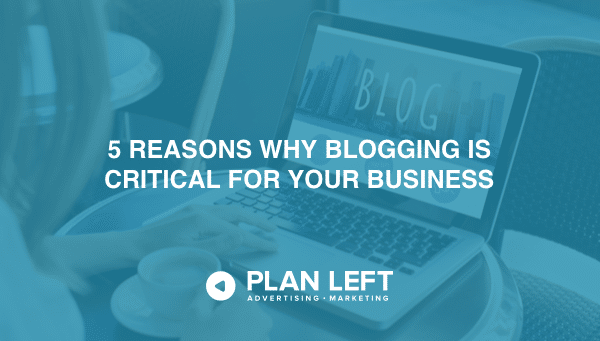 Updated Content on 06/22/2023
Business blogging is an integral part of inbound marketing. The problem is that a dedicated business blog can take a considerable chunk of your time and resources. For that reason, many either forego starting a blog for their business or simply contribute whenever they have the time. If you're putting your blog on the back burner—or worse, ignoring your need for one—you're missing out on one of the most powerful marketing tools available.
Let's take a look at some of the incredible benefits you're missing out on:
Whoa. That's a lot of good stuff that comes from blogging. If that's not enough, here are five more reasons you should start blogging for your business right now.
1. Blogging Is Kind of Easy
You might think that blogging is a daunting task. However, it's easier than you think once you break it down into steps. All you need is a topic relevant to your products and audience, a clear and concise writing style, and a little time to craft your post.
Quality content is all about providing something of value to your consumers. How are you going to make their lives better? Consider the questions your customers frequently ask, their challenges, and the solutions you can offer. These are all great starting points for a blog post. In this day and age, you don't even need to be a professional writer to make a decent blog. Consumers love brands with a distinct, human voice, so sometimes, you need to write like a friendly business trying to help people (because that's what you are!).
Editing tools like Grammarly will help fill any gaps in your writing.
Of course, if you're short on time or feel uncomfortable writing your blog posts, you can always outsource the task to a professional content writer. With a little effort, you'll find that business blogging is an easy way to start driving more traffic to your website, as we'll see below.
2. Blogs Drive Website Traffic
Blogging is one of the most effective ways to drive traffic to your website, which is amazing because it can come entirely from organic search. By creating regular, high-quality content, your business will attract new readers and keep them coming back for more. 71% of bloggers agree that SEO is the biggest source of traffic. Each new blog post gives Google another chance to index your website for search. Each new post also gives your audience a chance to visit your website, engage with your content, and share it with others.
Blogging SEO is an ever-changing landscape, but Google is very clear about what they value most in blog posts. Brands write blogs for the consumer, and as much as they are a marketing tool, they're also an educational tool. Google isn't going to rank a useless, keyword-stuffed blog very highly. Content should be easy to read and full of fresh insights. Blogs should answer consumers' questions, including the ones they didn't even know they had.
Once you've focused on the reader, you can think about what keywords and other tactics will tip your blog over the edge and into the top 10 search results. Tactics like internal linking within your blog posts can help improve your website's overall SEO by increasing visitors' browsing time and reducing bounce rates. You can only utilize internal linking if you have plenty of content on your website, so it's time to start blogging!
3. Blogs Can Turn Traffic Into Leads
Blogging isn't just about getting traffic to your website; it's also about converting that traffic into leads. That high-quality blog content will get consumers to browse your website a little, but your business needs sales, not just window shopping.
Strategic calls to action at the end of blog posts will encourage consumers to take action and engage with your business. This can include signing up for your email list, downloading a free eBook, or even making a purchase.
Including a call to action at the end of your blog post is crucial because it gives your readers a clear next step. They may read your post without a call to action and simply move on to something else. But by telling them exactly what you want them to do next, you increase the chances that they'll take action, whatever that action may be. You can set specific conversion goals for your business depending on what you're looking to achieve.
Don't be afraid to be specific in your call to action, either. Instead of just saying, "Subscribe to our newsletter," you could say something like, "Subscribe to our newsletter to receive weekly tips and insights on how to boost your digital marketing." This call to action clarifies what value your readers will get from taking action, convincing them to convert.
4. Writing Blogs Can Establish You as an Expert
What would you tell people about your business and industry if you could tell the whole world? Blogging won't put you in front of the eyes of everyone, but it gives you an audience. Blogging is your platform to share your experiences and show your readers how well you know your stuff. If your blogs include valuable content, you'll earn credibility. And credibility is a powerful thing.
If potential buyers believe you're an expert in your field, they'll trust the recommendations you make within your blog. Give them unique insight into your products and services, share helpful information that makes their lives easier, and above all, soothe their pain points. When you help consumers solve their problems, they're way more likely to buy from you- and continue buying from you.
At least 46% of people take recommendations from bloggers. That's almost half of your potential audience, so take advantage of the authoritative power of blogging.
5. Blogs Make Creating Social Media Content Easier
How will you have time for social media marketing if you start devoting so much time to blogging? What if I told you that you could repurpose your existing blog content for social media? That's right: by taking snippets of your blog posts and adapting them for different social media platforms, you can reach a wider audience and save time on content creation.
For example, turn a quote from your blog post into a tweet. Or, create an infographic based on the main points of your post to share on Instagram or LinkedIn. You could even create a short video summarizing the key takeaways from your post and share it on YouTube or Facebook.
Not only does repurposing your blog content for social media save you time, but it also helps to reinforce your message and increase engagement with your audience. So, next time you're struggling to create new content, look back at your existing blog posts and see how you can adapt them for social media.
Are you ready to start a blog yet? It takes some time and effort, but the benefits really are worth the cost. And remember, if you don't have the resources available, you can trust us to blog for you. We'll get to know your buyers, your products, and your industry so that we can create compelling, lead-generating blogs in your stead. Get in touch with us today!
Explore Latest Posts
So, this is the story all about how...the band Jefferson Starship, credited with 70s and 80s hits "Sarah" and "Miracles," ... read more

Voice search is quickly becoming a critical aspect of search engine optimization (SEO) as the use of voice assistants like ... read more

Advanced SEO techniques are an essential aspect of search engine optimization in today's digital landscape. They go beyond the basic ... read more