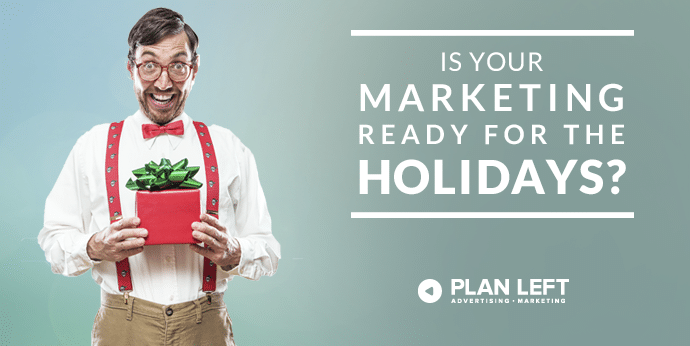 With the holidays quickly approaching, your seasonal marketing campaigns should be ready to launch. Pay no attention to those complaining that Halloween is just barely in the rearview mirror. For effective results, you should have started weeks ago, but that's okay. It's not too late to make the most of the season. Here's what you need to do.
Focus on SEO
If you're selling products specifically for the holidays or want to offer seasonal discounts, you better get moving on your search engine optimization. You can believe that your competitors have already considered this. That means your prospective customers—people who need the products or services you provide—arrive at your competitors' websites when they search for holiday specials. Ouch.
Start Social Now
Your holiday specials and discounts may not be found by many if you don't step away from your website to advertise. Your social media platforms are the best way to reach new and current customers. Be sure your campaigns have high share-ability, too. You can require shares, likes, and comments for entries into contests or to receive special discounts, and that helps spread the word to consumers who may not have heard of you yet.
Plan a Content Calendar
Keep in mind that you'll be reaching potential buyers that have never before made purchases from you. See, it's the time of year for giving, you'll see traffic from moms, dads, siblings, best friends, boyfriends, spouses—all looking for that perfect gift for their loved ones. If you're not ready to answer all their questions, you'll lose them.
This is the perfect time of year to haul out the FAQs and write a blog for each question. Share some tutorial videos, offer up gift guides, and anything else that might convince those first-time buyers to plunk down their hard-earned money. Plan early and plan well.
Segment Your Contacts
Not all marketing campaigns are created equally. Even during the holiday season, you should segment your contact list to make sure you're reaching customers right where they are in the buying cycle. If you're reaching out to frequent buyers, occasional buyers, and first-time buyers, you wouldn't send the same offers, would you? An email written for a first-time buyer might offend a regular customer—especially if they feel you should know who they are by now.
You're going to be sending out the email marketing campaigns on a regular basis between now and the big day. Start segmenting now to make sure you leave no stone unturned and that everyone feels that personal touch.
Focus on Website Optimization
If you're directing new visitors to your website through social referrals and organic searches, then you should ensure that your site can handle the increased traffic. Any moment spent out of commission due to an overtaxed server is a purchase lost.
Be sure to check your site speeds, too. If your site takes longer than 3 seconds to load, more than 40% of your visitors will bounce and go elsewhere. That percentage is likely to increase during the holidays, because buyers are already in a hurry. It's the hustle and bustle, you know?
Check Your Security
The holiday season brings out the best in some, and the worst in others. The potential for data breaches may discourage some from shopping online or sharing personal information. If you require any personal information on your website, be sure you also include security information. Show buyers that you're concerned, too, by displaying your security seals. If you don't have security certification, then you should definitely get moving on that.
A quick check-up at the holidays is always a good idea, but you can keep your marketing it tip-top shape all year long with our help. If you want to know more, give us a call. We'll help you get ready for the season.
Explore Latest Posts
So, this is the story all about how...the band Jefferson Starship, credited with 70s and 80s hits "Sarah" and "Miracles," ... read more

Voice search is quickly becoming a critical aspect of search engine optimization (SEO) as the use of voice assistants like ... read more

Advanced SEO techniques are an essential aspect of search engine optimization in today's digital landscape. They go beyond the basic ... read more