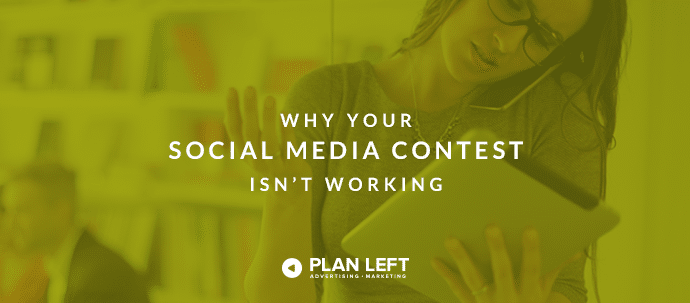 So, you've done all the research and learned that a contest on social media is the perfect way to engage your followers and find new prospects. In theory, this is true. What better way to entice potential customers than to offer free stuff and glory? The problem is, you haven't seen those numbers climbing the way they should. In fact, you may have less engagement on your contest than on your everyday posts. Why would something with so much potential bomb so spectacularly?
There may be a few reasons your social media contest isn't working for you. We'll take a look at the different things that might go wrong and give you some options to fix it.
Violating Terms of Service
Before you launch any Facebook or Twitter contests, make sure your rules are in line with the terms of service for the platform you've chosen. Neither of the networks should be held accountable in any way for your contest. If you have violated these terms, your contest may be rejected. Worse, it may be hidden from viewers without warning. You could spend a month or more wondering why no one has entered.
Lacking Clarity
The rules for your contest should be laid out clearly and succinctly. If your followers and prospects aren't sure what to do, they won't do anything. The following should be included in any contest rules:
The action users must take
The acknowledgment they can expect
How winners will be chosen
When the contest begins
When the contest ends
Who is responsible for awarding the prizes
When the prizes will be delivered
If you appear to be disorganized or hiding anything, no one will trust you with their information. They certainly won't recommend their friends and family to you.
Requiring Too Much for Entry
Let's say you've been perfectly clear about the action users must take to enter your contest. If that action is to fill out a form with more than three required fields, you may turn those eager entrants off. Studies show that long forms are less likely to convert, even when there is a reward for the exchange of information. Even including fields that aren't required can spook a potential user.
All you need to get in touch with a prospect after your contest ends is a name and an email address. You can specify that only valid email addresses will be counted as an entry, and that could save you the irritation of bounced messages later. What you don't need to know is their home address, their phone number, or the last time they bought your products. Keep it simple, and you'll see greater returns.
Little to No Investment
You may jump into your contest thinking the world will clamor for your prizes. After all, people love free stuff, right? Well, buyers are savvy. They know there are strings attached to any contest you run. For that reason, reaching a wide audience can be difficult. You might just have to spend money to promote your contest through various channels.
You've heard the saying, "You have to spend money to make money." Yes, there are situations where you can drum up some free exposure, but don't rely on those options. Do what it takes to get your contest in front of as many eyes as you can. The reward will outweigh your investment.
Social marketing is hard, but you don't have to do it alone. If you need some help building a social strategy or running your social media contests, give us a call. We're happy to help you get some real results.
Explore Latest Posts
So, this is the story all about how...the band Jefferson Starship, credited with 70s and 80s hits "Sarah" and "Miracles," ... read more

Voice search is quickly becoming a critical aspect of search engine optimization (SEO) as the use of voice assistants like ... read more

Advanced SEO techniques are an essential aspect of search engine optimization in today's digital landscape. They go beyond the basic ... read more