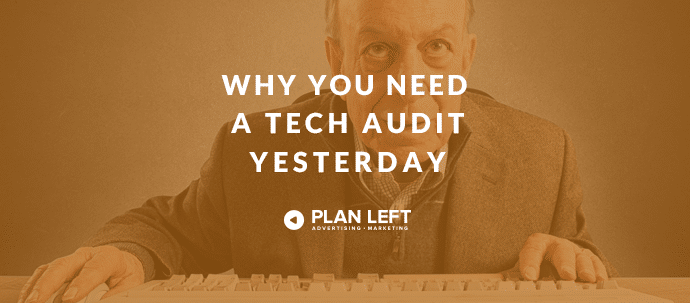 Do you ever wonder how healthy your website is? Just like people, your web presence should have regular checkups to make sure nothing is going wrong without your knowledge. Our Technical Audit is that checkup you need to keep your website running smoothly.
Your website is your most important—and probably most expensive—marketing tool. When load times are too long, links are broken, and SEO is hurting you, then your marketing tool becomes a weapon that aims to hurt you. When we perform a Tech Audit, we examine these things and much more to ensure you're getting the most for your money. That's the biggest "why," but each segment can be broken down into smaller bites. Let's take a look.
Hacking Protection and Remedies
Many clients approach us for website redevelopment when their website stops performing as it should. In many cases, some of the contributed files have been corrupted without their knowledge. In other cases, a client has lost complete control of their website due to a major hack.
Sometimes all you need is a quick fix to the corrupted files. Other times, we battle the bad guys for you to regain control of your website. After restoring the site to its previous iteration, we lock it down and make future malicious attacks very difficult for the bad guys.
Website Speed Diagnosis and Remedies
Consumers won't spend more than twenty seconds waiting for a website to load. Actually, you lose around 40% of your potential buyers after ten seconds. Whether they're waiting for the whole page or specific elements, their patience will wear thin in record time. What do they do when your page doesn't load? They don't come back to try later, that's for sure. Instead, they'll head straight to one of your competitors, or they'll give up the search altogether.
As part of our Tech Audit, we examine your page speeds and determine the elements that may cause slow load times. These may be large files, unoptimized images and videos, content that hasn't been compressed, and images without caching information. In this case study, we increased the client's Google PageSpeed rank from 69% to 96%, the Yahoo Yslow ranking 13% points, and shaved almost a full second off the site load times. We can do the same for you. We'll knock out the easy fixes as we find them and then identify a list of things that will take more time.
Element and Architecture Investigation
You may have paid a lot of money for special features on your website. For a while, those features may have done exactly as you'd hoped they would. Even so, over time, they either became damaged or irrelevant. Just because you spent a lot of money having them developed and installed does not mean you should hang onto them.
We'll take a look at all the plug-ins and custom-built items within your website to make sure nothing is corrupted, out of date, or causing unnecessary complications. If we see a problem with any of your elements, such as out-of-date plug-ins or extraneous elements that will never be used, we'll discuss repair or removal so that your website is always in tip-top shape.
It's important to note that custom code on plug-ins or themes can remove our ability to update them through normal channels. Changes to the elements could also remove the customization. We'll investigate whether that customization is needed and, in relation to theming, make sure updates can be performed without breaking your website.
So, do you know if your website is healthy? If you're not sure, you should call us to set up your Tech Audit as soon as possible. With a healthy web presence, you can build a healthy business.
Explore Latest Posts
So, this is the story all about how...the band Jefferson Starship, credited with 70s and 80s hits "Sarah" and "Miracles," ... read more

Voice search is quickly becoming a critical aspect of search engine optimization (SEO) as the use of voice assistants like ... read more

Advanced SEO techniques are an essential aspect of search engine optimization in today's digital landscape. They go beyond the basic ... read more