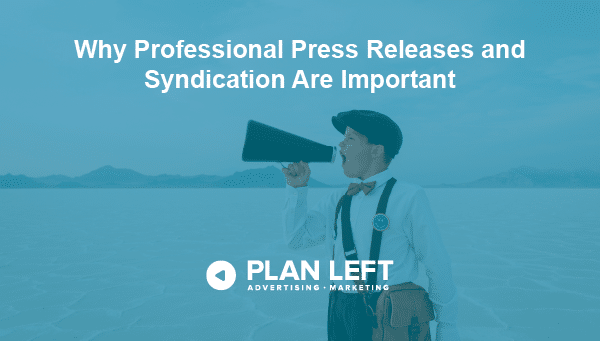 The role of the press release is ever evolving. This major part of public relations services is more varied than ever. In the past, major companies created press releases when there was big news to share. Today, companies put out press releases left and right to get more acknowledgement from their target audience. With so many people putting out press releases, how do you ensure your news will be seen? As with content writing and website design, quality matters.
Good Press Releases
As you probably know, there's going to be a pretty big difference between having someone from accounting write your press releases and a professional PR agency.
What Makes a Good Press Release?
1. Who?
The key to a good press release isn't so much about what is written, but who is reading it. When you begin writing, as with any document, you need to make sure it is relevant to your target audience. The more technically-oriented the recipient of the release, the more industry-specific terminology you can use. However, a general press release with a broader audience will need to water down the specifics a little.
2. What?
That's not to say the content put in a press release isn't important. It needs to be something that will grab attention. You're trying not to get lost in the shuffle of the many documents received on a daily basis, so you want to start with an interesting, yet simple, title that is easy to see and can be scanned quickly. This is also where it is essential to include branding, so your company's brand stays in their minds.
3. Why?
Think about the purpose of a press release. Something has happened in your business that you want others to take advantage of. What action do you want your reader to take after looking at the release? Obviously, you aren't looking for a reaction of just, "Oh, that's nice." Sometimes, you might need to spell out the next step for your audience by including a Call To Action (CTA) to lead them to the next step.
Can't I Do It Myself?
The truth is, anyone can write and distribute a press release. You can even write a good one yourself. However, when you hire the pros, you get more than a good press release. You get more impressions. This isn't about who people know more (though that helps); it's about the quality and specific standards of the press release itself. The paid syndication will get you the impressions of local newspapers, news groups, and other media outlets. From there, your success rates will plummet if the quality and standards aren't in place. A professional knows the right SEO to include in your release to boost visibility. While your own release might see a fair 3,000 to 5,000 impressions, the professional one could generate 30,000 or more.
Public relations are too important to your company and your brand to trust with just anyone. If you want to make the most of your next press release, Plan Left is your new best friend.
Explore Latest Posts
So, this is the story all about how...the band Jefferson Starship, credited with 70s and 80s hits "Sarah" and "Miracles," ... read more

Voice search is quickly becoming a critical aspect of search engine optimization (SEO) as the use of voice assistants like ... read more

Advanced SEO techniques are an essential aspect of search engine optimization in today's digital landscape. They go beyond the basic ... read more