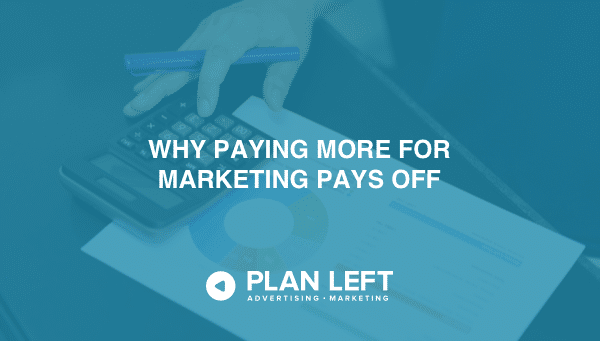 Updated Content on 7/04/2023
No matter how you plan to market your business, the plain and uncomfy truth is that you'll have to spend money. Even with an abundance of free tools available, marketing gets expensive. Sticker shock may tempt you into trimming down what you need to save some cash. Before you do, consider this: Does your business deserve the best?
We're guessing you want the very best for your company. Sometimes that means investing a little more to get the best results. It's like the classic saying says: you have to spend money to make money.
Is Paid Marketing Worth It?
Investing in marketing works because of a little thing called return on investment (ROI). You can determine ROI by dividing the profit from a marketing campaign by the costs of the campaign. The resulting number will be a percentage, and you better hope that percentage isn't a negative number.
A positive ROI means you've earned back more than you spent on marketing. As long as that number is positive, you've made a return on your marketing investment. Hooray! Even if you only make $1.01 for every $1 spent, you're still making money, and you'll draw in more profit with time and practice.
Sometimes it's hard to calculate ROI, though. If your company doesn't have a resident marketing expert to monitor ROI on Google Analytics, try out customer relationship management (CRM) platforms like Salesforce or even an outside marketing agency. It costs money, but it's worth it.
Your next step is determining where to spend that money so you reap the benefits.
Website Design
Your website is one of your biggest and most expensive marketing tools. Consumers spend so much time online discovering, researching, making purchases, and telling others about their experiences. The first contact they have with your company might be your website. If you've cut corners to save money, their first impression won't be a good one.
88% of users won't return to your website if they have a bad experience. If your website is outdated, hard to navigate, or just plain awful, your prospects will go straight to your competitors. Could you spare more money for a bigger, better, more impressive website focusing on user experience? If you can, you should.
Graphic Design
Bad design is so easy to spot, isn't it? If you've ever cringed over someone's images on social media or in print, you've probably sworn never to do that to your company. However, if you're trying to save money on your graphic design, you can be sure your images make others cringe.
With a little investigation, you can find graphic designers who make beautiful images and, more importantly, build and support your brand. Or, you can improve your graphic design skills using simple programs like Canva. Wouldn't you be willing to pay a little more for "Wow!" instead of lukewarm results?
Content Marketing
What many companies need to realize is that content marketing is so much more than just a blog. Your content, the information you share with your customers, can be anything from a sentence on social media to a full-length video on YouTube. It's the words you use to describe your brand. It's the images you share to convey your expertise. It's every piece of every campaign you share online, in print, on television, and even on billboards.
Your content can be inexpensive, sure. But will it reach people? If you're not shelling out a little more for quality, you can be sure your words aren't reaching people. If you want to know the difference between quality content and so-so, remember the last time you rolled your eyes at someone's poorly constructed video. Consider the websites that share very little about what the company is all about. Perhaps the worst and most outdated offense is a blog packed with keywords but little else. These are the results of cutting corners with your content.
Social Media
If you thought you could use the free tools of Facebook and Twitter to drum up some business for your brand, you're probably already dealing with severe disappointment. Getting your well-crafted messages heard above all the noise takes time and effort. Nothing is free, as you've probably learned.
After all, organic reach on social media is declining. The average reach of a Facebook page's organic post is only about 5.2%. Every day, users are putting more and more content out, and companies are fighting for their place on customers' feeds. You'll have to dish out a little money to get your posts in front of your audience. Luckily, social media ads are relatively inexpensive and measurable for improvement. Create a consistent marketing budget, and you'll see results without breaking the bank.
You could take your business to a social media management company, but prepare to shop around. The cheapest one out there isn't very worried about boosting your visibility. They're excited to play on social media all day and make money for it. You deserve social marketing that supports and furthers your brand, marketing that reaches the very buyers who need you. It's an art that requires a lot of research, time, attention, and passion.
Good marketing takes time, talent, and ingenuity. It requires first drafts, revisions, and polishing. Hard work, research, and a deep understanding of the brand. Dedication and so much love for the craft. That type of dedication brings fantastic results, but you know what? It's gonna cost you. Just not as much as you'll pay later to recover from cheap marketing.
Let us help you find and maintain a good balance between quality marketing and maintaining your budget.
Explore Latest Posts
So, this is the story all about how...the band Jefferson Starship, credited with 70s and 80s hits "Sarah" and "Miracles," ... read more

Voice search is quickly becoming a critical aspect of search engine optimization (SEO) as the use of voice assistants like ... read more

Advanced SEO techniques are an essential aspect of search engine optimization in today's digital landscape. They go beyond the basic ... read more