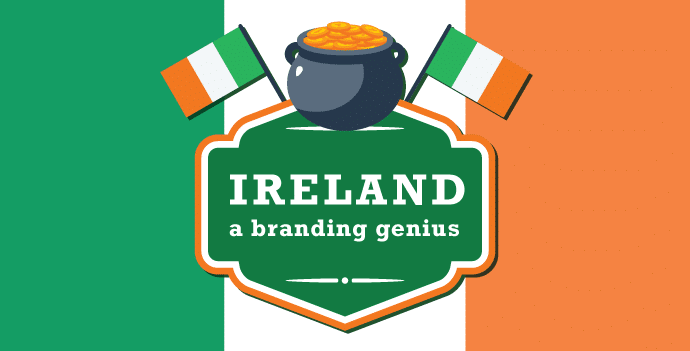 What do you think of when someone says, "Ireland"?  Shamrocks, Guinness, Irish whiskey, castle ruins, and a rousing drinking song. Maybe you think of rain, craggy cliffs and crashing waves, and Riverdance. And, of course, there are the requisite leprechauns and pots o' gold. One thing is for sure: everyone has a firm mental image of Ireland.
Why do we all have such a solid picture of this tiny but great nation? Simply put, the tourism board is a master of branding. They understand their residents, their history, and their visitors. They know what people want to see, buy, eat, hear, and experience. Their marketing campaigns give us these things—and not just the experiences we expect, but also those we may not have known were possible.
Let's break down Ireland's branding, and you'll see why this country could teach quite a few branding experts a thing or two.
Ireland Knows Its Voice
If you've been to Ireland, you know their voice isn't just an Irish accent. In fact, there are as many different accents and dialects as we have here in America. No, the Irish voice is one of perseverance, fun, dreams, and a hint of magic. Ireland fought its own war of independence. Ireland gave us the forerunners to some of our favorite sports, music, dance, and architecture. The country gave us writers like James Joyce, Oscar Wilde, Bram Stoker, Jonathan Swift, CS Lewis, and too many more to count. It's the home of leprechauns, banshees, giants, and fairies.
Rather than attempt to change the world's perception, Ireland embraces this voice. It calls to everyone with the voice, and we respond.
Ireland Knows Its Buyers
The country knows who will visit and spend hard-earned cash, and they create marketing campaigns that reflect their deep, true understanding of these buyers. The appeal reaches a wide variety of buyers, but they know the largest percentage of vacationers often in their mid-forties, well off, and well educated. The next largest group of travelers is under twenty-five years old, financially stable, and hungry to experience new things.
Campaigns such as the one below call to both of these groups, with activities that would interest both the old and young.
Ireland Knows Its History
If you're familiar with Ireland's history, you know it's fraught with turmoil and filled with magic. For several millennia, the land saw war, both silent and bloody. The battles shaped a nation and left their mark on scarred castles, rolling hills, and narrow city streets.
This violent past could put a damper on the welcome Ireland hopes to give, but the country doesn't let it. While some individuals may still feel the hurt, the country welcomes the outside in. The tourism board makes this clear with their current advertising campaign encouraging visitors to explore the Ancient East, with all its 5,000 years of history.
Ireland Knows Its Unique Value
Really, is there any other country in the world like Ireland? Nope, and Ireland knows it. The country embraces all the things that make it great, and even those that may seem at first to be drawbacks. Ireland knows people will travel from around the world with hopes of seeing castles from bygone rulers, hearing music in lively pubs, and experiencing history that's still alive today.
Every poster, website, social media account, commercial, and brochure is created with this unique value front and center. And it's working. More than 8 million people have visited the Emerald Isle each year for the past several years. That's more than the population of the Republic of Ireland and Northern Ireland combined.
In honor of St. Patrick's Day, we celebrate Ireland, the branding genius. If you'd like to apply some of their knowledge to your business, we're here to help.
An earlier version of this blog was posted 3/16/2015. It has been updated to include new information.
Explore Latest Posts
So, this is the story all about how...the band Jefferson Starship, credited with 70s and 80s hits "Sarah" and "Miracles," ... read more

Voice search is quickly becoming a critical aspect of search engine optimization (SEO) as the use of voice assistants like ... read more

Advanced SEO techniques are an essential aspect of search engine optimization in today's digital landscape. They go beyond the basic ... read more