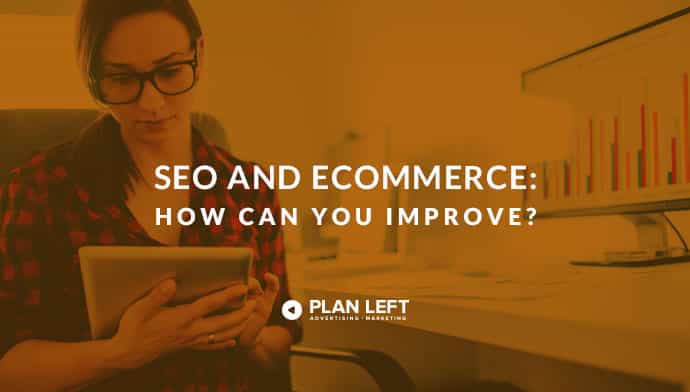 Raise your hand if you understand SEO perfectly, have the best-performing ecommerce site ever, and have no interest in finding more customers or making more money.
None of you?
We didn't think so.
That's because SEO is confusing and no good business owner is satisfied with what he or she has. You want to improve, and you want to learn.
Which makes all the latest SEO shake-ups pretty intimidating.
After all, if you have an ecommerce site, you have to pay attention to those shake-ups and their implications.
Why?
Well, the numbers, for one thing.
More consumers than ever are shopping exclusively or partially online. This makes it absolutely vital that you're on top of the SEO and ranking trends that will enable your site to stand out on Google and SERPs.
It's also vital that your site provide a cohesive, enjoyable experience for its visitors.
How do you do that?
Improve its SEO value.
Here are a few key ways to do that.
Run a Test to Find Site Errors
What if we told you there were websites and software available to show you the glaring SEO errors on your site? You'd probably be pretty interested.
That's because these programs can save you boatloads of time and confusion.
You don't have a million hours to go through your site with a fine-toothed comb. Now is the time to advantage of technology.
Fetch as Google will allow you to see your site the way Google sees it—warts and all. Fetch will crawl your site's images, videos, news articles, landing pages…you name it. It will show you what you need to fix so you can improve your site's SEO and impress your customers.
 Screaming Frog is another invaluable tool for evaluating your site for SEO. If you're serious about doing an SEO audit of your ecommerce site, Screaming Frog is your partner. It will find bad redirects, duplicate pages, blocked URLs, page response time and so much more. This is especially great for medium-to-large sites that have a lot of pages and a ton of work to do in this realm.
Check My Links is a great tool for checking every page of your site for broken links. Broken links are annoying and users hate them. And Google doesn't like them, either.
Make Your URLs Searcher-Friendly
When you see a URL with a bunch of numbers in it, how do you feel?
If you're trying to shop online and land on a page with a URL that doesn't have keywords and doesn't provide any indication of what the page contains, isn't it kind of off-putting?
Maybe it's just us, but URLs that are miles long and full of weird symbols are hard to understand.
They're also difficult to share on social media. Character limits are a thing, after all.
The SEO of your ecommerce page depends on more than including keywords and phrases within the content. You have to make sure your URLs are user-friendly, too.
Here are some quick tips for building URLs that are good for SEO and great for your site's visitors:
Keep it short and sweet. Include the most relevant keywords, like item name, category or color.
Leave out articles. "The", "an," and "a" aren't necessary.
Avoid using numbers and symbols.
Fix canonicalization issues. Make sure to add canonical URLs to product or service pages that can be accessed through multiple URLs. This will prevent your site from being pinged for duplicate content.
Keep Up with Crawl Errors and 404s
Google Search Console is your best friend when it comes to finding crawl errors and 404s on your site.
When you have alot of 404 pages, it's difficult for your users to go deep into your site.
If a user selects a page on your site from a search engine results page, but is sent to a 404, not only are they not going to stay on your site, they probably won't return in the future.
Overall, 404s are bad for the user's experience, and you should fix them.
Search Console makes it super easy to find the crawl errors on your site. Because it reports errors on a regular basis after fresh crawls, you have an ongoing monitor of 404s.
Once you know there are 404s, you have to set about redirecting them to another page on your site.
If you've never explored the crawl error tab in Search Console, simply sign in, and look for the tab on the left-hand menu bar that says "Crawl."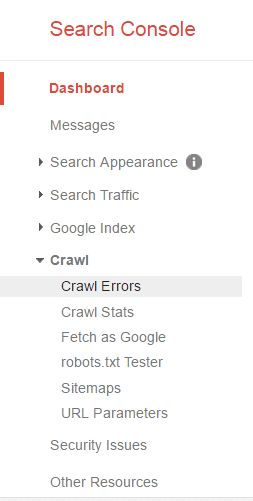 Once you've selected it, the drop-down menu will show "Crawl Errors" at the top:
Simply select "Crawl Errors" from the menu, and you'll be able to see exactly where your site is generating 404s for your users.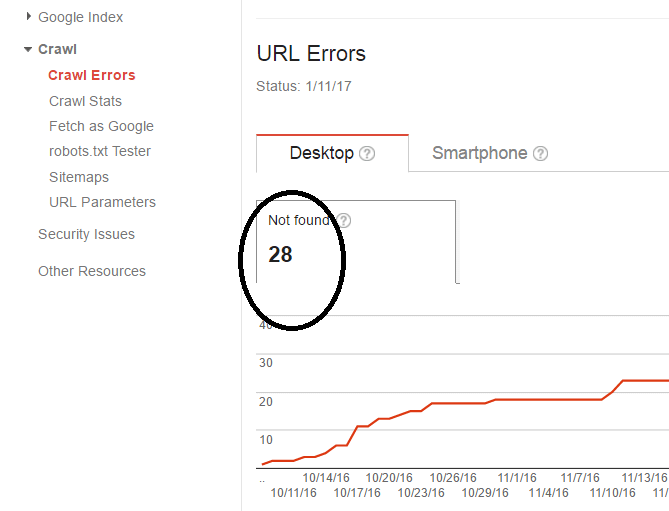 Once you've accessed the list of 404s, you can export the 404s into a CSV and make a spreadsheet of the pages you need to redirect. When you've completed the spreadsheet, simply upload it into your CMS.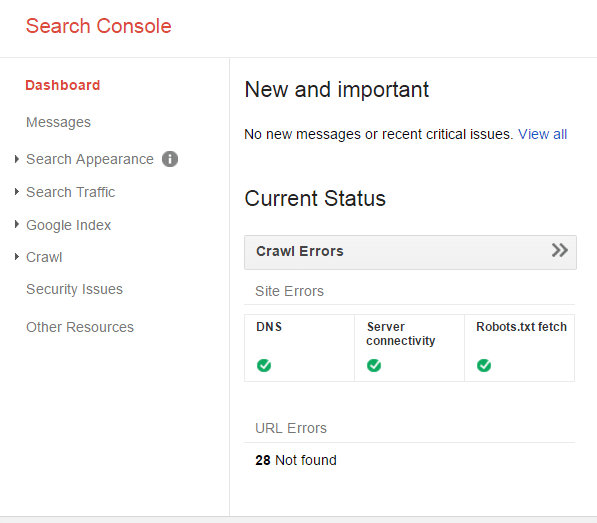 Improve Your Product Descriptions
And last, but certainly not least, let's discuss product descriptions.
More specifically, let's discuss why many businesses do so little to make them awesome.
You see, your ecommerce site exists to bring users in and convince them to buy something from you. It's literally a virtual store where your visitors have only pictures and descriptions to convince them that your products are a good fit for them.
They can't touch the clothes you sell. There isn't a fitting room. There's no showroom floor where they can sample the merchandise.
So you have to create product descriptions that tell them what they want to know. But you should also enhance that with information that's simply dazzling.
In addition to making your products more attractive to your site's visitors, better product descriptions will also help SEO value.
Make it unique. All of your product descriptions should be unique. If you can Google your own product's description and be directed to a number of your competitors' products, you're not offering unique value.
Add keywords. Be strategic with your keyword placement, but make sure that they're included. Your product description should naturally contain the keywords you need, while also providing great information for your customer.
If you want to make sure your descriptions are unique, run them through Copyscape.
So there it is: a few different ways to improve the SEO of your ecommerce website.
There still a lot more to know, and a lot more to talk about.
We'll get into those things another time.
Still have questions? Ask Plan Left.
Explore Latest Posts
So, this is the story all about how...the band Jefferson Starship, credited with 70s and 80s hits "Sarah" and "Miracles," ... read more

Voice search is quickly becoming a critical aspect of search engine optimization (SEO) as the use of voice assistants like ... read more

Advanced SEO techniques are an essential aspect of search engine optimization in today's digital landscape. They go beyond the basic ... read more