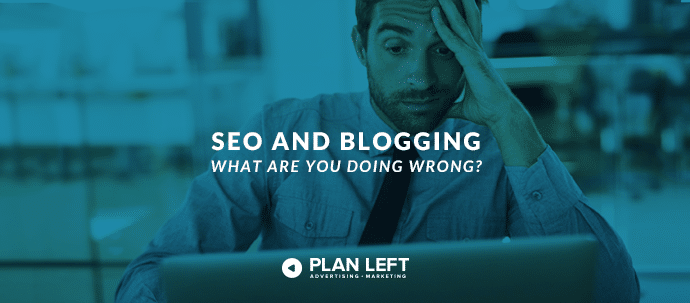 SEO is confusing. It's also constantly changing.
For most companies, diving into search engine optimization is intimidating, even frustrating. After all, much of what makes SEO so effective is shrouded in mystery.
Luckily, there are SEO experts out there who are sharing their secrets with the world.
Moz.com is a pioneer of SEO-related content and video. Hubspot offers a plethora of content on SEO optimization and blogging.
There's research, statistics, and opinions for days. Knowing how to put it all together in a great blog is easier said than done, however.
Take your company's blogs, for example.
How confident are you that each blog you publish has great SEO and will provide optimal value to your readers?
If your answer is "not very," we understand. And in this article, we're going to explore some of the most important (and most recent) tips for transforming your blogs and your knowledge of SEO.
1.  Use Long-Tail Keywords
Back in the day, brands could fool search engines by stuffing as many keywords into their website content and blogs as possible.
It didn't matter that their content was worthless; they had learned how to game the system.
Even in 2016, marketers will receive calls from companies who want "SEO services," which, to them, means ranking for a dozen or so highly-similar, short-tail or "head" keywords.
Google is too smart for this type of "optimization," and you should be, too.
Instead of stuffing your content with the same keywords over and over, focus on 1 (or 2) long-tail keywords that will give Google's algorithm real insight into what your content is about, so that it can then serve that content to users who are looking for it.
2. Avoid Using Keyword-Optimized Anchor Text
Internal linking is highly important when creating content for a web audience.
It strengthens page authority throughout your site and helps give search engines context for your site's architecture and hierarchy.
That's just a complicated way of saying that good internal linking on your content can help provide clear paths for users when they land on your site.
This being said, it's also important not to spam with keyword-exact anchor text when you include internal links.
For instance, if you're linking to your website's landing page for an upcoming webinar titled "10 Ways to Tackle Google AdWords," don't make 10 Ways to Tackle Google Adwords the anchor text.
Choose a natural, intuitive spot in the sentence to anchor the link. Otherwise, you're spamming.
3. Avoid Pointing Most of Your Internal Links to Top-Level Pages
Another important aspect of SEO that many companies don't consider?
Internal linking loses some of its value if you only link to your top-level pages.
It's important to create internal links leading to the deep pages on your company's website.
Your home page will, by default, receive most of the backlinks and internal links for your site. A strong link profile, however, depends on more than just link after link to your site's top-level navigation destinations.
Include links to landing pages, particular products, or particular services.
Links to deeper pages is a great way to improve the SEO value of your site, and give your reading audience access to more of what your company has to offer.
4. Avoid Linking to Toxic Sites
As important as it is to have good backlinks to your site, it's also important to incorporate quality external links within your content.
You can't just choose any old source and link to them in your blogs. You have to verify that the sites you choose are high-quality, have a good link profile, and won't negatively impact your site's SEO value if they link to you in return.
5. Write for the Reader
This goes back to point one: search engines have gotten too smart for the keyword-stuffing, overly-optimized content of yesteryear. You have to write for the reader. And that means providing value in a format that is scannable and attractive.
Numbered lists, bullet points, small paragraphs and bolding are just some of the ways you can format you content for your reader.
Lead your reader to and through your important points. Give them morsels throughout your content that will keep them interested.
When your content has value for you reader (along with the relevant long-tail keywords and formatting that Google loves), the SEO success should follow.
What are some of your go-to SEO tactics when blogging? 
Explore Latest Posts
So, this is the story all about how...the band Jefferson Starship, credited with 70s and 80s hits "Sarah" and "Miracles," ... read more

Voice search is quickly becoming a critical aspect of search engine optimization (SEO) as the use of voice assistants like ... read more

Advanced SEO techniques are an essential aspect of search engine optimization in today's digital landscape. They go beyond the basic ... read more