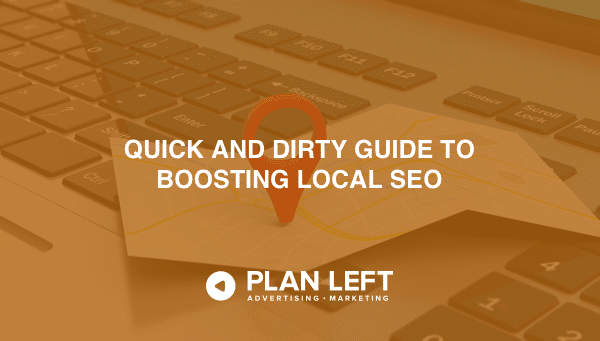 Updated Content on 7/04/2023
When people find your company on Google, are those potential customers even in the same state? If you haven't focused on your local SEO, you probably get hits to your website all the time from buyers across the country—or even in different countries. That's great if you can serve national and international customers. But those search results for a small, local company end in a quick bounce from your website.
If Google searches find your website, you're doing something right with your SEO. Maybe you just need to look a little more closely at your local SEO efforts.
Get on Google
If you haven't already, create a Google Business Profile. These profiles appear on Google Search and Maps when someone looks for your business. Making a profile allows you to display information like your phone number and business hours, showcase pictures of your products and services, answer frequently asked questions, and more.
Not only will a Google Business Profile boost your SEO and discoverability, but it will also provide a better customer experience for shoppers. It's a win-win!
Provide an Address
You may have your address on your website somewhere. If not, it's time to get right on that. You can't just add your physical address to your contact page, though. If you only serve local customers, ensure your address is visible on every web page. Most companies keep this information on the footer of every page. This helps buyers find you in internet searches and allows users from four states away to know they need to continue looking.
Better yet, include your company name and phone number in the footer. These bits of information should be crawlable HTML text so that Google can find them and put them in search results accurately.
While fixing up your website, take a little time to run a Google Search Console audit, as it will let you see if Google has trouble indexing your web pages. Go ahead and conduct an overall SEO audit as well to see if your website is catering to ranking factors.
Address Your Social Networks
Social media needs your address information, too. Do your Twitter and Facebook pages include your location information in the Bio or About spaces? If not, you're missing out on a huge opportunity. In some cases, social media pages will appear in searches even higher than the company website. If someone is looking for a business like yours in your city, they'll want to know right away that they have found a winner. If they can't find your address, they'll move on.
Post About Your City
The more information you include about your city or town, the more likely you'll appear in local searches. Take time to write blogs about happenings and events, local landmarks, and prominent people in your city. Not only will you show up higher in the search results, but you'll also look like an expert on local topics.
Also, post blogs about your products and services. Include relevant keywords, whether posting a press release for a local event you're sponsoring or a guide on using your newest product. Use geographic search phrases in URLs, headers, meta descriptions, and body content.
Remember to share these posts on social media. Social media posts are just as important as blogs nowadays, so don't be afraid to post fresh content on your Google Business Profile, too.
Add Titles and Alt-Text to Images
Let's say you want to add an image of people at a Nashville party wearing your company's shirts. You upload the photo and hit publish, leaving the original file name 28482735683.jpg. What does that tell users about your picture? Users with image blockers have no idea what they're looking at when they see a file name. Not only that, but search engines won't show your pictures when someone searches for images of apparel in Nashville.
Embrace Review Sites
Whether you provide a review space on your website or not, you should use third-party review sites. Many people looking for local businesses will start first with Yelp! or Angi. These sites are invaluable to companies hoping to reach a wider local audience. Add your location information and take time to interact with some of the reviewers to keep the content on the pages fresh.
Use Press Releases Often
You may think you need to wait for huge, exciting news before you can write a press release, but this isn't the case. With sites like PRweb.com and PRlog.com, you can always share even the smallest news. These press releases will be searchable so potential customers can find you on Google. The more you release, the more likely you'll be found when someone searches online.
When planning content, remember that you can partner with other businesses and organizations to build some inbound links. Google loves websites with inbound links and will rank them higher. Try sponsoring a community event or partnering with local vendors. Registering with your local Chamber of Commerce is a great way to link back to a reputable source.
If you need help, have no fear. We speak SEO fluently. Give us a call when you need some help getting found.
Explore Latest Posts
So, this is the story all about how...the band Jefferson Starship, credited with 70s and 80s hits "Sarah" and "Miracles," ... read more

Voice search is quickly becoming a critical aspect of search engine optimization (SEO) as the use of voice assistants like ... read more

Advanced SEO techniques are an essential aspect of search engine optimization in today's digital landscape. They go beyond the basic ... read more