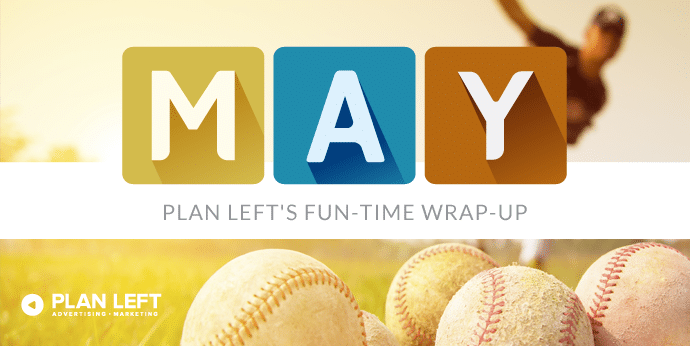 At Plan Left, we get plenty of playtime in between all the hard work. May was a busy month for us! We thought it would be fun to share what's been going on here at the office (and outside of the office) each month from now on, so here's your first glimpse!
Have you heard of the East Side Art Stumble? It's a new art crawl in East Nashville that also happens to be in our building (it's whatever ;) ). We've partnered with KT Wolf Gallery and several other local businesses to host this "stumble" the second Saturday of every month and so far have hosted Nashville-based Jon Buko and Tim Smith (Fun Fact: Tim is Matt and Josh's dad) so far. In April, we had Jon who creates brilliant pop art. This month, we hosted Tim's opening exhibit at the stumble and will be hosting his closing exhibit in June. Check out some pictures from Tim's opening exhibit too, and if you're feeling really ambitious, come to the June Art Stumble. More on that later.
In addition to social media and PR, Katie is also our resident event planner. She's been planning a monthly social event for our staff and this past month, we decided to head over to a Sounds game.
Stay tuned for our June happenings!
Explore Latest Posts
So, this is the story all about how...the band Jefferson Starship, credited with 70s and 80s hits "Sarah" and "Miracles," ... read more

Voice search is quickly becoming a critical aspect of search engine optimization (SEO) as the use of voice assistants like ... read more

Advanced SEO techniques are an essential aspect of search engine optimization in today's digital landscape. They go beyond the basic ... read more