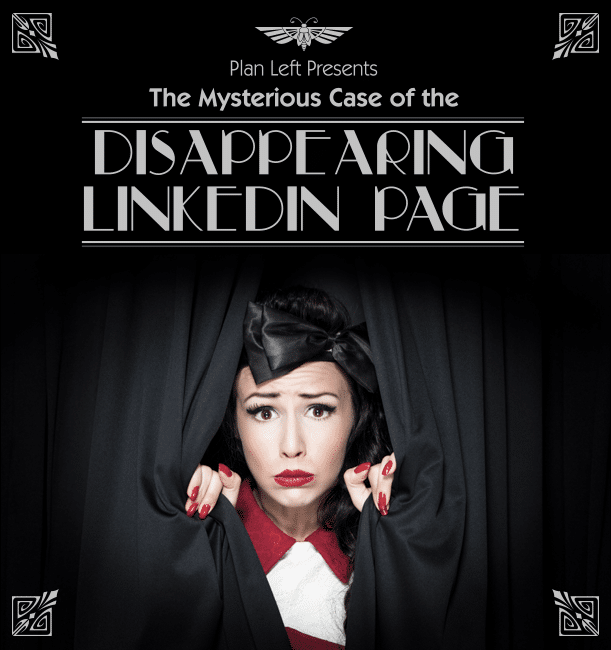 A Plan Left client falls victim to the Disappearing LinkedIn Company Page. In a race against time, Plan Left must face a generally unhelpful LinkedIn to reclaim a Company Page that rightfully belongs to the client. As with most social media mysteries, The Mysterious Case of the Disappearing LinkedIn Company Page is based on a true story. Some names have been changed to protect the innocent.
Please enjoy the show.
Who's Who in the Cast
For the matinee performance, "Plan Left Client Company" will be played by ABC Company. "New Company" will be portrayed by XYZ Company. The admin/ex-employee role will be played by Annie Admin. Understudying the role of detective is Plan Left.
LinkedIn, which consists of Personal Profiles and Company Pages, will appear as itself.
Voice Over by the illustrious Morgan Freeman.
Act I:  The Disappearance
In which an unlikely villain is made of notice, while an unsuspecting slew of victims fall prey to an unlikely scenario of Social Media foul play.
Voice Over (Don't forget; it's Morgan Freeman): "In early June, Plan Left logged into ABC Company's LinkedIn profile to make changes to the Company Page. Plan Left had maintained ABC Company's LinkedIn page for about six months, so imagine the surprise when the page was nowhere to be found. Of course, Plan Left looked in all the usual spots, but a general search brought up nothing."
Plan Left:  "Oh no! What ever shall we do?!" (Cries of horror and dismay.)
Voice Over: "One slightly suspicious clue did turn up, however. The disappearance of ABC's Company Page coincided with the departure of ABC employee and LinkedIn page administrator, Annie Admin.
Was the LinkedIn Company Page a victim of foul play?"
Plan Left: (Gasp).
Act II – The Investigation
In which Morgan Freeman identifies the frontrunner of the suspected foul players by Voice Over acting.
Voice Over: "Plan Left contacted LinkedIn and received no response for four days. Maybe they all just took an extra long weekend? With uncertainty and lack of patience, Plan Left awaited.
Plan Left: "Oh, I'm uncertain about this." (Biting nails to pulp.)
From the background we hear, "(DING!) You've got mail."
Voice Over: "LinkedIn's first response was no help at all. A second response from LinkedIn provided a bit more direction. Apparently, the URL for ABC's Company Page had been given to XYZ Company…  and ABC Company's was simply gone."
Plan Left: "Oof." (Sounds of exasperation.)
Voice Over: "LinkedIn insisted ABC Company's page had never existed to begin with, but Plan Left knew better. It was time to dig a little deeper."
Plan Left arises from desk wearing Sherlock Holmes attire and magnifying glass, puffing a child-like bubble pipe (for effect).
Voice Over: "Plan Left called XYZ Company, the very one who'd somehow been awarded the URL for ABC Company's LinkedIn Page. Were they part of some strange and unnecessary plot to steal ABC's page, or was it all just a misunderstanding? And who would steal another company's LinkedIn Company Page, anyway, when starting a new one of your own is so easy?
One cannot simply KNOW such things. But one can know…who dunnit."
Act III – Mystery Solved
In which we find discover the unlikeliest of villains in this thoroughly investigated, narrated, and unusually suspect affair.
Voice Over: "Deeper investigation uncovered the fact that Annie Admin, previously employed by ABC Company, now worked for XYZ."
Plan Left: "Oh no!"
Voice Over:  "Did Plan Left finally have proof of foul play, or was Annie Admin innocent?
When questioned, Annie divulged that she had 'left' ABC Company's page as an admin and created a new page for XYZ Company. This new page should have been created while leaving the old page intact, but that wasn't what happened. Instead, somehow she replaced all the information on ABC Company's page with XYZ's information."
Plan Left:  Takes puff from bubble pipe; looks at audience with one eyebrow raised and a cunning grin.
Voice Over: "Plan Left finally had the answers, but the mystery still wasn't completely solved."
Plan Left: Looks less confident.
Voice Over: "How could they recover ABC's Company Page? LinkedIn provided no resolution because the issue appeared to be a user error. With little more to hope for, Plan Left created a new Company Page for ABC."
Plan Left: Looking confident again.
Voice Over: "During the creation process, Plan Left exposed the glitch in LinkedIn's technology."
Plan Left:  Looking confident and dapper now.  Like Hugh Grant in one of those romantic comedies.
Voice Over: "After logging into the Personal Profile used to create the Company Page for ABC Company, Plan Left then closed out the Company Page. There were no messages indicating the page had been closed, only a message stating that logging back in was impossible."
Freeze frame.  Enter Morgan Freeman, stage left.
Mr. Freeman: "As Plan Left then worked to create the new Company Page for ABC…
(See Plan Left banging away frantically at a keyboard on a desktop computer.)
…they were not able to associate their admin email with the new Company Page. Strangely enough, LinkedIn showed another Company Page had already been created with that same email. The very page that vanished in the first place!
Once the Personal Profile was deleted, the ABC's page reappeared with the correct URL, but all content was gone. After a few moments, Plan Left was able to log in using their old admin email address.
Mystery solved."  (Looks handsomely at the audience.)
Re-enter Morgan Freeman.
Mr. Freeman: "Plan Left began campaigns again after about a week. Whether one week or one day, inconsistency and security risks can be detrimental to your social media marketing efforts. Don't let this happen to you."
The End
Explore Latest Posts
So, this is the story all about how...the band Jefferson Starship, credited with 70s and 80s hits "Sarah" and "Miracles," ... read more

Voice search is quickly becoming a critical aspect of search engine optimization (SEO) as the use of voice assistants like ... read more

Advanced SEO techniques are an essential aspect of search engine optimization in today's digital landscape. They go beyond the basic ... read more