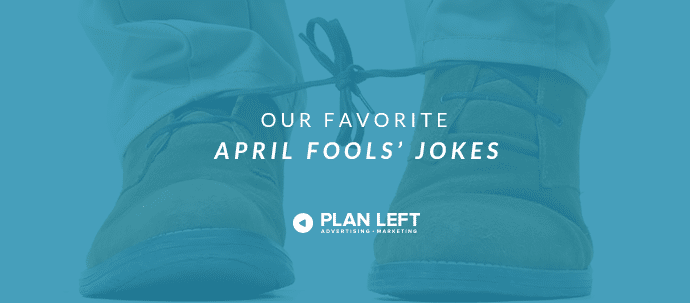 April Fools' Day is meant to be one of hilarity and hijinks. Unfortunately, pranks sometimes go wrong or turn ugly, taking all the fun out of the day. At Plan Left, we love a good laugh, but we also strive not to harm our fellow workers in any way. That's why we turn our eyes to the companies who do "funny" the right way—with tongue firmly in cheek, and maybe even a marketing ploy behind the silliness.
With these criteria in mind, I went looking for the best jokes out there—the ones that didn't hurt anyone while bringing a laugh and a few extra dollars to the company coffers. Let's take a look.
1. Hulu's Datr
The sheer beauty of Hulu's joke is that any single millennial would give their right arm for this kind of dating app. The premise behind the prank is an algorithm that pairs singles by the types of shows and movies they watch. How much can you learn about someone by their television habits, really? Pretty much everything.
Hulu also proved with this particular prank that they really know their target audience. They don't necessarily believe that all their subscribers are single, but they're pretty darn aware of the age ranges, including the fact that 37% of millennials use Hulu. That's a pretty big chunk of the streaming-entertainment pie.
Kudos.
2. GrubHub's Grüber
Speaking of a company that really knows its audience, the next on our list is GrubHub. Their offer for a new rideshare service slipped right past might notice in my email inbox, so I had to get in on the joke with the help of a friend. Again, the reason the hilarity slipped right past me is because the prank was exactly in line with what their target audience wants right now.
Only after reading the description of the services, which offered rides to anyone who needed to go in the general direction of the various food deliveries, did I catch the funny. GrubHub promised that food took priority and that anyone availing of the rideshare services had to wait while piping hot dinners were served.
This rideshare prank obviously mirrors the announcement of UberEATS, in which the rideshare giant horned in on GrubHub's turf. In other words, it's just a joke now…but who knows what will happen in the future?
3. Quilted Northern's Rustic Weave
In an epic nod to the millennials and their quest for the perfect "craft" everything, Quilted Northern toilet paper introduced their "Rustic Weave" line of rolls. In the video, a serious hipster type leads viewers through the creation experience. A young mother, not quite hipster but still within the age range of millennial, falls for the fancy paper while her baffled child looks on.
This is bathroom humor at its finest.
4. Realtor.com's Dog Houses
This real estate site helps home buyers and sellers find agents and houses, all on one helpful site. For April Fools, they introduced their newest feature: homes for pets. Doesn't every sweet dog and loveable cat deserve its own space? The site detailed the perfect doghouses, tree houses, fish tanks, and even reptile pens for those buyers who want to pamper their best friends.
While the joke is funny, Realtor.com knows that pets really are a part of the family. When buyers are looking for their dream home, the dogs, cats, fish, birds, and iguanas are part of the equation. That's why anyone who stumbled across this little prank let out an "awwww!" after laughing.
One Big Whoops
For all the talk about these brands really knowing their audiences, there's one giant out there who made a massive misstep. I'm talking, of course, about Google's mic drop send button, which had to be shut down before April Fools even got going. According to various reports, this gag feature cost some unsuspecting users lost their jobs, while others were called to the carpet.
On some level, the idea of a Disney minion dropping the mic is hilarious, but Google should have inspected their users a bit more before dropping the new send button into the email compose window without a word. They state themselves that over 5 million businesses use Gmail. Didn't they consider the impact of their joke on professional settings?
Oops.
What were your favorite April Fools' jokes this year?
Explore Latest Posts
So, this is the story all about how...the band Jefferson Starship, credited with 70s and 80s hits "Sarah" and "Miracles," ... read more

Voice search is quickly becoming a critical aspect of search engine optimization (SEO) as the use of voice assistants like ... read more

Advanced SEO techniques are an essential aspect of search engine optimization in today's digital landscape. They go beyond the basic ... read more