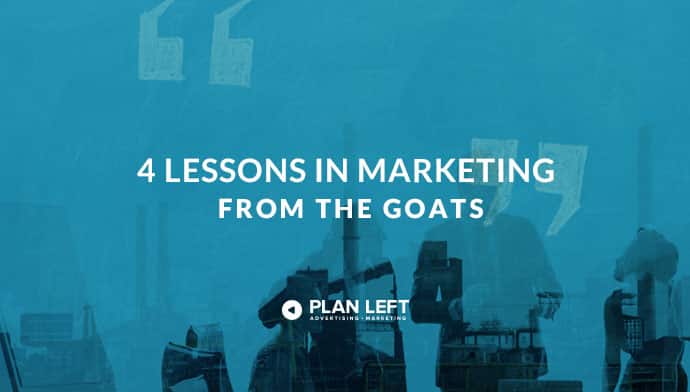 When you think "Greatest of All Time", who comes to mind?
Michael Jordan?
Michael Jackson?
Michael Phelps?
Another Michael?
Whomever comes to mind, they probably have a few key qualities. Dominance. Influence. Unparalleled success. A far-reaching impact on industry and culture.
The "greatests" are designated as such not only because they've had magnificent success in their fields—but also because they were able to communicate the ideas behind their success to others.
They not only succeeded—they inspired.
They changed the game (sometimes literally) to reflect a new attitude, a new philosophy, a new style.
It's not just sports or entertainment that's seen its fair share of titans of success.
Marketing and advertising has had some bright stars, too.
And though many of these geniuses have flown largely under the radar of the collective pop culture mind, their ideas and influence continue to be felt in advertising and marketing today.
Check out these timeless marketing lessons brought to you by some of marketing's GOATs.
David Ogilvy
David Ogilvy is known as the "Father of Advertising."
He has been immortalized in TV shows like Mad Men and written about at length in publications for the last 60 years.
In 1963, he wrote Confessions of an Ad Man, which became de rigueur reading for advertising and marketing enthusiasts around the world.
Perhaps what Ogilvy is best known for, however, were his quotable insights into advertising, communicating with an audience, and making a sell.
He revolutionized the practice of "split tests," or changing ads to reflect different ways for customers to respond. This helped him spot winning ads for decades.
Never underestimate the power of a test to show you the efficacy of your marketing efforts.
This is perhaps even more relevant in 2017 than it was in 1960.
If you aren't testing, your marketing is a shot in the dark. And results are, too.
Steve Jobs
There are a million things you can say about Steve Jobs as an innovator and revolutionary.
Thousands of articles have been written about his vision, his leadership style, his personal life, and his impact on the tech industry and culture as a whole.
What many people don't know, however, was how influential Jobs was in the marketing and delivery of his products.
As a marketing mind, Jobs was nothing short of incendiary.
In the days when computers were largely the realm of giant, faceless businesses (and were even considered frightening by many Americans), Jobs found a way to reach the average consumer and connect.
He understood the need to show consumers the experiences they could have through owning an Apple computer.
He didn't market the machine's power, precision or cutting-edge capabilities—he marketed the beauty of life once you had that machine in your home.
One of Mac's most influential advertising campaigns was "Think Different," which aligned the Mac name with the unique, the extraordinary, the revolutionary.
He didn't show the machine itself.
He showed the influential historical figures and revolutionaries that pushed the human race forward—just like, he felt, the Macintosh could do for the average consumer.
Jeff Goodby
Goodby, who is one of the founders of Goodby, Silverstein & Partners, is perhaps most famous for the Got Milk? ad campaign, plus the memorable Budweiser ads of the late 1990s.
But Goodby has also dropped some crazy advertising and marketing wisdom through the years–specifically on how to approach marketing ideas.
"Like good advertising, good vandalism is funny, loud and still there the next day," Goodby said at the annual Transformation conference last year.
Results, not rewards, are what drive Goodby's team–and his own continued success.
If you ever need inspiration for thinking outside the box, take a scroll through some of his best quotes.
Seth Godin
Seth Godin has written 17 books.
He has amassed a large following, plenty of awards and lots of respect for his ideas about marketing and connecting with an audience.
One of his most pervasive bits of marketing inspiration is that brands should see their marketing as audience-centric rather than self-centric.
Godin encourages brands to see every marketing campaign and ad as a competition for customers' attention–attention that is increasingly divided in our highly-connected, highly-visible world.
"I made a decision to write for my readers, not to try to find more readers for my writing," Godin has said.
That audience-centric mentality might just help your brand reach the next level.
This is just a small look into some of the geniuses of marketing that have materialized over the last century.
As you continue your study of marketing and how your brand can grow, you can glean tons of insight from leaders like these…those who have researched, learned and shared their knowledge with the world.
Still have questions?  Plan Left is here for you.
Explore Latest Posts
So, this is the story all about how...the band Jefferson Starship, credited with 70s and 80s hits "Sarah" and "Miracles," ... read more

Voice search is quickly becoming a critical aspect of search engine optimization (SEO) as the use of voice assistants like ... read more

Advanced SEO techniques are an essential aspect of search engine optimization in today's digital landscape. They go beyond the basic ... read more