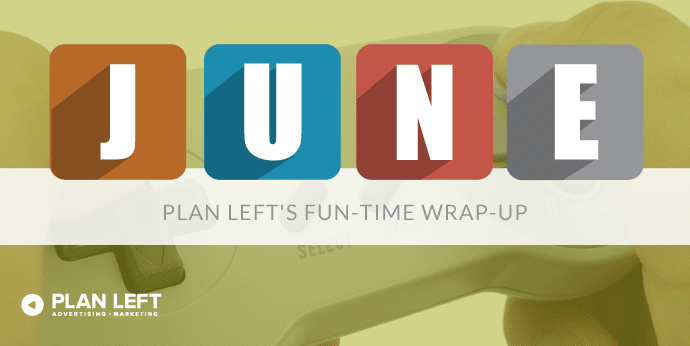 What's been going down at the Plan Left offices?  As with last month, we hosted an art exhibit featuring Tim Smith's art as well as a few pieces by Jon Buko, our first exhibitor, for the East Side Art Stumble. If you remember, Tim Smith is the father of our esteemed leaders, Matt and Joshua. This was Tim's closing exhibit at the office, which means that we'll be getting some new art in for the July stumble, so stay tuned!
We don't keep all the fun to ourselves, either. The ESAS goes down the 2nd Saturday of every month over here. If you're looking for something to do on July 11, we'll be here with someone new. Who? It's a surprise! We don't even know yet.
For our social event, we had a pizza party complete with old-school Sega (yes, we have a Sega, and yes, it's awesome) and Cards Against Humanity because who doesn't love playing a friendly game of CAH? Probably no one. But don't worry. It wasn't a sanctioned event, so no HR violations took place.
Can we also just say that Jet's pizza is the best? And how wonderful it is that they are located a whopping quarter of a mile from our office? It's true. Dangerous territory. We may just hold all future social events here at the office.
Explore Latest Posts
So, this is the story all about how...the band Jefferson Starship, credited with 70s and 80s hits "Sarah" and "Miracles," ... read more

Voice search is quickly becoming a critical aspect of search engine optimization (SEO) as the use of voice assistants like ... read more

Advanced SEO techniques are an essential aspect of search engine optimization in today's digital landscape. They go beyond the basic ... read more