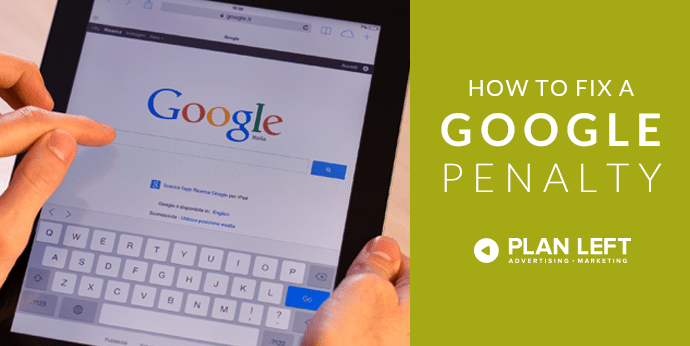 We talk a lot about making Google happy with your SEO techniques. We also warn about slaps on the wrist when you do it wrong. In that regard, we may have done you a bit of a disservice.
See, a slap on the wrist from Google is actually a penalty that could knock you down the rankings in Google searches. When you stop appearing in the top spots of search results, then you lose customers. We'd say that's really much more than a slap on the wrist. It's pretty much corporal punishment. If you've received a spanking from Google, we're sorry. Now, we're going to help you fix it.
Know Your Google History
If you've already experienced a Google penalty, it's important to know which update put you at fault. With so many different algorithm changes in the last several years, you probably had no idea you were breaking the rules. The first of the major changes came with Panda in 2011. This update focused on your content and design. If you'd been focusing more on keywords and less on quality, you probably took a hit.
The next major update came with Penguin in 2012. Spam sites were the first to suffer, but unsuspecting companies may have also experienced penalties with this new algorithm. If you'd worked with an "expert" to boost your keyword use and link building, you probably got spanked. We understand that no one could really know at the time that these techniques would eventually be called "black hat" SEO.
Next in 2012 came Pirate, which hit hard for websites that had duplicate content or syndicated articles. The real plan was to target sites that had stolen content, but those using their own content in multiple places were punished, too. There are ways to alert Google to syndicated content now, but you might not yet be using those tactics.
Finally, there's Mobilegeddon, which came this year, 2015. The full consequences of using a website that isn't optimized for mobile devices have not yet been discovered. We have, however, seen several of even the most popular sites decline in visits due to lower rankings in search results.
Stop the Madness Now
Before we can address the penalties you may have already incurred, let's talk about avoiding future ones. Make sure you remove blogs and website content that contain copious amounts of keywords, especially phrases that are unnatural. Your content should be of good quality and answer questions your buyers have, not filled to the brim with pointless search terms.
Next, make sure ads and pop-ups are at a minimum. Google wants web users to have a great experience when surfing, so they'll give preference to sites that aren't as likely to anger visitors. Some pop-ups are more than acceptable, so be sure you're discerning when choosing what to eliminate. Anything that helps provide more information for buyers, such as pop-ups that prompt subscription, will pass Google's inspection.
For any content that has appeared on other sites, make sure to alert Google that those pages shouldn't be indexed. If it's been outright stolen, delete it. For blogs and content supplied by expert guests, check all the links to make sure you're not spamming people. Readers just want the facts, not a sales pitch every time they click through for more information.
Finally, get some help making that site mobile friendly. There are some corners that could be cut, but you want to avoid that. Do your site development right the first time, and you won't need to worry about Google finding something wrong with it later.
Check for Penalties
Now that you're complying with Google's wishes, it's time to see how badly and often you've been spanked. You can use this Website Penalty Indicator to put your site to the test. You may have received a notification about manual penalties, too. A notification is actually better than having to seek out the information on your own. At least you'll know what you did wrong, which gives you a starting place to fix it.
You may have already fixed all the problems that led to your penalty in the first place. If not, use the list above to double-check everything again. Keep an eye on security issues and user experience, too. Google hasn't outright said these things could harm you, but problems with usability sure won't help you.
Then, you wait. It can take a few months to start crawling back up the rankings. Don't lose sight of your goal, either. If you make some changes and then forget your goal, you could languish in penalty hell forever. Be active and proactive. Check every week to see if you've made progress in the search rankings. If you haven't, look for more problems with your website and take care of them.
Of course, we're always here to help if you have SEO concerns. While we can't ever promise to get you back on top in the rankings, we can help you locate and eliminate the issues Google keeps spanking you for. If you're not sure how to start, or if your past efforts haven't made much of a difference, reach out.
Explore Latest Posts
So, this is the story all about how...the band Jefferson Starship, credited with 70s and 80s hits "Sarah" and "Miracles," ... read more

Voice search is quickly becoming a critical aspect of search engine optimization (SEO) as the use of voice assistants like ... read more

Advanced SEO techniques are an essential aspect of search engine optimization in today's digital landscape. They go beyond the basic ... read more