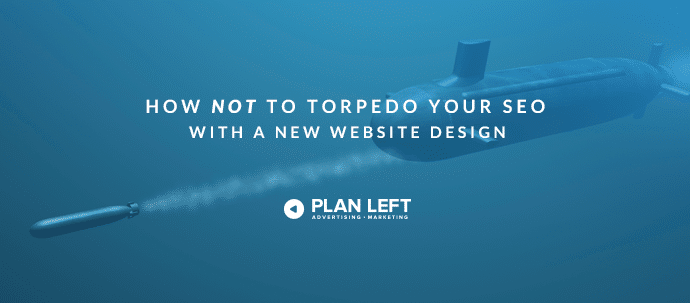 If you're considering a new website design to improve your web presence, then you're already on the right track. Recent studies show that 91% of consumers don't trust brands with websites that contain errors, 88% don't trust websites that frequently go down, and 67% will bypass companies whose websites take too long to load. The only way to fix these issues is often a complete redesign, which of course would include mobile responsive development.
Now, you're already aware of how much a new website could help your business, but did you know you could cause some damage, too? Many companies that pursue a shiny, sleek new site pay more attention to the beauty of the design and the usability of the elements, but they forget everything going on behind the curtain. If you're not careful, you could very easily destroy all the good SEO karma you've worked so hard to build. How can you avoid this? Let's take a look.
Updated Keyword Research
Do you know how people find your website? Sometimes the search terms you think they'll use aren't the words they use at all. Researching your keywords on a regular basis is never a bad idea. Discover the products or services that bring the most visitors to your website, and you can capitalize on that information to drive even more traffic.
The information can be found with free tools, such as the Keyword Planner from Google AdWords. Your content creators need that information to build the best copy possible. The website developers also need to know so they can build in the SEO from the very first line of code.
Focus on Content
The whole point of your website is to educate anyone who drops by to check out your business, right? Images, videos, and copy all work together to present your brand story while providing information that guide buyers toward a purchase. Your content is why people visit, so don't move it to the bottom of your to-do list with promises that you'll get there eventually.
Your content is where the bulk of your SEO comes from. That means you must plan from the very beginning the words, images, and videos you'll use to support your brand. The words you use are very important—maybe the most important—and neglecting them could cost you dearly.
Varied Tags and Descriptions
One of the biggest mistakes companies make when redesigning a website is to apply the same description to every page and image. You have a real chance here to focus search efforts on particular pages of your website. By creating unique meta descriptions for each page, you stand a greater chance of directing visitors to the exact page they want to visit. Buyers like nothing more than relevance, which you'll hand them on a platter.
The same goes with your alt text for the images you use. Remember that not all website visitors will allow images on their screens—at least not until they trust you and your company. Others may be visually impaired and rely on their computer to read the alt text aloud. How will they know what they're looking at if you don't describe the image? Your alt text gives you yet another chance to direct traffic to your page while also fulfilling a specific need for individual users.
A new website requires a number of details, and you can't let one slip through the cracks in the name of expediency. For a web development partner who understands the marketing aspects of your design, give Plan Left a call. We're so much more than website developers, and that shows in the tiniest details of our work.
Explore Latest Posts
So, this is the story all about how...the band Jefferson Starship, credited with 70s and 80s hits "Sarah" and "Miracles," ... read more

Voice search is quickly becoming a critical aspect of search engine optimization (SEO) as the use of voice assistants like ... read more

Advanced SEO techniques are an essential aspect of search engine optimization in today's digital landscape. They go beyond the basic ... read more