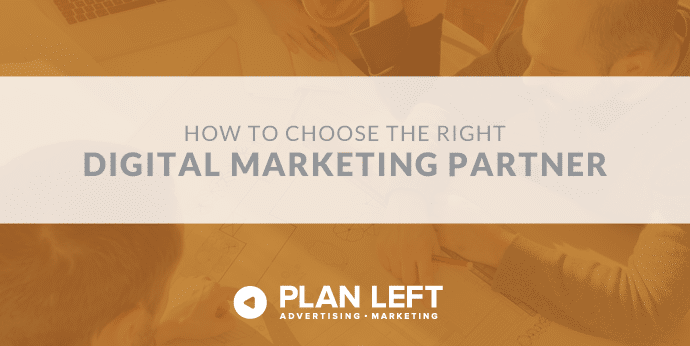 Identify Your Needs
Rather than reaching out to anyone and everyone to see what they offer, first figure out what you need. Those needs might change as you begin a conversation with potential marketing and website development firms, but it's always great to have a starting place.
Marketing covers so many different areas, so it's important consider every aspect when defining your needs. Your website is one of your largest marketing tools, yet so many forget to consider upgrades or a full redesign when contemplating their needs. You may also want to seriously explore the introduction, overhaul, or maintenance of your content marketing strategy. Social media marketing, search engine optimization, and even your graphic design needs all fall under digital marketing.
But digital marketing isn't the only help you'll need. Perhaps you also must find print and direct mail marketing resources. Radio and television ads can also be powerful marketing tools. You may even need to go all the way back to the beginning and flesh out your company's brand standards with a brand consultation.
Consider Your Budget
You must create a marketing budget, no matter what your plans for growth and branding may be. Many think the budget covers only the tech side of marketing, such as website development or maybe the creation of a new app. Remember that every impression consumers have of your business counts as marketing, which means you have to plan for your business cards and and letterhead, too.
Getting absolutely everything you need is going to be expensive, no matter which marketing partner you choose. Some charge more than others for similar services, while others will undercut everyone in the market. A solid grasp of your budget will help you navigate the waters so you don't get bogged down with the financial comparisons. This will leave you open to compare the quality of the services and products that you can afford.
Investigate Quality
If you hear surprising prices from various firms, your first instinct might be to cut them from your list of possibilities and move on. This applies to the highest and lowest quotes you receive, right? Before you kick those potential partners out the door, stop and take stock of the service you'd get for the money.
For instance, if you're seeking content marketing, ask the company to walk you through the process from beginning to end. Take notes on how they learn your brand voice, how they become familiar with your buyer personas, and what research they put into developing your website content, blogs, ebooks, and email marketing. The same process applies to website development, social media marketing, and media placement. Even SEO services vary in quality. While some provide cookie-cutter services that anyone could do, others devise strategies and give individual attention to each and every aspect of your website.
You may discover that the price is very fair when compared to the service offered by a cheaper option. What if you knock the best in the business out simply because they want a little more money for ten times the work?
Examine Expectations
If you've never worked with a marketing company before, you may enter an agreement with your chosen partner with some unrealistic expectations. It's important to know what you can expect from any agency, regardless of which you choose.
First, realize that, even though you're the customer, you may not always be correct. Marketing experts achieved that status through years of practice, testing, learning, and application. While every firm will want to incorporate your vision, they may know better how to communicate with your audience. Take the time to listen to their suggestions. Ask for examples that show their theories work. Then, work together to ensure the messaging and campaigns will make the largest impact possible.
Next, remember that marketing agencies work with multiple clients. Your company should get the very best possible service, but that doesn't mean your marketers should always drop what they're doing if you make an unscheduled call. After all, if they drop another client to run to you, then they'll drop you to run to another client later. Respect the schedules and processes, and make an appointment if you have concerns. Your marketing campaigns will be much more effective if your team can work uninterrupted.
Finally, be prepared for the cost, but know that you're making an investment into your company's future. The saying "you have to spend money to make money" is absolutely true. You may not see huge results right away, because some marketing techniques take time to generate a response. Resolve to examine your results after six months, at the very least, so that your campaigns have time to take hold and flourish. If you cut your marketing partner out too soon, you may never know how successful your efforts could have been.
Demand Transparency
Whichever marketing firm you choose, they should be open and honest at all times. If there is ever a time during your marketing cycle that you're not sure what your marketing partner is doing, then they're failing you. If they suggest you back away and let the "experts" handle things, then you've got some pretty big red flags.
A great marketing company respects your voice and vision at all times. They want to lead you to amazing results, not take you out of the equation completely. When they're not willing to share what work they're doing for the money you're paying, then you can be sure you're not getting your money's worth.
Stop Cobbled Efforts
Finally, you should find a firm that can handle absolutely any need you may have. Instead of working with one web development company, a copywriting freelancer, a part-time social media marketer, and a separate public relations firm, bring everything together under one roof. It's the only way to ensure that you experience seamless results that build and strengthen your brand, and by extension, your bottom line.
When you investigate the various marketing options out there, ask if they can meet every one of the needs you wrote down at the beginning of your journey. Are they experts in all aspects of marketing, from web development to video production and placement?
When you can answer all of these questions, you've found your marketing partner. And we're pretty sure your journey will lead you right back here to Plan Left. We'll be waiting with open arms.
A version of this blog first appeared in November, 2015. It has been updated to include new information.
Explore Latest Posts
So, this is the story all about how...the band Jefferson Starship, credited with 70s and 80s hits "Sarah" and "Miracles," ... read more

Voice search is quickly becoming a critical aspect of search engine optimization (SEO) as the use of voice assistants like ... read more

Advanced SEO techniques are an essential aspect of search engine optimization in today's digital landscape. They go beyond the basic ... read more