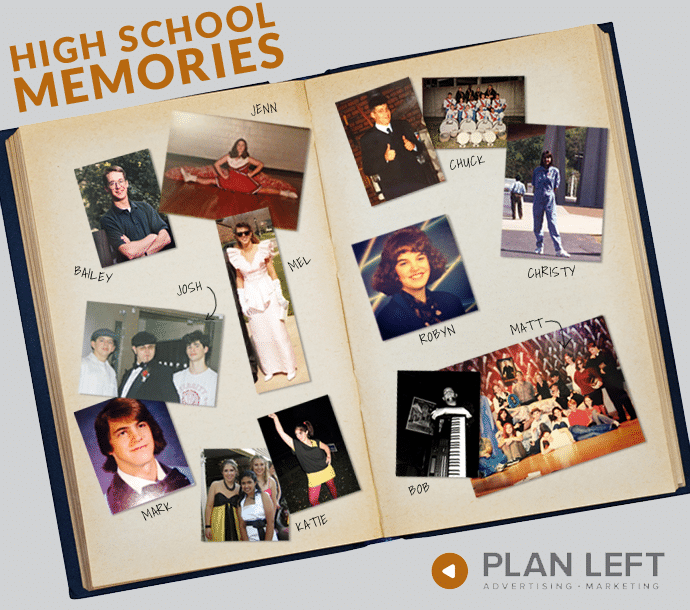 In the name of nostalgia, we're taking it way back to…well, we won't say when. High school wasn't that long ago for some of us, while others haven't seen it in the rearview mirror for a while. We still remember, though, and we bet you do, too. Clubs, friends, and the pop culture of the day – it's all here to help you reminisce. Feel free to share your own high school memories.
Josh
Clubs: Drama, Choir, Jobs for TN Graduates, TV Production, Soccer, Tennis, Chess, Rugby (I helped start this, but we never played because our Principal forgot to fill out the application) – I basically had no classes my Senior year.
Favorite song: probably anything from Sister Hazel, Incubus, or Edwin McCain (don't judge- I also like anything grunge and Stevie Wonder, jazz, or blues – It just happened to be mostly acoustic crap in high school because that's what I was writing, haha)
Favorite movie: Return of the Dragon (Bruce Lee's my MAN!)
Favorite TV show: Friends and X-Files (inherited from Mom – didn't watch much TV in high school; I was already working a lot)
Bailey
Clubs
: DECA, Blacksmitheys, Metallica Cover Band, "The-kids-that-were-always-
skating-and-fighting-and-
playing-hacky-sack-during-
lunch" in the parking lot.
Favorite song
: Jump in the Fire
Favorite movie
: Was, still is, Christmas Vacation.
Favorite TV show
: Home Improvement.
Mark
Clubs: Chess Club, Spanish Club, DECA, Baseball, Newspaper Staff, Senior Council / Student Council, ROTC
Favorite song: Rock with You, Shining Star, Anything Billy Joel & Lynyrd Skynyrd
Favorite movie: CaddyShack, Urban Cowboy
Favorite TV show: Charlies Angels, The Love Boat
Chuck
Clubs: 
Business Professionals of America (BPA) – I was the parliamentarian, 
Tennis team, 
Marching Band – Drum captain; I played the Snare & Quad toms, 
Website Team – Competited nationally 
through BPA – I made the Nashville Special Olympics website 
back
 in the day, 
Extemporaneous speaking through BPA – I competed nationally for this through BPA, 
Tae Kwon Do, 
Baseball
Favorite song: Probably 2001 Dr. Dre – song The Next Episode
Favorite movie: Die Hard (the original)
Favorite TV show: Dragonball Z
Bob
Clubs: Drama club, Rugby, World Religions, Jazz Band
Favorite song: Quicksand by David Bowie
Favorite movie: 2001: A Space Odyssey
Favorite TV show: Twin Peaks
Eric
Clubs: Science & Technology (President), Jazz Band (Bass), Wind Ensemble (Bass), Orchestra (Bass), Football
Favorite Song: I Hate It Too by Hum
Favorite Movie: Tombstone (I've seen it literally hundreds of times… literally)
Favorite TV Show: The State (MTV Sketch Comedy Show)
Robyn
Clubs: Band (Flute), Piano, Prom Queen, Valedictorian, Most Intelligent, Most Likely to Succeed
Favorite Song: Live through This (Hole)
Favorite Movie: Point Break, Silence of the Lambs
Favorite TV Show: The X-Files, The Wonder Years
Katie
Clubs: Yearbook (Editor, say what?)
Favorite song: Work by Jimmy Eat World
Favorite movie: Superbad
Favorite TV show: Grey's Anatomy
Mel
Clubs: Tennis
Favorite song: Free Fallin by Tom Petty
Favorite movie: Total Recall
Favorite TV show: Wings
Jen
Clubs: Chess club, Drama club, Lettermen's club, choir, band, cheerleading, French club, yearbook staff, Most Talented, Most School Spirit, Best Personality
Favorite song: Real Love by the Beatles (or I Wish by Skee-Lo)
Favorite movie: Tombstone
Favorite TV show: Boy Meets World
Explore Latest Posts
So, this is the story all about how...the band Jefferson Starship, credited with 70s and 80s hits "Sarah" and "Miracles," ... read more

Voice search is quickly becoming a critical aspect of search engine optimization (SEO) as the use of voice assistants like ... read more

Advanced SEO techniques are an essential aspect of search engine optimization in today's digital landscape. They go beyond the basic ... read more