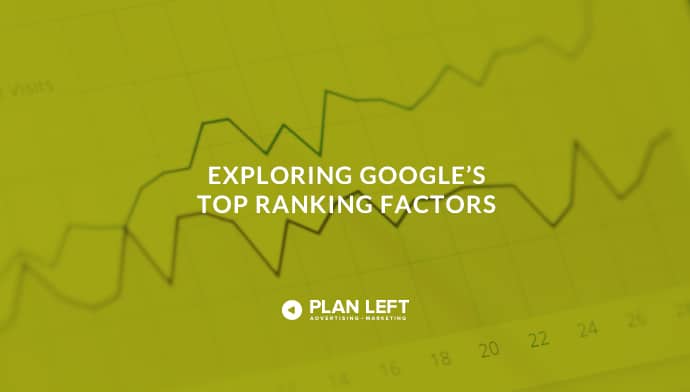 So it's 2017. And the stats on Google's main ranking factors for 2016 are finally rolling in.
Brands are scrambling to understand the data, as well as how their sites might be affected by the numbers.
Google has revealed their top 3 ranking factors in the past year, and we're here to show you how they might affect your site's performance.
Ranking Factor #1: Content
High-quality content is Google's number 1 ranking factor.
We'll say it again for the people in the back: high-quality content is Google's number 1 ranking factor.
Still don't understand what constitutes "high-quality"?
That's okay.
It's a confusing term—after all, isn't it subjective? Doesn't each different user have a different idea of what "quality content" is?
Well, yes and no.
Google has developed criteria for what it considers high-quality content:
Write for humans, not machines. Google loves content that is written in a human communication style. Don't stuff a bunch of keywords in every paragraph. Write in a way that sounds like a conversation. It's more personal, and frankly, people like it more.

When in doubt, get in-depth. According to the latest research, top-rated content in Google's search results had 1000 words or more.

Keyword usage should be secondary to quality content. Your main goal in creating content should be providing value. Cramming in keywords in the hopes of fooling Google will actually negatively impact your site's performance. Provide high-quality information. Be valuable to your readers. Keywords will follow.

Keep it fresh. Google loves fresh content. Posting more often will increase your relevancy in Google's eyes. This doesn't mean you have to post a blog or update your website every day. But adding new content multiple times a month will definitely help.
An added tip for great content? Make sure you're targeting longtail keywords.
Longtail keywords allow you to be more specific—they allow to really target what your customer is looking for.
They're also less competitive than short-tail or "head" keywords.
Ranking Factor #2: Links
Links have long been touted as a big ranking factor for Google when it evaluates websites.
Backlink profiles aren't as important as they once were—there are too many black hat tricksters out there trying to game the system by buying links or building shoddy link profiles.
The best method for gaining Google's good graces through backlinks? Earning high-quality links from authoritative sites.
This isn't easy.
You have to make connections with industry stand-outs, and somehow convince them to give you a shout-out (i.e. backlink) on one of their blogs or site pages.
Utilizing earned media (Facebook shares, social media engagements, etc) to earn backlinks is another good option.
Another link-related factor that influences how Google sees your site?
Outgoing links.
In fact, a study from Reboot  showed that sites who regularly linked out to authoritative sites experienced a boost in Google's rankings.
It's important that you choose only authoritative, respected sites to link to. Whether it's in one of your blogs, on a web page, in a press release—it needs to be an authoritative site.
One of the easiest ways to determine the authority of the site you're linking to is Moz's Open Site Explorer.
Simply type the URL in question (the one you want to link to) into the URL bar:
In the free version, you'll get a glimpse at the site's authority, its spam score, and page link metrics.
You can use this information to gauge whether or not to include a link to a site in your content. Doing so might just make a difference in how Google views and ranks your site.
And don't forget to switch up your anchor text…every single time you link out.
Using the exact same keywords as the URL you're linking to can get you dinged for spam.
Need an example?
Say you're linking to a page on a website that features a women's amazingly soft, short-sleeved shirt in navy. Don't make your anchor text "Women's Amazingly Soft Short-Sleeved Shirt in Navy."
Describe it in your own words, but include enough keywords that your reader understands what you're talking about.
Duplicating the URL's exact keywords is not good, so don't do it.
Ranking Factor #3: RankBrain
We've written about RankBrain in the past—and its influence on Google results has continued to grow since then.
RankBrain is essentially an algorithm learning artificial intelligence machine.
It looks at more than searchers' words.
RankBrain works to determine searcher intent. It does this by examining syntax, colloquial language, and patterns of meaning in past searches.
It actually discerns what you mean, rather than what you type. Check out this Google search—it uses mostly colloquial language, and yet, Google knows exactly what the searcher (me) was trying to find.
*After reading the synopsis, I decided not to actually watch this show.
We aren't saying this is exclusively the work of RankBrain, but it does prove that Google is very powerful when it comes to understanding searcher intent.
Think about this: the words "Gilmore" and "Girls" are nowhere to be found in the searcher's query.
That means Google utilized secondary and long-tail keywords to deliver these results.
Searcher intent.  
You have to focus on more than the keyword—you also have to focus on its context, its related keywords and the language and terms that searchers might use regarding that keyword.
If this all sounds wild to you, you're not alone. Google is doing some truly amazing things with their algorithm—and each update seeks to aid users in finding the most relevant content, every single time.
So now you wonder: how do you create site content and features that RankBrain likes?
Here are a few basic rules of thumb:
Consider the way your target audience speaks. What's their demographic? What are their hobbies? Do they have niche interests? Are they young or old? Include insider language—this shows that you understand your audience. It's also great for RankBrain.

According to many sources, RankBrain loves long-form content. Don't shy away from tackling the really in-depth subjects.

Use Google's tools. Adwords Keyword Planner and Analytics are invaluable when it comes to determining your content strategy. Also, Google itself is an amazing asset. Play around with phrases related to certain topics. Pay attention to what Google returns to you. You'd be surprised how much you'll learn.
Google announced yet another update recently.
Check back here later for more on that update.
Still have questions?
Plan Left is waiting to hear from you.
Explore Latest Posts
So, this is the story all about how...the band Jefferson Starship, credited with 70s and 80s hits "Sarah" and "Miracles," ... read more

Voice search is quickly becoming a critical aspect of search engine optimization (SEO) as the use of voice assistants like ... read more

Advanced SEO techniques are an essential aspect of search engine optimization in today's digital landscape. They go beyond the basic ... read more