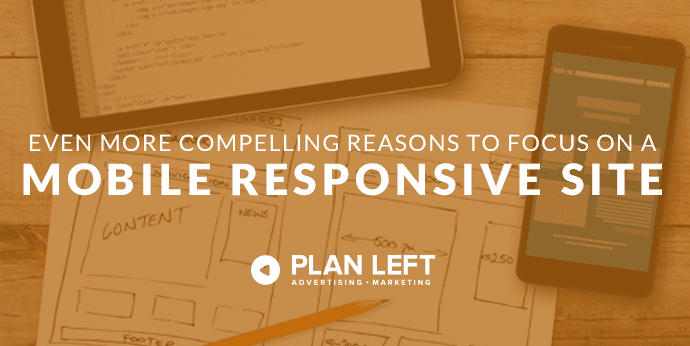 We know you've heard it a million times. Optimize your website for mobile devices!  Well, if you haven't listened before now, you're the reason we're still shouting it. Here's the thing: maybe you didn't notice a big difference in website traffic immediately after Mobilegeddon. Maybe you waited a bit to see if the doomsday predictions were true. And when your website traffic didn't plummet, you decided optimizing for mobile wasn't as important as people wanted you to think.
Well, we're back to let you know it is. Some of the biggest websites out there have already shown a decrease in traffic since Google's introduction of their new algorithm. That means your website isn't immune. In fact, HubSpot recently did an audit for their 15,000 clients. Those that hadn't optimized for mobile yet saw a 5% decrease in traffic. That may not seem like enough to get excited about, but imagine that they're also seeing a 5% decrease in leads. Now are you listening?
Where to Start
Landing pages designed to convert visitors into leads or customers should be your top priority. By converting those landing pages to mobile friendly versions, you won't lose out on your ranking in Google for those particular pages. Your visitors can easily click links, read the text, and even fill in the lead-capture forms there. If they can't read your site on their phones or tablets, those visitors will probably bounce.
Keep It Going
Update your homepage. Remember that visitors on mobile devices aren't likely to hang around if they can't read your site on their phone or tablet. That bounce rate says a lot to Google, who then uses it to rank your website in search results. If they feel your site doesn't offer a quality experience for visitors, they'll knock you down the list. It has already happened to some pretty popular sites.
Finish the Job
You'll only get by for so long with these stopgap measures in place. At some point, your Band-Aids will stop fooling Google and you'll slip on the search rankings again. The only way to make sure you always get the best possible results from Google searches is to convert your website to a fully mobile friendly platform.
Some Bad Moves You Might Make
Your worst move, of course, would be to avoid updating your site at all. To avoid the impending smackdown from Google, you might choose to use a mobile template for your website, which requires users to enter a different URL on their mobile devices. A redirect is definitely possible, but you'll still be using two different addresses for the same site. This can also confuse Google and hurt your SEO results.
You might also use a mobile viewport, which will scale the content on your site according to the device used. The problem here is that you'll likely leave a device out, which will result in a bad user experience for visitors who use that particular device to access your site. You also won't be able to make the content on your page dynamic, meaning users will just access a version of your site that fits their screens. It doesn't mean they'll be able to read the text, click the links, or see the images.
In other words, your best bet all the way around is to work with a website developer to create a website that is fully mobile responsive. Sure, it costs money, but when you consider how much you're losing by avoiding the inevitable, the investment is definitely worth it. When you're ready to take that step, reach out. We're here to help.
Explore Latest Posts
So, this is the story all about how...the band Jefferson Starship, credited with 70s and 80s hits "Sarah" and "Miracles," ... read more

Voice search is quickly becoming a critical aspect of search engine optimization (SEO) as the use of voice assistants like ... read more

Advanced SEO techniques are an essential aspect of search engine optimization in today's digital landscape. They go beyond the basic ... read more