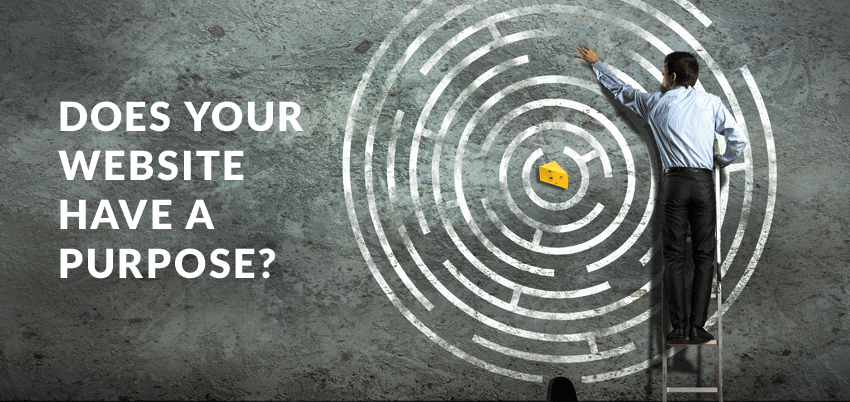 Your company website is your number one online asset. That is, unless, you're not quite sure what the purpose of your site really is. Without a true understanding of what you need your website to do for you, this asset could become a burden. Running a business is too expensive as it is. You can't afford a website that's counterproductive.
So, what can you do to make sure your site fulfills its purpose? Here's the game plan.
Determine Your Purpose
What is the basic strategy behind your web design and development? There are essentially three purposes, which are:
Sell products or services

Generate leads
You can, of course, develop a website that helps you perform all three at the same time, but you can't go about this all willy-nilly. Before you cram everything into one site, start simply. Determine the most important purpose. If it's selling products, then you'll need an ecommerce platform. If you're establishing credibility, you'll benefit from excellent, quality content.
Serving Your Purpose
Now that you're aware of your website's true purpose, take a look with fresh eyes. Do you have a reliable ecommerce platform in place for selling your products? Can you capture leads with ease and maintain contact with those leads? Does your site provide excellent content that supports your business and solves your buyers' pain points?
Before you do anything else, rebuild your site to serve its true purpose. You cannot simply throw a few items out for sale on your site and expect to see real results. You also can't cram copy in and around your ecommerce offerings in an effort to build credibility. Instead, streamline your site. Start from the ground up and give your true purpose center stage.
Only after you have a robust site that serves your company's purpose fully can you consider adding smaller features. A lead generation form can be added to some of the pages to help you build a list of qualified leads. A blog might be attached so you can build credibility without overshadowing the products you sell. As long as your true purpose remains the focus of your site, you'll see undeniable results.
How to Build for Purpose
Now, the idea of starting again from scratch probably sounds time consuming and expensive. In truth, you won't be able to make the changes on the cheap. Before you decide you'll be just fine without, consider the growth you could experience with a fully functioning website that does exactly what it's meant to do.
Isn't that worth the investment?
Work with a reputable website development team who will take your wants and wishes into account. The right team won't be afraid to tell you no, though. Remember as your new site is being built that professional developers know how to get the results you need.
Once your new site is ready to launch, continue using that site for its true purpose. If you go through the trouble and expense of new site development, you don't want to slip back into old habits, do you?
As always, if you have questions or need help determining if your site is fulfilling its purpose, we're always here to help. Give us a call, and we'll get right to work for you.
Explore Latest Posts
So, this is the story all about how...the band Jefferson Starship, credited with 70s and 80s hits "Sarah" and "Miracles," ... read more

Voice search is quickly becoming a critical aspect of search engine optimization (SEO) as the use of voice assistants like ... read more

Advanced SEO techniques are an essential aspect of search engine optimization in today's digital landscape. They go beyond the basic ... read more