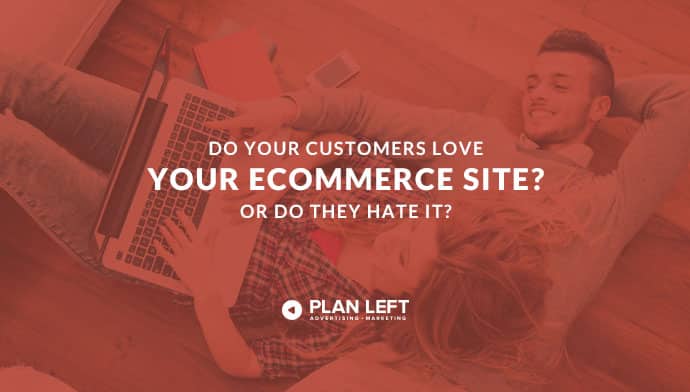 Hate. It's a strong word.
People use it to describe bad customer service experiences or traffic jams or overcooked meat.
They also use it to describe ecommerce sites that are cluttered, slow to load, and difficult to navigate.
How does your ecommerce site measure up?
Is it a streamlined, enjoyable experience for your customers? Or does it make them crazy with rage?
Somewhere in between?
That's still not good enough. 
When you build an ecommerce site, you're losing a lot of the face-to-face, personal interaction with your customers that you would get in a brick-and-mortar store.
But that doesn't mean you can't build an amazing user experience and leave a lasting impression.
Here are some essential ways to go from being hated (or being meh) to being loved by your online audience.
Improve Your Page Speeds
With ecommerce sites, page load speeds can be a tricky equation.
Your customers will get bored and abandon your site if your pages take too long to load.
But they also expect full functionality and variety, whether it's on mobile or desktop devices.
So how do you improve your site's page load speeds without sacrificing its content, layout, design and functionality?
The easiest answer is caching. 
The most common type of caching is browser caching, where a user's computer stores copies of a webpage and presents those copies to the user when they return to the same page on that site.
You can cache a variety of your site's information, including CSS, Javascript files, and images–and you can set expires on each cache to prevent old versions of a page from being cached on new visitors' browsers.
Unsurprisingly, caching improves page load times by alot. Like, 40 or 50 percent.
It can do this because it relieves a site's host from loading and presenting all the various components of a page each time a visitor returns there.
For WordPress sites, W3 Total Cache is a good option.
Not sure if W3 Total Cache is installed on your WordPress site? Simply check under installed plugins:
You can minify CSS and Javascript files, enable object caching and enable browser caching.
Not sure if your site's page are slow to load?
Check your site's page load speeds. 
Implement Design Your Customers Will Love
It doesn't matter if your products are the best in the world.
If your ecommerce site has faulty, unresponsive, unintuitive design—your sales and your customer relationships will suffer.
There are a few key features of ecommerce design that customers crave:
Fast loading times (see previous point)

An SSL Certificate

An intuitive visual hierarchy-make clickable text large and easily identifiable, utilize color accents to guide your user to your most important pages, etc)

Clear, concise language-a value proposition is a must. Make it pithy, but make it count.

Easy-to-find Store and Shopping Cart options 

Ease of us. "Quick Shop" tabs that allows customers to add items to their carts without leaving the products page are ideal. Multiple pictures from different angles are preferred.

Easy checkout process. Offer the option to check out as a guest, but prompt the new customer to create a website account in your follow-up email. Tempt them with a one-time, new customer discount for adding their information. This helps encourage repeat purchases and helps you snag a new email for your customer list.
Don't give your customers a chance to be annoyed or distracted by your design.
Build your ecommerce products' pages with one goal: to move the customer from seeing the item to buying it.
Take Good Product Photographs
On an ecommerce platform, a picture is worth a thousand words. (And possibly a thousand dollars…in sales.)
You can't expect to titillate your ecommerce customers if your product pictures are dull, grainy, low-quality disasters.
A full 67% of consumers report image quality as "very important" when making purchasing decisions.
So how you take amazing photographs of your products?
Invest in the right equipment. If you can't afford a nice camera, purchase some affordable mobile apps to make your smartphone's pictures look better. VSCO, Snapseed, and Enlight are some of our favorite camera photo editing tools.

Take multiple photographs. Don't just give your customers the straight-on view of your product. Give them at least 3 different angles to view and evaluate. If it's a garment or wearable item, make sure to include close-up shots to give shoppers a view of the materials.

Don't use a wide-angle lens. Check your aperture. Make sure your product is perfectly in focus.
This is just the tip of the iceberg when it comes to creating product photographs your customers will love.
Research more in-depth information on product photography before you go shopping for a camera or upload bad product pictures to your ecommerce website.
Your product pictures are one of the most important parts of your ecommerce site. It's important to get it right.
Write Product Descriptions That Convert
So you've done the leg work on your product photographs.
You've spent some serious money on your website.
You love the design, the layout and the functionality.
But when you click on your products page, there isn't much more than those beautiful photographs to show your customers what your products are all about.
Your product descriptions are barely there—and your customers, as a result, don't feel educated enough about your product to make that purchase you so desperately want them to.
When it comes to ecommerce, it can't be All About the Photographs.
You have to have some written words attached to your products, too.
Great product descriptions combine a few different things:
Be aware of SEO keywords and Google's standards when building your product descriptions.

Be unique. Don't recycle product descriptions—it will get you pinged by Google and won't be valuable to your customers. Give each product a unique work-up.

Be informative. Include all the relevant information—dimensions, colors, materials used, sizes, capabilities, warranties, etc.

Be concise. When it comes to product descriptions, you want to give your customers the information they want the most, in an accessible format.

Be relevant. Product descriptions are a prime opportunity to show your customers that you know them and understand them. Use insider language, and reference aspects of your product that fit into your target customer's lifestyle. When you show them that you're part of their world, they'll trust your word (and your product) far more.
Your ecommerce website is one of the most important ongoing projects for your brand.
You have to move with the tides of technology, customer demand and customer experience.
Form, functionality, content and aesthetics are just a few of the places where customer happiness is built.
Still have questions? Plan Left can help.
Explore Latest Posts
So, this is the story all about how...the band Jefferson Starship, credited with 70s and 80s hits "Sarah" and "Miracles," ... read more

Voice search is quickly becoming a critical aspect of search engine optimization (SEO) as the use of voice assistants like ... read more

Advanced SEO techniques are an essential aspect of search engine optimization in today's digital landscape. They go beyond the basic ... read more