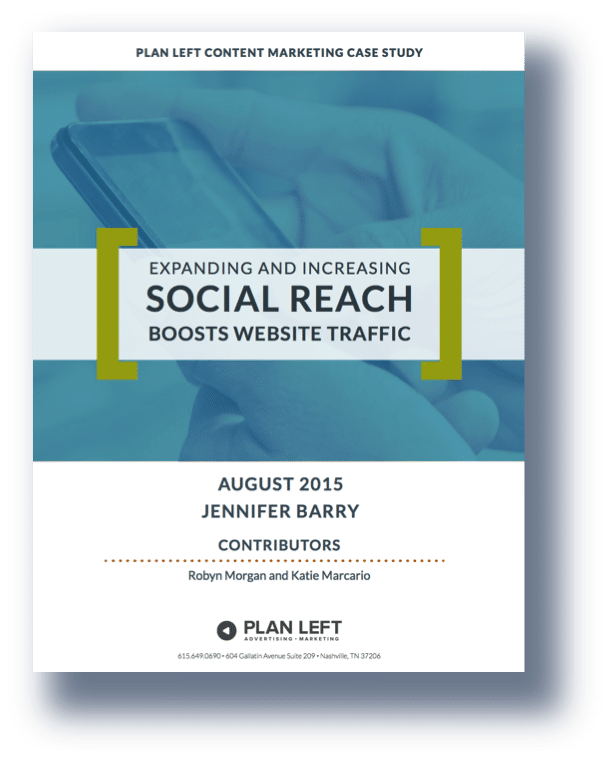 Social media is a very powerful marketing tool. Unfortunately, it still gets a bad rap. The problem is often a social media manager who pays little attention to brand voice or spends too much time on platforms that aren't relevant to your target audience. When you work with a social media strategy that fits your brand, the results can be amazing.
Increase Social Referrals by 1,800%
When your social media marketing partner understands your brand, speaks with your brand voice, and believes in your brand's mission, the posts shared on your social networks achieve signficant referrals to your website. We discovered this to be the case when we examined the available social channels and chose only those where our buyers were likely to spend time. Then we honed our message to ensure that we always conveyed the Plan Left voice, vision, and mission. Finally, we increased the number of posts to our social networks. We even got our whole team in on the fun. For our hard work, we saw an enormous increase in referrals to our website.
The Formula Works
You can experience similar results. We'd never promise 1,800% to anyone, but we do swear by our methods. We can show you how it's done, and then you can sit back and enjoy increased social media engagement and traffic to your website. Know what else is amazing? The increase in traffic to your website through social media referrals is just a valuable byproduct. The real outcome is a sea of brand advocates who love hearing from you, learning from you, and following you wherever you go.
We just need to know where to send it, so be sure to include your email address. If you like what you see, give us a call. We can talk about how you can experience similar results. We look forward to hearing from you!
Explore Latest Posts
So, this is the story all about how...the band Jefferson Starship, credited with 70s and 80s hits "Sarah" and "Miracles," ... read more

Voice search is quickly becoming a critical aspect of search engine optimization (SEO) as the use of voice assistants like ... read more

Advanced SEO techniques are an essential aspect of search engine optimization in today's digital landscape. They go beyond the basic ... read more