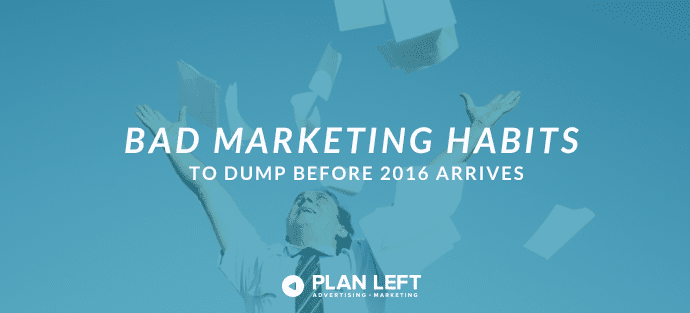 The New Year is a perfect time for new beginnings. That's why so many people make resolutions and try their hardest to stick to them. Personal changes are important, but that's not all you should examine before 2016 arrives. You may be making bad business choices—particularly in how you conduct your marketing—that could be holding you back. So, what marketing habits should you dump? Let's take a look.
Obsessing Over Likes and Retweets
Do you watch your social media likes and retweets obsessively? Do you consider a message that got more likes than another the more successful one? If you're so busy paying attention to the count go up but not the activity of those who follow you, then you're missing the real point.
The purpose of social media marketing is to sell, not to become the most popular company on Facebook. Your job should be to nurture those who follow you and build relationships. Engage them and answer their questions. Eventually, hopefully, one of those followers will make a purchase. If you're too busy counting your likes and shares, you'll miss the opportunity to sell, and that's a bad spot to be in.
No Contact List Segmentation
Still sending all your messages to your entire contact list? I bet your unsubscribe rate is through the roof. In the New Year, take some time to segment your contact list so that customers get messages meant only for them. That doesn't mean you have to personalize every individual message. Instead, segment according to what buyers like, where they are in the buying cycle, how many times they've made purchases, and how much money they usually spend. That means customers on your contact list will receive only the email that are relevant to them instead of a barrage of messages meant for other people. The results are magical.
Self-Centered Messaging
Is your website all about you? Shouldn't be a bad thing, right? I mean, who else is your website going to be about? The problem is, customers who find your website won't learn much about what you can do for them.
Your website should definitely explain what you do, but the rest of the site needs to be focused on someone else: the customer. What do you do for the customer? If you can find that balance not just on your website but in all your marketing messaging, then you'll be ready to face 2016 head on.
More Than One Website
For some reason, the idea that more than one website is a good thing still permeates the marketing world. You may be struggling to maintain two or more websites with the belief that one more way to find you has to be a good thing. However, you're hurting your brand and business immensely.
First, there's the probability of duplicate content, which Google doesn't really like. That's prime behavior for punishment there. Then, there's the reality of competing against yourself for the most important search terms. If two of your websites have the same search terms, then they're both going to fight to climb the rankings in Google. You've got enough roadblocks without setting up your own to work around.
Forgetting Follow-Through
A list of leads is exciting, isn't it? As marketers, we spend all our time working on cultivating that list. The problem is, sometimes we forget to do anything once we've collected leads.
It's important to be aware of each lead's location in the marketing funnel. How did you acquire that lead? What part of your business did that lead find interesting? The more you know about the acquisition, the more you know about what to say next. If you don't work to move that lead into the next phase of the buying decision and instead let them sit there forever on the list, then you've failed at follow-through.
No Responsive Design
We really want to believe if your business has made it this far, you've already implemented responsive design. Maybe, though, you haven't made the upgrade because your current success suggests you really don't need mobile friendly marketing.
The truth is that the damage is currently being done, even if you don't see the destructive nature of your outdated website yet. Google is well on the way to punishing your website by moving it down in the search rankings. Recovering from a Google penalty of any kind take months. You definitely won't be able to hit the ground running in the New Year if you're too busy working to undo Google damage.
If you need some help making resolutions and keeping them for your marketing in 2016, give us a call. We want to see you succeed in the New Year!
Explore Latest Posts
So, this is the story all about how...the band Jefferson Starship, credited with 70s and 80s hits "Sarah" and "Miracles," ... read more

Voice search is quickly becoming a critical aspect of search engine optimization (SEO) as the use of voice assistants like ... read more

Advanced SEO techniques are an essential aspect of search engine optimization in today's digital landscape. They go beyond the basic ... read more