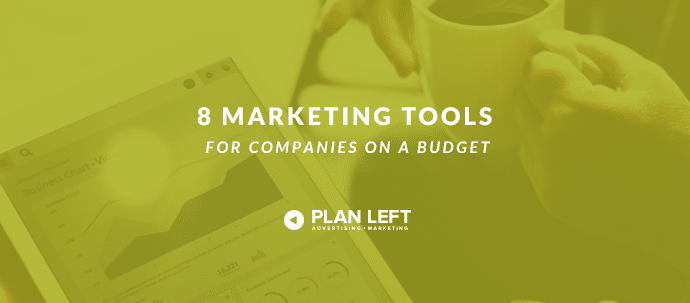 We know; marketing can be expensive, especially for small businesses. Without the budget for help from an agency, you're pretty much on your own. Fortunately, there are several tools available to anyone who needs them—particularly small businesses that just need a little help.
Graphic Design
Without training, developing engaging graphics is difficult. Still, there are a few tools that you can use to create simple social media banners or even ebook covers. Logos are more difficult, but if you're planning to create something simple, then some of these inexpensive tools will help.
Canva
Really, this free web-based design tool does it all. You can choose from provided templates or start from scratch. Use the photos and textures already there or upload your own. The types of designs you can create range from social media banners to print posters and everything in between.
Spaces
Armed with an entire arsenal of business and marketing tools, Spaces provides two specific programs that may help with your design needs. The first is an image resizer to help you create graphics. The other helps you create posters for print or digital use. Again, simpler than a graphic designer might create, but also simple to use.
Free Photo Tool
This image editor lets you create graphics much like you could in the very expensive Photoshop. While the options available aren't nearly as robust, you can perform simple edits to images for use in your marketing materials.
Websites
A custom website is always the best bet for any business, but the more customized your website, the more expensive it is. Some more affordable options offer free themes, while others may charge a fee for the ability to make that theme your own.
WordPress
WordPress gives you the ability to create a fully free website, as long as you don't mind sharing your URL with WordPress. You can also host your site through WordPress to generate a customized URL, choose paid themes that give you more flexibility with design, and install plug-ins for the best possible SEO and analytics tracking.
Wix
Quickly gaining on WordPress, Wix offers many of the same options—from completely free to fee-based design and hosting options. Because WordPress has been popular longer, you're more likely to discover some lesser-used themes and tools through Wix that will give your site a more customized feel.
Content Writing
Writing is a difficult task, especially if your talents lie in other areas. Quality content is important for your SEO results, it's important to do it right the first time.
Zerys
You can bid on jobs and choose your writer through Zerys. If you develop a great relationship, that writer can stick with you for the duration. If you're less than happy with the results, you don't have to pay and you can choose a new writer for the next project. Risk-free, really.
Grammarly
If you choose to write your own, you can use grammar tools like Grammarly to guide you to better writing. Keep in mind that this particular tool aims for perfection, and sometimes perfection comes off as stiff and uninviting. Take all suggestions with a grain of salt.
Blog Topic Generator
Sometimes just coming up with ideas to keep your blog going can take a lot out of you. This blog topic generator from HubSpot will keep you rolling in titles and topics. Remember, you can always tweak the topic to fit your brand.
Before you use any of these marketing tools, remember this: you do get what you pay for. Some may be more effective with experts at the helm, while others offer simple solutions that help you fill in the blanks in your marketing efforts. Nothing replaces a solid marketing company with experts in their field. If you need more help than these tools can offer, give us a call.
Explore Latest Posts
So, this is the story all about how...the band Jefferson Starship, credited with 70s and 80s hits "Sarah" and "Miracles," ... read more

Voice search is quickly becoming a critical aspect of search engine optimization (SEO) as the use of voice assistants like ... read more

Advanced SEO techniques are an essential aspect of search engine optimization in today's digital landscape. They go beyond the basic ... read more