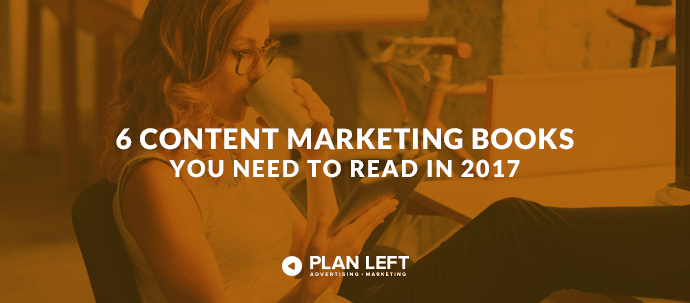 It's a new year.
Which means new marketing trends, writing styles, technologies, and books.
Keeping up with everything is simply impossible. But sitting down with an in-depth book can certainly give you a running start.
2017 is set to become the biggest year on record for digital sales, interaction and marketing.
And content is still king.
So which books should you be diving into this year?
Check out our favorites below.
1. Content, Inc.: How Entrepreneurs Use Content to Build Massive Audiences and Create Radically Successful Businesses
By Joe Pulizzi
Pulizzi, who authored Epic Content Marketing, is back again, with this dive into how entrepreneurs use content to build empires around what their audiences already want.
The radical premise of Content, Inc.? That you shouldn't make a product and then figure out how to make your audience want it.
Rather, Pulizzi proposes, you should create content, build an audience and get to know them, and then create a product that meets the needs they already have.
It's a new way of looking at the business building model, and Pulizzi lays it out perfectly in a six-step process in Content, Inc.
2. Content That Converts: How to Build a Profitable and Predictable B2B Content Marketing Strategy
By Laura Hanly
Are you in the B2B market but can't figure out how to create content that successfully targets and attracts the leads you want?
Laura Hanly has created a step-by-step guide to help you not only target the best possible audience—it also shows you how to create a recurring content system. You'll get insight on building the assets you need to appeal to your audience (eBooks, white papers, case studies) and convince them to become a lead.
If you want to start 2017 with the best insight on creating a B2B content strategy, Content That Converts is a great option.
3. Content Chemistry: An Illustrated Handbook for Content Marketing
By Andy Crestodina
Now in its fourth edition, Content Chemistry is the result of thousands of interviews and insights from web marketers across industries.
Search engine optimization, email marketing and social media are just a few of the content marketing tenets covered in this fourth edition.
You'll also take a dive into the creative and analytical background of marketing in today's world—helping mold your digital marketing philosophy for the better.
4. Everybody Writes: Your Go-To Guide for Creating Ridiculously Good Content
By Ann Handley
The sudden importance of great communication can be intimidating, especially for business owners who have no experience with it.
Ann Handley comes to your rescue in Everybody Writes—with real, quantifiable advice for creating the written content that your audience will love.
If you struggle with telling your brand's story or infusing your content with empathy for your customers, Handley will show you how to choose the words that work.
From storytelling advice to usable tips on grammar and spelling, Everybody Writes can help you speak to your audience and do it well.
5. How to Write Copy That Sells: A Step-by-Step Guide for More Sales, to More Customers, More Often
By Ray Edwards
Email marketing, sales pages, direct mailers, social media…you name it,  it's covered in How to Write Copy That Sells.
Ray Edwards has created the definitive guide for crafting copy that convinces your audiences to make a move—without feeling like salesy claptrap.
He'll show you how to write fast, snappy headlines, and easy-to-read paragraphs.
He also shows you the universal structure behind all persuasive copy, plus the mistakes that many of us make when crafting copy that's supposed to sell…but doesn't.
6. Master Content Marketing: A Simple Strategy to Cure the Blank Page Blues and Attract a Profitable Audience
By Pamela Wilson
Pamela Wilson, who manages Copyblogger (one of the most respected content marketing resources in the world), has crafted a great collection of content writing tips with Master Content Marketing.
With advice that can apply to both B2B and B2C companies, Wilson has compiled examples of great content marketing pieces that attract viewers and delight them.
Even if you're a non-writer, there's tons of usable wisdom and tips in Master Content Marketing.
With any of these books in your rotation this year, you can improve your content marketing prowess and start building campaigns and articles that your audience loves.
Still have questions?
Plan Left can help.
Explore Latest Posts
So, this is the story all about how...the band Jefferson Starship, credited with 70s and 80s hits "Sarah" and "Miracles," ... read more

Voice search is quickly becoming a critical aspect of search engine optimization (SEO) as the use of voice assistants like ... read more

Advanced SEO techniques are an essential aspect of search engine optimization in today's digital landscape. They go beyond the basic ... read more