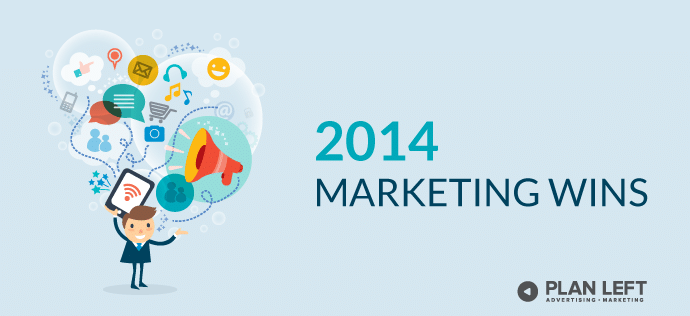 As the year draws to a close, we'd love to look back at some of the more successful campaigns of 2014. Success, of course, is relative. Some of these campaigns we like because they reached millions, but then, the companies are already large enough to reach millions any time they wish. Others we like simply because they're using creative and unusual approaches, though they may not attract the same audience a multi-million dollar brand might.
What made our cut for the faves of the year? Take a look.
Doritos Super Bowl Ads
User-generated content is such a win for so many reasons. First, of course, you get a chance to see what's important to your true target audience. How? They tell you with their content. Then, of course, those users who submitted content that you use tell all their friends and family to check it out. This results in increased exposure and the chance to maybe reach people that may not have discovered your amazingness before.
Doritos took advantage of these benefits during the Super Bowl when they hosted a contest to find the best commercial. How many people viewed the finalists' and winner's commercials? Just check the view count on YouTube for each to get an idea of the reach, and all before the Super Bowl even aired.
Sainsbury's Christmas Day Truce
With minds focused on money, many marketers forget to pluck the heartstrings. Emotion is a huge driver for purchases, and Sainsbury's got it just right with this Christmas commercial.
While the UK department store chain obviously spent a chunk of change creating this video, they focus all attention on the fabled truce during World War II. Only at the end does the viewer learn who's responsible for the sob-fest that went before. By that point, emotions are high, and anyone watching is compelled to keep that feeling alive with a trip to Sainsbury's. Maybe. Not if you live in the United States, though.
AirBNB's Vine Video Movie
Here we are again with user-generated content, which AirBNB used to great effect. The best part about the Hollywood and Vines campaign is that those who wanted to participate needed nothing more than an app on their phone. No need to possess a high-dollar camera and an even higher-dollar filmmaking degree.
The Vine videos were then laced together to create a short film, which benefits from the same pros listed above—increased audience and a quick tug at the heartstrings of that audience.
Charmin's Potty App
Everyone needs it—toilet paper. You can go on and on about which is more effective, which is softer, which is cheaper. When it comes time to really stand out from the crowd, Charmin created something else everyone has needed at least once: an app that locates public restrooms.
Not only can users find a place to go, they can let future users know whether to sit or squat—in other words, they can share feedback on the state of the bathroom. Useful? Yes. Thanks for thinking of everyone, Charmin. That means we'll think of you when we need toilet paper.
Pantene Oscars Hair
Real-time marketing has been the darling of the marketing world since Oreo's timely tweet during the Super Bowl blackout in 2013. The problem is that many tweeted and Facebooked major fails in their effort to be the first to pounce on a marketing moment. The answer, as Emarketer reports, is to concentrate on right-time marketing instead of real-time marketing. In other words, evergreen content that fits the occasion.
Pantene did exactly this with their #WantThatHair campaign during the Oscars. Armed with an artist and some hair tips, the hair care giant tweeted instructions for getting favorite red carpet looks while using Pantene products. That's how right-time marketing happens.
Explore Latest Posts
So, this is the story all about how...the band Jefferson Starship, credited with 70s and 80s hits "Sarah" and "Miracles," ... read more

Voice search is quickly becoming a critical aspect of search engine optimization (SEO) as the use of voice assistants like ... read more

Advanced SEO techniques are an essential aspect of search engine optimization in today's digital landscape. They go beyond the basic ... read more