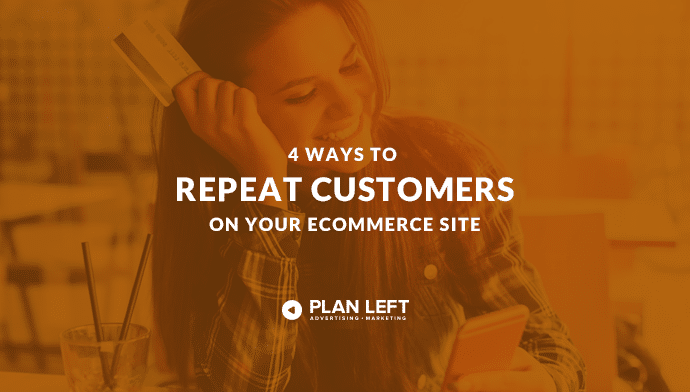 In 2015 alone, ecommerce activity grew by 14.6% in the United States.
And it's on track to have made even bigger gains by the end of 2016.
The internet is an instant, quasi-limitless marketplace, and your competitors are literally a click away. New customers historically take a really long time to make a first purchase–once they do, you have to handle your relationship with them almost perfectly if you want to get repeat business from them in the future.
Because of the unique nature of customer retention on ecommerce, alot of brands just…don't…do…anything. They focus all of their energy on acquiring a transaction, and once that transaction goes through, they whip their energies back towards acquiring another first-time transaction from another first-time customer. Lather, rinse, repeat.
If this is your business's ecommerce philosophy, it might be take to re-think things.
You see, repeat customers have the potential to become lifelong customers. And, according to Business Insider, they comprised a full 48% of all ecommerce sessions in the last quarter of 2015.
So why (as a recent study from Forrester showed) are ecommerce brands still spending 80% of their marketing budgets on customer acqusition?
This is especially concerning when one considers that repeat customers are easier to market to and less sensitive to pricing changes than new customers.
If you're floundering when it comes to ecommerce customer retention, we've got a few tips to help. 
Let's take a look.
1. Encourage Customer Account Creation
It's important to eliminate any roadblocks to purchasing for first time customers on your ecommerce site.  That's why a "guest" option at check-out is such a good idea.
But once they've made their purchase, you have a great opportunity to encourage the creation of a customer account.
Consider changing your order confirmation emails to include a "Create an Account" button. You can even make order details or delivery tracking contingent on a customer account. 
If you'd rather present the account option immediately, you can re-design your purchase thank-you pages to include a prominent Create an Account button.
One easy way to incite account creation?
Offering a one-time discount for new account creators.
Gaining new customer accounts puts you on the fast track to marketing for repeat purchases.
Once you have that information, you can promote offers, deals, sales, and new products.
You'll have ample opportunity to cross-sell, upsell and make personalized offers that will capitalize on your customer's familiarity with you brand.
2. Include an Online Discount Code in a Postage Insert
Customers who have just made their first purchase with you are unique.
They're walking a thin line between being a one-and-done shopper and making multiple purchases.
Making an effort to impress them upon their first purchase is a huge step towards getting them to come back for more.
A packaging insert (think an attention-grabbing business card or postcard) is a great way to make a stellar first impression.
A short, sweet "thank you for your purchase" and an exclusive online discount code is a genius way to incite them to get back to your website within a short timeframe.
If you want to extend this beyond first time customers, more power to you.
Develop a criteria for who will receive a discount postcard.
Should it be a customer who just made their first purchase in six months or a year? A customer who has been loyal for many years?
Doing so will help you gather data on which segment of customers makes the most repeat purchases.
3. Include a Product Sample
Product samples help encourage repeat sales in several ways.
First, they inspire good will in your customer—you're giving them something for free, and people like free things.
Secondly, free samples communicate a confidence in your products that is reassuring for consumers. If you're willing to include a sample of a product free of charge, you must be pretty confident that it's great.
This informs how your customer will view your product and your brand.
Thirdly, a free sample is a prime opportunity to cross sell.
Cross-selling (when it's done well) is one of the easiest ways to attract repeat customers and build customer involvement with your brand.
Selling them a second (possibly higher value) product they love as much as the first? Hello, customer loyalty.
4. Create a Loyalty Program
People love loyalty programs.
Like, really love them.
Building a loyalty program is an easy way to catch your customers' attention and get them involved.
But first you have to know what your loyalty program should offer and how it should function.
These statistics from Nielsen (presented by Shopify) show that free or discounted products are the preferred loyalty program reward around the world.
A full 75% of respondents around the globe named discounts as the loyalty program benefit that mattered to them the most.
Of course, you have to evaluate your particular market before planning your loyalty program.
Should you offer a punch-card that gives a free product after a certain number of purchases?
Should you offer a points system that allows customers to accumulate discounts the more they spend with you?
Ulta Beauty's Ultamate rewards program is a sterling example of this, allowing loyal customers to accumulate points that can be redeemed for monetary discounts on the company's merchandise.
If you don't want to institute a cash-discount program, a points system that allows members access to other perks can work, too.
For exaple, Sephora's Beauty Insider program allows customers to accumulate points for free samples, mini products, makeovers and more.
Keep in mind that you don't have to stop your rewards program at discounts or free products.
You can also offer enhanced customer service (Sephora's makeovers with beauty consultants, for instance) or provide early or exclusive access to deals and sales.
Loyalty programs show your customers that you value their continued service—while also working as a cross-selling and upselling opportunity.
Invest your research and marketing dollars into a loyalty program that will make your customers bite.
Your bottom line will thank you.
Still have questions? Plan Left can help.
Explore Latest Posts
So, this is the story all about how...the band Jefferson Starship, credited with 70s and 80s hits "Sarah" and "Miracles," ... read more

Voice search is quickly becoming a critical aspect of search engine optimization (SEO) as the use of voice assistants like ... read more

Advanced SEO techniques are an essential aspect of search engine optimization in today's digital landscape. They go beyond the basic ... read more