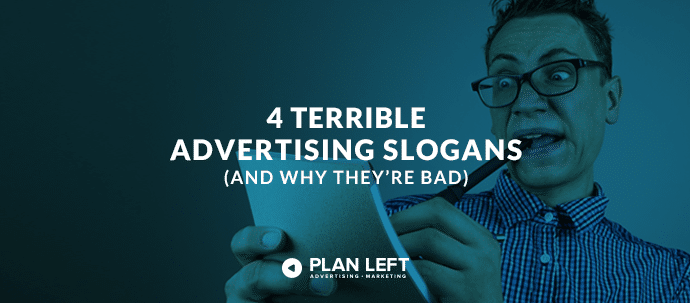 Within that history have been watershed campaigns, logos that changed a brand's future, and slogans that became embedded in the very fabric of society.
Also within that history have been major flubs, gross and off-putting concepts, and just generally awful ideas.
While it's useful to acknowledge the amazing slogans that have been produced through the years, it's also appropriate to point out and criticize the ones that were bad and failed for a reason.
Check out these 4 truly awful advertising slogans (and be thankful that they are no more).
Dr. Pepper, "It's Not for Women"
Debuted in 2011; Immediately Retired
Dr. Pepper somehow managed to mix sexism and diet soda in 2011, with their slogan for the new Diet Dr. Pepper TEN.
Trying (laughably) to corner the market on the male diet soda drinker, Dr. Pepper's "It's Not for Women" slogan inspired immediate backlash among both male and female consumers.
With commercials that showed traditionally masculine men doing things like fighting, shooting lasers and jumping into moving vehicles,  it was clear that not only was Dr. Pepper not trying to appeal to women, it was actively trying to repel them.
Let's just say it didn't go over well. The ad was shelved soon after it debuted, with consumers and critics lobbying charges of blatant sexism and just plain tasteless pandering.
UPS, "What Can Brown Do For You?"
Debuted in 2002; Retired in 2010
United Parcel Service debuted this clunker in 2002, and it was widely considered the brand's biggest and most aggressive ad campaign in their nearly 100-year history.
Initially touted as a success for bringing to mind the color of both UPS's logo and the traditional cardboard boxes used for shipping, the slogan quickly became irrelevant as UPS focused more on logistics and technology.
"What Can Brown Do For You" also had a bad landing with audiences.
The slogan was interpreted by many as a blue joke, leaving UPS ripe for ridicule by consumers and critics alike. Not exactly a win for a serious shipping and logistics company like United Parcel Service.
UPS retired the slogan entirely in 2010, and hasn't looked back.
Budweiser, "Whassup?!"
Debuted in 1999; Retired in 2002
Long before it was yelled enthusiastically by Michael Scott on the U.S. version of The Office, "Whassup?!" was a ground-breaking commercial campaign for Anheuser-Busch's Budweiser beer.
The first commercial in the campaign debuted during Monday Night Football in 1999, and inspired parodies and imitations on the internet and beyond. It even won a slew of advertising awards.
Unfortunately, the phrase (and the campaign) have aged terribly, if only because it inspired an entire generation of young people to yell the same obnoxious word over and over, to the dismay of pretty much everyone within earshot.
Burger King, "Be Your Way"
Debuted in 2014
If you look at Burger King's ad slogan history, it's clear that they got it right the first time.
"Have It Your Way" debuted in 1974 and immediately became the King's iconic, landmark slogan, complete with a catchy TV jingle.
Between 1974 and today, the chain has tried several failed ad slogans and programs, including the abysmal 1985 effort "Where's Herb?"
Burger King (smartly) went back to "Have It Your Way" in 2002, and saw great success with the re-introduction of their original mascot, The King.
In 2014, the company had cut ties with their advertising company and hired new hands to work on their marketing; the new team quickly produced the confusing, vaguely philosophical, and completely underwhelming tagline "Be Your Way."
An obvious play on the brand's iconic 1970s slogan, "Be Your Way" is at once meaningless and grammatically confusing, leaving critics wondering just exactly what Burger King was thinking.
The jury's still out on that.
Producing a great slogan demands an equal amount of insight, brand knowledge and keen awareness of your audience's tastes.
It also demands a huge amount of luck and great timing.
As brands and marketers, we can only hope that the slogans we produce resonate with our audiences and don't age badly. And who knows, you might even stumble upon your own version of "A Diamond is Forever."
What are some ad slogans that you love to hate? Let us know!
Explore Latest Posts
So, this is the story all about how...the band Jefferson Starship, credited with 70s and 80s hits "Sarah" and "Miracles," ... read more

Voice search is quickly becoming a critical aspect of search engine optimization (SEO) as the use of voice assistants like ... read more

Advanced SEO techniques are an essential aspect of search engine optimization in today's digital landscape. They go beyond the basic ... read more