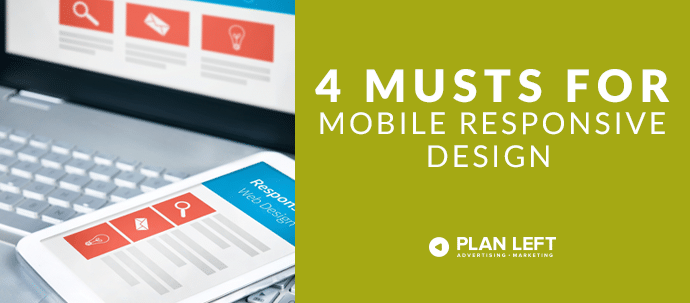 So, it's probably obvious by now that we're advocates of mobile responsive design. You probably even know from reading some of our past blogs what you're doing wrong. We thought it was about time to break down everything that would be right with a great mobile friendly website design. Let's take a look.
One URL
Take a look at these two examples below. You'll see the mobile site for IMDb requires a mobile URL, while our Plan Left site has the same URL as our desktop site. This means Google only has to index information for one address, which means you can stop updating both versions of your site in order to make sure Google has the latest information. Also, your site will stop competing with itself for search engine rankings.
If you've ever done a Google search for information, clicked on a link, and been led to the mobile version of a website even while using a laptop or desktop, then you already know what might happen when there are two versions of one site. If you were confused, imagine how your customers would feel when the same thing happened to them while searching for your website.
Quick Load Times
Obviously, anyone searching for websites on a mobile device is going to be a little more patient while things load. Just remember, they're not endless wells of patience. After ten seconds, over half of your potential customers will be gone—running away to greener pastures and faster-loading websites.
To achieve faster load times, you'll need to examine all pieces of your site. Images, video, and other typically large files should be compressed. Special gimmicks or features might need to be disabled for the mobile version of your site. Pare down wherever you can or say goodbye to customers using mobile.
Bigger Images and Text
You've heard this one from us before, but it bears repeating. If your buyers can't see what's on the page, they're not going to give you their money. How can they investigate the products on your site if they can't tell the pattern is striped instead of solid? If they have to zoom in to read the description and then back out to see the price, they'll give up pretty quickly. Take a look at the following examples to get a better idea of what you should and shouldn't do.
You won't know if you've gotten it right unless you check every page on different devices. Yes, responsive design works for every mobile device available now and in the future, but that doesn't mean you shouldn't double check everything for the utmost user friendliness.
Plenty of Space
We talk often about how pictures and text must be large enough for fingers to tap, but one thing would make clicking links a lot easier. By leaving plenty of space around the clickable text and images, you can help visitors enjoy their time on your website. Nothing's more frustrating than clicking through to the wrong page over and over again. We'd guess no one would stick around for the third wrong click in a row.
Now that you know what you should have as well as what you shouldn't have, it's time to make the switch. Stop irritating your customers with your outdated mobile site. Call us today.
Explore Latest Posts
So, this is the story all about how...the band Jefferson Starship, credited with 70s and 80s hits "Sarah" and "Miracles," ... read more

Voice search is quickly becoming a critical aspect of search engine optimization (SEO) as the use of voice assistants like ... read more

Advanced SEO techniques are an essential aspect of search engine optimization in today's digital landscape. They go beyond the basic ... read more