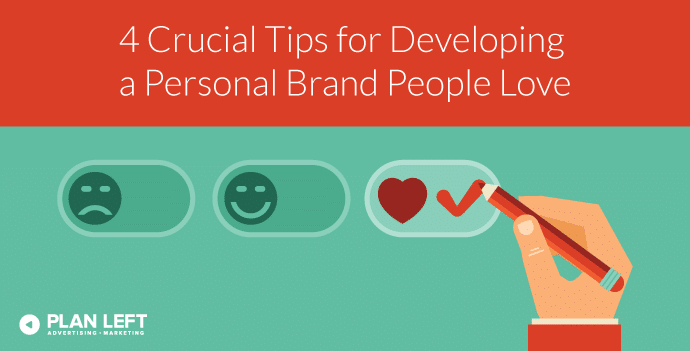 As you focus your attention on developing a brand and strategy for your company, there is one step you absolutely cannot miss. In fact, if there is any one step in the branding process that's as important as the brand itself, it's cultivating your personal brand. You—the public face of your business—will serve as the connection between people and product.
Have you even considered your personal brand yet? If you're still working to wrap your head around the concept, you may need a few helpful tips to get you moving down the right path.
State Your Mission
People want to know why you do what you do. Sure, making money is an excellent reason for starting a business, but why did you start this particular company? What does your company do that fulfills a need within you? This is your mission. This is how buyers will begin connecting to you.
Mesh Your Vision
Your mission doesn't need to be the very same as your company's vision, but they should be in the same family. Nothing is more confusing to a consumer than a company owner whose mission has nothing to do with the company they own. Even more baffling is when the mission and company vision are in direct conflict.
Consider the personal brand of Blake Mycoskie, founder of TOMS Shoes. His mission is to provide for the less fortunate, whether shoes, eyeglasses, or clean water. He's created a business that supports this mission, even if the company's brand is a bit different. TOMS Shoes are known for being simple, comfortable, and stylish. The founder, however, is known for making those shoes available to people who might otherwise not have shoes.
Use Rhetorical Appeals
Consider the Shark Tank entrepreneurs when contemplating your appeals. With logic, emotion, and ethics driving almost every consumer decision, you want to develop a personal brand that strikes the right chord.
Consider Kevin O'Leary, who is often curt and dismissive when a candidate's product doesn't meet his standards. He is obviously the logic on the panel of sharks, even if his pragmatism has earned him a reputation as a bit of a meanhead.
Then there's Barbara Corcoran, who is often the first to turn down a deal if she doesn't feel she can bring the right expertise to the table. This ethical approach, which might even cost her money at times, has won her personal brand serious respect.
Finally, there's Robert Herjavec, who is known for connecting stories about his father's struggles as an immigrant in the US to many of the contestants. His emotional approach wins lots of hearts and doesn't suffer when he must employ logic or ethics while turning someone down.
Keep It Consistent
If you think you're entitled to your own opinion—outside of your company's brand vision—think again. Cruise through Twitter for a few minutes and visit the accounts of several CEOs, founders, and owners. Take note of that disclaimer most use that says, "All opinions expressed here are my own." Then read some of the tweets.
When you trip over a tweet that angers you or confuses you, as yourself this: Does this fit the company's views? In almost every case, those tweets won't match. Now, you're angry, the owner looks terrible, and you're probably reconsidering your allegiance to that brand.
This is what happens when you allow your voice to overshadow that of your company's brand. For a real world example, consider the recently ousted chairman of Abercrombie and Fitch. His inflammatory statements regarding the exclusivity of his brand might have been overlooked if he hadn't added his own personal opinions to the mix.
In other words, when you share things publicly, they will reflect on your company. Period. Before you take to social media, always consider your company's brand before you speak. Make sure your voice is consistent with the brand voice at all times.
None of this can happen overnight, no matter how innovative your approach is. Your personal brand is your reputation, and that takes time to cultivate. If you would like some help making sure your personal brand and company brand grow, we're always here to help.
Explore Latest Posts
So, this is the story all about how...the band Jefferson Starship, credited with 70s and 80s hits "Sarah" and "Miracles," ... read more

Voice search is quickly becoming a critical aspect of search engine optimization (SEO) as the use of voice assistants like ... read more

Advanced SEO techniques are an essential aspect of search engine optimization in today's digital landscape. They go beyond the basic ... read more