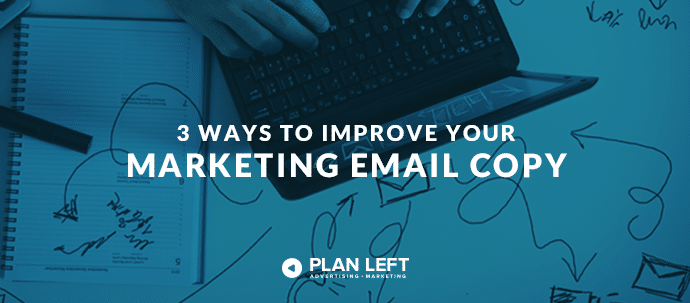 It's a big part of marketing strategies, campaigns and lead generation. There are new technologies and capabilities that have revolutionized many brands' email marketing efforts.
And there's no end in sight.
Soon we'll have marketing emails that integrate seamlessly with all of your marketing channels, perform perfectly on mobile, and send your recipients directly to expertly-crafted landing pages.
The capabilities will continue to evolve.
But if your copy is weak, you'll be investing in bells and whistles that will bring no return.
It starts with the words. And they need to be sharp and compelling.
Check out these 3 key ways to improve the copy in your marketing emails.
Write an Awesome Subject Line
Think of your email subject line like the front door to a home you've never been in. The landscaping around a restaurant that you've never eaten at.
It's the first thing you see. It shapes your opinions, and it can convince you either to go inside or to get back in your car.
For a huge number of email recipients, the subject line is the deciding factor in whether or not they open.
In fact, 69% of respondents to a recent survey said they decide whether or not to designate an email as spam based solely on the subject line.
Scared yet?
Don't be. There are ways to improve your subject lines so people want to open your email.
Make it mobile-friendly. A recent study showed that nearly 70% of marketing emails were opened on a mobile device—that means you need to make it short enough to be read in full on a smartphone screen…or at least formatted for clarity. iPhones cut off subject lines at 35 characters. Break up your subject line that so that the compelling language will fall in a spot that your mobile recipients will see.

Shorter is better. Your subject lines should ideally be 50 characters or less.

Personalize it. Studies have shown that targeted emails perform far better than generic ones with mass send-out. Invest in targeting and data-mining so your emails have a better chance of reaching an interested party.

Send from a familiar name. A study from Hubspot showed that emails sent from a particular person within the company performed better than those from the company itself. People connect with people, not corporations.
Actionable language is another key factor to juicing up your emails' open-rates.
Speaking of actionable words…
Include Actionable Language
People, especially those checking their email or surfing the internet, rarely feel obligated to give you their time. Getting away from your marketing message is as easy as clicking a button.
That's why you have to tell them exactly what they can do or what they'll get by opening your email.
Including actionable language in your subject line is the first step to the conversion you're after:
"Reserve Your Spot Now"

"Download Offer Today"

"Don't Miss Out—Inventory is Dwindling"

"Experience the Best Massage in Baltimore"

"Run, Don't Walk to the Biggest Sale of the Year"
Actionable language is compelling. You're giving your recipient an immediate benefit—often in 50 characters or less.
In a world dominated by instant gratification, transparent communication can help your draw your reader in.
This is vital to further engagement and a shot at a conversion.
Conciseness First, Intrigue Second
The first step to great marketing email copy is conciseness. Clarity. Shortness and sweetness.
People are impatient. And remember: it's easier to get away from online marketing than it is a salesperson in a store or the same billboard over and over, for miles down the highway.
So to hook an online prospect, your message needs to be sharp.
Take a hard look at the email you're currently crafting:
Do you spot the phrase "the reason for"?

Take it out and use "because."

How about "due to the nature of"? Try "since" instead.

Do you see "with regard to"? Try using "concerning" or "about" in its place.
These are just a few phrases that are superfluous and stodgy, especially in an email.
Check out this handbook on trimming wordy phrases.
Once you've got the conciseness taken care of, you can play around with the intrigue.
Be aware of lofty vocabulary that the average reader won't connect with.
And never promise something in your catchy subject line that isn't delivered in your email body.
Email marketing is here to stay. Why not invest some time in learning how to do it right?
Learning how to craft solid marketing email copy is the first step to succeeding in this cost-efficient, yet elusive territory.
Still have questions? Plan Left is here to help.
Explore Latest Posts
So, this is the story all about how...the band Jefferson Starship, credited with 70s and 80s hits "Sarah" and "Miracles," ... read more

Voice search is quickly becoming a critical aspect of search engine optimization (SEO) as the use of voice assistants like ... read more

Advanced SEO techniques are an essential aspect of search engine optimization in today's digital landscape. They go beyond the basic ... read more