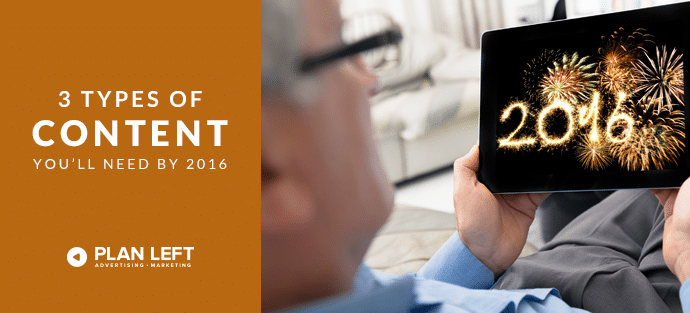 Keeping up with content marketing trends isn't easy, is it?  Generally, if you can maintain a blog and keep up with your social media accounts, you probably feel like you're doing a pretty good job. The problem is that consumers are constantly changing the ways they discover business.
What worked last year has been overdone and leveraged to the hilt, leaving buyers jaded and determined to beat the system. It happens all the time. Remember the SEO "boom" when content mills made millions stuffing keywords into articles that had nothing to do with the brand or product they wrote about? That's just one way content is exploited until buyers no longer trust. That's also why it's important to keep changing your methods with the times. Now, are you ready to know what will work for you in 2016?
Social Proof
Now, the point of social proof is that your company isn't the one writing all the nice words about your brand. Buyers stop listening to what you have to say after a while and start looking for confirmation from your previous customers. So, if it's not up to you to write that content, how can you make sure it's still a part of your marketing materials?
Give your customers options. Make sure reviews are available on your website and that future customers know they can share their thoughts at any time. Open (and manage) social networks where your target customers are living. Managing is so important, here, too. You can start a Facebook page and expect your buyers to keep it going for you. You must continue to engage and provide content for your followers to comment on and share. Keep in mind that 88% of buyers make their choices based on other customers' thoughts. If you don't give them a place to find those thoughts, then you'll miss out.
Interactive Content
When you're creating content, do you consider the device your visitors will use? In many cases, your branded content won't be viewed on a desktop or even a laptop. Tablets and mobile phones are quickly taking over, whether people are using them to check email or buy a sweater online. Your content has to be easy to access on a mobile device and able to keep visitors engaged.
Some of the content you can consider creating for mobile devices include games and apps, push notifications, and coupons or discounts. This does, of course, require a larger budget, so you'll need to consider this when planning your content marketing spending plans for the coming year.
Multichannel Messaging
How many different ways can your customers currently find your company? You probably have a website, social media accounts, and perhaps an app. It's important to make sure the messaging you share on each of these channels fits your brand image and engages every buyer. Does that mean including the same information on every channel? Of course not. You'll need long-form videos, short and snappy videos, social media posts, reviews and testimonials, images, graphics, and that's all before you even get to the written words.
Concentrate on the messaging you share across the various channels in 2016. It's important to reach your customers whenever and wherever you can, especially when they have so many distractions every day.
As always, we're here to help you with your content marketing needs. To rocket through the New Year with great content, just give us a call.
Explore Latest Posts
So, this is the story all about how...the band Jefferson Starship, credited with 70s and 80s hits "Sarah" and "Miracles," ... read more

Voice search is quickly becoming a critical aspect of search engine optimization (SEO) as the use of voice assistants like ... read more

Advanced SEO techniques are an essential aspect of search engine optimization in today's digital landscape. They go beyond the basic ... read more