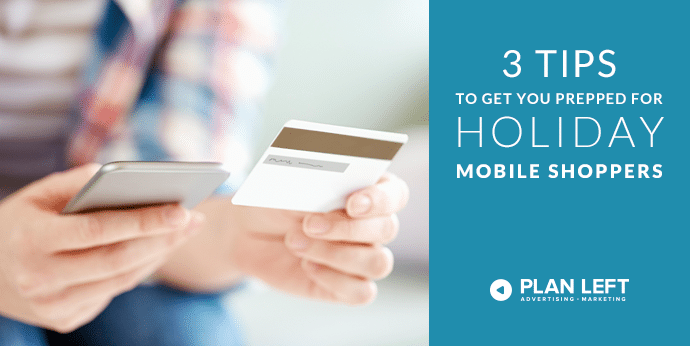 So, the numbers are looking pretty good for this year's holiday shopping season. Early projections say we're going to spend around $965 billion on presents for ourselves and our loved ones. Of that incredibly large chunk of cash, $116 billion will probably be for ecommerce sales. And of those ecommerce sales, around 25% of purchases will probably happen on a mobile device.
Now, those are some pretty staggering numbers, aren't they? As a business owner, you're probably excited to get your hands on a big slice of that pie. Before you dive right into the holidays, though, you have to ask yourself, "Am I ready for this?"
If you haven't put some serious thought into mobile upgrades for your marketing, the answer is, "No, you most definitely are not ready for this."
Increased Traffic
When you start your holiday campaigns, your goal is obviously to drive more traffic to your website, right? What if your website can't handle more traffic? Do you know if yours can accommodate all the new visitors you're likely to receive?
If you don't know, you should ask your hosting provider. You may need to increase capacity at least through the holiday months, if not for the coming year. The last thing you want is for your website to crash while potential buyers are digging out their wallets. They'll probably go somewhere else to finish their shopping.
Load Times
We've probably warned you enough about your load times, but it's especially critical at this time of year.  Blame it on the hustle and bustle of the season, okay? About 40% of shoppers will leave a website if it takes more than three seconds to load on a laptop or desktop. They're a little more forgiving for mobile sites, but not by much. You get somewhere between seven to ten seconds before your buyers will start bouncing.
Whatever you need to do to get those load times up, do it. Slim down quickly, convert chunky files, and even switch hosting services—or you'll pay the consequences with a high bounce rate.
Email Marketing
When you create your email marketing campaigns, do you consider how many people may be reading on their phones and tablets? If you're not planning for smaller screens, you may be sending useless emails to a large chunk of your buyers. If they can't see the images or text—or even worse, if the images aren't scaled to the screen and take up too much space—those recipients will most likely delete and move to the next in their inbox.
Use programs that take mobile devices into account during the design process. Once you're ready to send the emails, test the message on a variety of devices. You don't want to miss out on customers simply because they can't read your emails, do you?
If you need help with any of these mobile marketing tasks, we're always here. Of course, you better act quickly, because Santa will be here before you know it.
Explore Latest Posts
So, this is the story all about how...the band Jefferson Starship, credited with 70s and 80s hits "Sarah" and "Miracles," ... read more

Voice search is quickly becoming a critical aspect of search engine optimization (SEO) as the use of voice assistants like ... read more

Advanced SEO techniques are an essential aspect of search engine optimization in today's digital landscape. They go beyond the basic ... read more