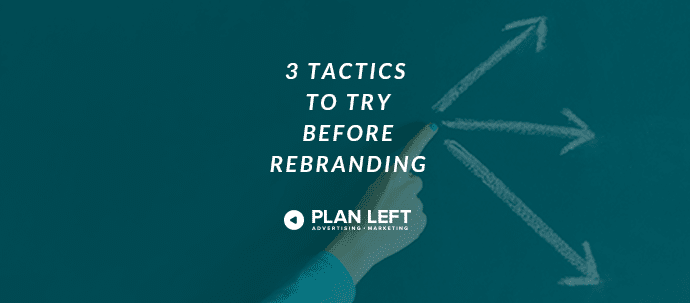 The idea of undergoing a transformation can be inviting. You put in a lot of work, creativity, and brainstorming, and then your company emerges on the other side looking fresher and more exciting. Why wouldn't you breath new life into your company by rebranding?
Sometimes it seems as though companies would rather rebrand than deal with their current branding issues. Consider the case of Comcast, which is now known as Xfinity—only it's still known as Comcast, and none of their current customers feel their stress levels ease just by calling the company by its new name. The reasons for rebranding don't always revolve around changing buyer perception, but that doesn't mean a rebrand is still the solution.
The truth is this: addressing the reasons for failure within your company is an important part of growth. Only in rare cases will rebranding be the answer, which is a good thing. Rebranding is expensive and sometimes confusing to your customers. Fortunately, you have other options you can explore before choosing a total overhaul.
Customer Service
If you've noticed a decline in regular customers, there may be more going on than a tired old brand. The truth is, when customers love your products and your customer service, they're unlikely to make a switch. Your first move should be to investigate your customer service practices. Go undercover with your own business to see how your employees handle customer interactions. If you're unable to keep your involvement a secret, have a trusted friend engage your company to test service practices.
You may learn a lot more than you ever wanted to know about how your company handles customer service. Wouldn't it be nice to overhaul one department than to change your company's whole appearance?
Update Products
Trends and technology change; it's just a fact of life. What customers sought two years ago may be hopelessly outdated now. You can update your product line without needing to turn the magnifying glass onto the rest of your company. Those customers who did leave to find greener pastures may be thrilled to head right back into your brand's loving arms once they know you're carrying all the latest trends and technology again.
Investigate Marketing Channels
If you've tested your customer service and examined your product line, but still feel your company is lacking, maybe you should turn next to your marketing. Does your message still match your brand? Remember that your brand will evolve as your company and customers do, so the message and vision you had five years ago may not be the same today. And a mixed message serves to confuse your buyers.
You may be better off exploring your brand and marketing techniques to make sure they mesh than you would be turning over the whole table and starting from scratch.
Now, we understand that sometimes a change is needed. Maybe your company has been around for decades and it's time to refresh your image a little. Maybe you've experienced some bad press that you just can't shake. If that's the case, then a rebrand could be exactly what you need. Before you attack without a plan, remember that your brand is the most important asset you have. Try everything else first and then let's talk rebranding. We'll walk you through the steps to make sure you come out on the other side looking a lot like your old self—just better.
Explore Latest Posts
So, this is the story all about how...the band Jefferson Starship, credited with 70s and 80s hits "Sarah" and "Miracles," ... read more

Voice search is quickly becoming a critical aspect of search engine optimization (SEO) as the use of voice assistants like ... read more

Advanced SEO techniques are an essential aspect of search engine optimization in today's digital landscape. They go beyond the basic ... read more