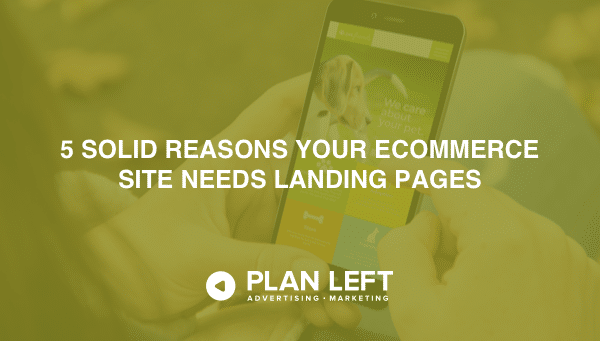 Updated content 06/22/2023
The very thought of creating a new landing page every time you advertise anything for your eCommerce business can just be exhausting. If you promote a new discount each week or introduce new products regularly, you might spend much time creating copy and graphic design for a landing page. The loss of time might be reason enough to avoid creating landing pages, but you simply cannot.
Why?
Because landing pages are one of the most critical components of your eCommerce website. The reasons are many and varied, but we'll cover all of them right here for you.
What is an eCommerce Landing Page?
Ecommerce landing pages are places for users to land once they click on a marketing link, such as a Google Ad or a link on Instagram. These pages use a specific call to action (CTA). The CTA could encourage users to purchase a product or download a free eBook. Usually, these CTAs offer exciting discounts or exclusive content, which draw users into clicking.
The landing pages themselves should feature the advertised CTA. They should also include quality images/video, informative text, and a way for users to seal the deal, whether a clickable coupon or a contact form.
Boost Your ROI
After creating your Google AdWords or Facebook Ad campaigns, you'll have put a great deal of time into coming up with your copy, choosing your keywords, and crafting stunning graphic designs. All you need at that point is a link to your website, and the job is done, right?
Wrong.
If you're just advertising your company, you may get away with a link to your company's homepage, but you won't get much out of it. Without a clear call-to-action, potential buyers won't know what to do once they get there. Even a CTA on the main page of your eCommerce site could be more confusing than helpful, especially if it doesn't match the message of your advertising. That's why an eCommerce landing page will guarantee a much higher ROI than just your homepage.
A landing page is crucial for promoting a specific discount, sale, or product. A simple link to the homepage of your website will stop any eager customer in their tracks. After clicking through, their purchase process should be as easy as possible. If you make them search once they arrive, you'll lose them all.
Create Opportunities
A landing page also allows you to gather more information about your customers. Once they arrive, you can present options for exclusive deals in exchange for their contact information. This helps you stay on top of where they are in the buying cycle, as you can compare the number of times a buyer has provided their information to the number of purchases they've made.
Also, once you have that email address or mailing address, you can update those customers on your latest product lines and give them access to discounts first-time buyers won't receive. You can stop marketing and start building authentic relationships with that contact information.
Convert a Wider Audience
More landing pages mean more opportunities to reach different audiences. Let's say your company sells shoes. Some of your potential customers are busy moms who want comfy but stylish sneakers to wear everywhere. Yet other customers might be looking for heavy-duty hiking boots for their outdoor excursions. Each potential customer needs a different landing page to lead them through to purchase.
Even though it takes extra time, targeted landing pages increase the chances that visitors will stay on your page AND allow you to convert a wider variety of visitors.
Better SEO Results
Creating a landing page for every paid ad and internal call-to-action adds more pages to your eCommerce website. More pages mean Google has more to look at and index. Each page provides fresh content and more chances to include your most popular search terms. All of these are good things.
Then you have the Google AdWords Quality Score to consider. If you include the same keywords from your paid ad through Google in your landing pages, your quality score goes up. A higher quality score means you'll pay less per click. If you only link to the homepage of your site, you will receive no quality score benefits, and your cost per click will increase.
A/B Testing
Having an arsenal of quality eCommerce landing pages is great for all the above reasons. But once you have a lot of landing pages at your disposal, you also unlock the ability for easier A/B testing.
If you've designed multiple different styles of landing pages, you may notice that some perform better than others. Now's the chance to A/B test what designs convert the best. Compare design elements like colors, fonts, images, and CTA buttons.
You can use A/B testing to refine your ad campaigns and deliver even higher ROI. Plus, once you've built up a stock of landing page styles, you've got a bunch of easy templates to base your next landing page on.
If you've been advertising your eCommerce offers and discounts without the added benefit of landing pages, it's not too late. We'll help you learn to make landing pages that convert visitors into customers and then nurture those relationships into long-term loyalty.
Explore Latest Posts
So, this is the story all about how...the band Jefferson Starship, credited with 70s and 80s hits "Sarah" and "Miracles," ... read more

Voice search is quickly becoming a critical aspect of search engine optimization (SEO) as the use of voice assistants like ... read more

Advanced SEO techniques are an essential aspect of search engine optimization in today's digital landscape. They go beyond the basic ... read more