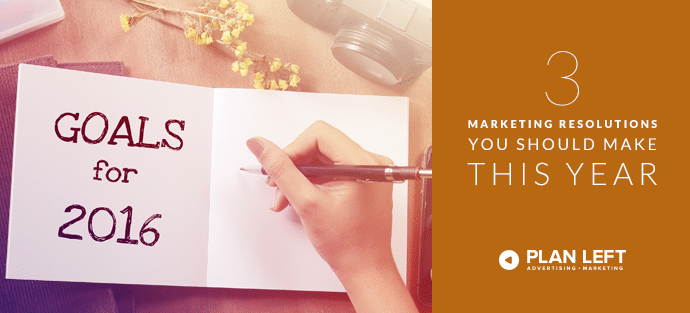 A new year means turning over a new leaf. Moving forward means not only dropping the bad things you've done in the past but also working on including better things in your future. We've already talked about some of your bad habits, so let's take a look at some of the resolutions you should make this year to boost your marketing.
Increase Content Production
If you think increasing content production means adding more blogs to your schedule, you're only a little bit correct. Additional blogs can only help you, but web content is so much more than blogging. In the New Year, you'll want to examine your videos, images, social marketing posts, and landing pages to determine if you're really making a difference. The bare minimum will probably never move the needle, will it?
Not only must you determine if you're creating enough content, you also must make sure it's all hitting the right notes. That means you have to examine where you're posting that content and who's consuming it. More videos, more images, more infographics, more blogs, more articles, more social media posts—and all where more potential buyers can find it. Sounds like a beautiful thing, right? So why keep doing the bare minimum?
Finally Get Mobile Friendly
What's this you say? You still haven't bothered to update your company website to a mobile friendly version? Do you have any idea how many potential customers you've turned away by refusing to modernize your business?
In 2015, more internet searches were performed on mobile devices than on desktops and laptops. Over half. A majority of internet searches. We're not talking about a piddly 5% of people using mobile devices; we're talking about millions of people. And those people can't shop on your site or learn about your company because you aren't yet mobile friendly. Is 2016 finally the year to change that? We think so.
Try New Social Marketing Platforms
We firmly believe that marketing on social platforms that aren't reaching your target audience is a waste of time and money. However, new social platforms are introduced all the time. How are we to know what will become the next Facebook and Twitter?
Just before Christmas, Periscope was named App of the Year for 2015. Did you use Periscope, the hottest app of the year? If not, you probably missed out on a big chance to reach a wider audience. Now, we're not saying you should jump on every new trend just to see where it takes you, but a change here and there—an experiment with something new—could be a good thing.
We want to help you make a real difference with your marketing this year, but it's only possible if you're ready to make some changes. When you're making your marketing resolutions, consider putting these on your list. And when you're ready to make a move, we'll be here to propel you forward. Just give us a call and we'll get started.
Explore Latest Posts
So, this is the story all about how...the band Jefferson Starship, credited with 70s and 80s hits "Sarah" and "Miracles," ... read more

Voice search is quickly becoming a critical aspect of search engine optimization (SEO) as the use of voice assistants like ... read more

Advanced SEO techniques are an essential aspect of search engine optimization in today's digital landscape. They go beyond the basic ... read more