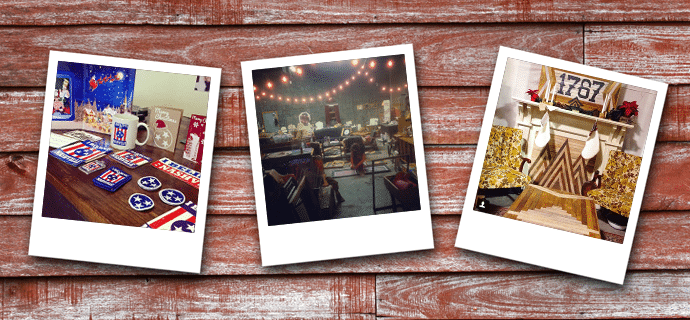 Per my last blog, Instagram is a great tool when it comes to eCommerce and your marketing efforts. In this blog, I'll be outlining some of my favorite companies that totally rock eCommerce via their Instagram account. Instead of focusing on the obvious larger companies, I am going to focus on the smaller companies, most likely in Nashville, and most likely very awesome. m/ (That's a rock fist, btw.)
DCXV is a Nashville based design and apparel company. Not only do they do very well with their eCommerce efforts, but they also post some lovely photos that are always interesting to look at—whether you're looking in to buying their cool stuff or not. They do well with Instagram eCommerce because they not only post their clothes, but they also have people modeling them outside of their shop. They also post their day-to-day happenings. DCXV also came up with the wildly successful "I Believe in Nashville" campaign we are sure you have seen (if you are from Nashville, or visited).
Kate Mills is an interior designer, and a pretty darn good one at that. She has an eye for the vintage-y looking items and seems to be able to cater to anyone's need. While she's mostly selling her services, she does sell some of the cool decorator items she picks up here and there. Most of her photos are of her next "canvas," if you will, and then the progress she makes while decorating. Sometimes she will post items she wants to sell, whether it is a handbag, or industrial stools. It is always fun to see her before and after pics, because they are usually vastly dramatic. Not only does Kate do well with eCommerce, but she does well with branding herself as well. Her brand is very bold, classy, and kickass.
1767designs's Patrick Hayes has come up with a very cool concept: creating art from 100-year-old houses. How, you ask? He takes the wood from these old, abandoned houses and makes tables and wall art out of them. Patrick does very well with eCommerce for his brand because he constantly posts photos of his work, in addition to some of his inspirations. He is always making new creations and posts them up on Instagram for his followers (like myself) to swoon over.
While there are many other accounts I would love to highlight, I'm afraid I must get back to tweeting and being social. If you have questions on how to rock eCommerce through your own Instagram account, feel free to reach out.
Explore Latest Posts
So, this is the story all about how...the band Jefferson Starship, credited with 70s and 80s hits "Sarah" and "Miracles," ... read more

Voice search is quickly becoming a critical aspect of search engine optimization (SEO) as the use of voice assistants like ... read more

Advanced SEO techniques are an essential aspect of search engine optimization in today's digital landscape. They go beyond the basic ... read more